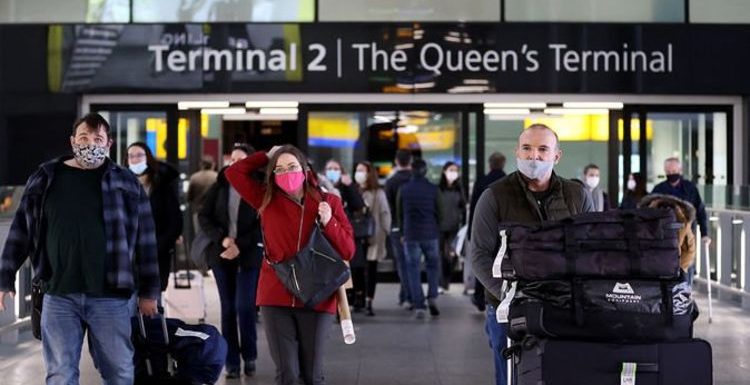 This Morning: Martin Lewis discusses travel refunds and PCR tests
We use your sign-up to provide content in ways you've consented to and to improve our understanding of you. This may include adverts from us and 3rd parties based on our understanding. You can unsubscribe at any time. More info
A Briton trying to get home from South Africa has found all the quarantine hotels are fully booked in December meaning she will lose her flight, money and probably miss Christmas at home.
The UK has banned travel from 10 southern African countries and reintroduced PCR testing for all arrivals.
Travellers arriving from South Africa, Namibia, Lesotho, Botswana, Eswatini, Zimbabwe, Angola, Malawi, Mozambique and Zambia will have to pay £2,235 to quarantine at a Government-managed hotel for 10 days.
Only British and Irish citizens will be allowed into the UK from the new red list countries.
The new rules also state that anyone arriving from abroad is required to take a day 2 PCR test and self-isolate until they get a negative result.
Pieter De Jager exclusively spoke to Express.co.uk as they found all quarantine hotels in the UK are fully booked this month.
He explained: "My wife is trying to return from South Africa, on her booked flight on December 9 2021, but there are no quarantine hotels available.
"After two years of Covid restrictions, it seemed reasonably safe to travel to see her family in South Africa.
"The return flight after a 28-day visit was booked for December 9 to be back with me at Christmas. Red list overnight. Flights cancelled. Then flights reinstated," he explained.
However, although new returning flights to the UK were announced, Pieter and his wife were surprised to see no hotels were available anymore to self-isolate in the UK.
Currently, all quarantine hotels are fully booked most days in December.
Pieter said: "Rules are rules.
"Now however we want to obey the rules but cannot book a quarantine hotel as they apparently are all fully booked."
Pieter explained he believes Britons shouldn't have to pay for quarantine hotels after South Africa was moved to the red list with very short notice.
"We disagree but once again the omnipotent Government makes the rules and we will obey. But if there are no quarantine facilities we now might lose our flights as well.
"We are farmers in Dorset. We have taken severe losses through Covid over the past two years and are trying to recover financially.
"So our biggest concern is the mounting costs of this visit to South Africa. The complexity of the rules and their consequences is daunting."
A Department of Health and Social Care spokesperson said:"We are rapidly expanding hotel capacity in light of 10 counties being added to the red list, and there will be significant increases to capacity from Monday onwards.
"We acted at pace to stand up the managed quarantine services in light of the rapid changes to the travel rules.
"Our advice remains you should not travel without a MQS booking and to keep checking the CTM website as there are significant number of cancellations happening which will free up rooms."
Source: Read Full Article