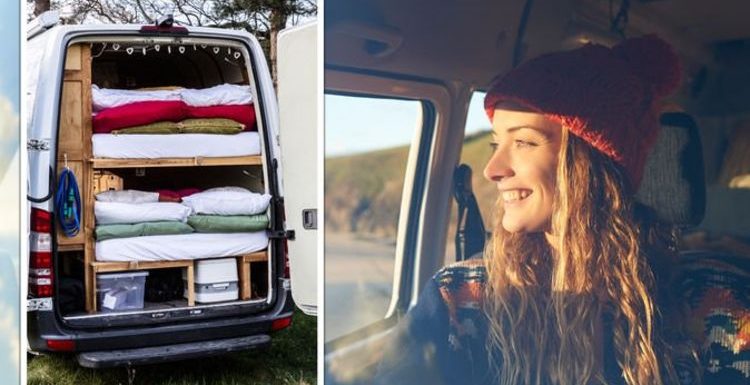 Shane Richie reveals his 'essentials' for caravan holidays
We use your sign-up to provide content in ways you've consented to and to improve our understanding of you. This may include adverts from us and 3rd parties based on our understanding. You can unsubscribe at any time. More info
Many Britons have gone on a caravan holiday since the pandemic began. With the uncertainty surrounding international travel, Britons headed on a UK holiday and rediscovered everything the country has to offer.
A caravan holiday has never been more popular.
In fact, demand for campers have been so huge, VW has reintroduced its California Beach model to meet demand.
The revival and boom of the caravan holiday has also changed the demographic of the typical "caravanner".
Where the traditional "older, male campervan owner" is still around, there are more and more young people, and women, buying up campers.
Just Kampers looked at the new revival and found "women and younger generations are behind the campervan renaissance".
Carolyn Kirvan-Cranfield, Marketing Executive at Just Kampers said: "When I joined the industry with Just Kampers over 10 years ago, campervan ownership and the 'scene' was very male-centric, as was the industry itself.
"It was quite unusual to be female within it.
"Changes were already happening, and it would be incorrect to assume that there haven't always been female owners – they were just less obvious and probably less catered for.
"The pandemic has definitely expedited those changes and it's great to see a broader representation in terms of age and gender."
In 2021, Britons aged between 25 and 34 are showing as much interest in campervans as those aged 45 to 54.
Back in 2019, Just Kampers' average campervan customer was male and aged between 45 and 54.
Incredibly, these are not the customers driving the caravanning boom.
The 18 to 24 are.
Their transactions on Just Kampers have increased by a mind-boggling 868 percent.
Women, meanwhile, have more than doubled, growing by 111 percent, and now make up a quarter of all campervan parts purchases.
Carolyn said: "There have been many contributing factors.
"I think for many the pandemic, and the way in which we have lived through it, has brought into sharp focus that which holds true value in terms of experience and time shared.
"Those who had previously been hesitant to chase their dreams have prioritised these things and feel more empowered to buy campervans or go solo travelling.
"The focus is now less about 'Why?' but rather 'Why not'.
"In an industry for whom history and nostalgia is everything, it's important to be forward thinking to ensure its future too.
"The more people who experience the delights of Vanlife, no matter what age or identity, the better it is for us all."
Just Kampers
Source: Read Full Article