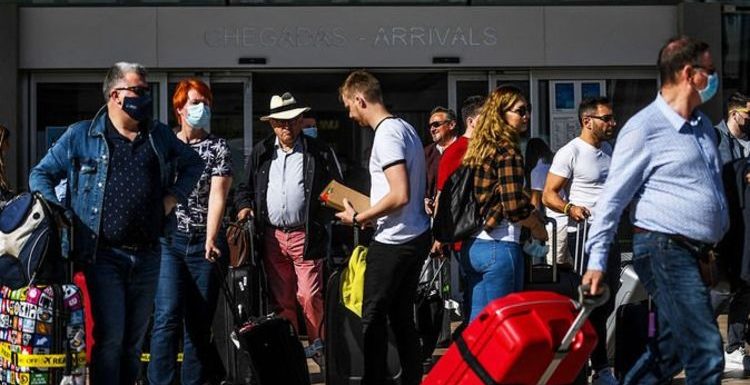 Portugal: Algarve tourist chief welcomes British visitors
When you subscribe we will use the information you provide to send you these newsletters. Sometimes they'll include recommendations for other related newsletters or services we offer. Our Privacy Notice explains more about how we use your data, and your rights. You can unsubscribe at any time.
The Foreign, Commonwealth and Development Office (FCDO) has issued a warning to British travellers who are in or are planning on travelling to Portugal between May 31 and June 28. It comes as the nation's immigration officers have confirmed they will go ahead with planned strike action by the Immigration and Borders Service (SEF).
Portugal's interior minister Eduardo Cabrita has said the strike threatens to "ruin the summer" and slammed the move as "unacceptable and irresponsible".
He added: "It is a strike threatening national security, and inadmissible in the context of calamity."
With Portugal one of the few accessible destinations on the UK's "green list", the strike action could cause implications for Britons.
In order to help UK holidaymakers travel safely, the FCDO has updated its travel advice page.
"Planned strike action by Portuguese immigration officers from 31 May to 28 June may cause delays," the travel authority warns.
"Days and times of strikes vary according to airport location.
"If you are travelling during this period, check with your airline whether you will be affected and allow more time to clear border control when entering and exiting Portugal."
On Thursday afternoon, Portugal's interior minister said a "civil requisition" had been made to the SEF to stop strike action.
DON'T MISS
easyJet issues update on flight cancellations [COMMENT]
British tourists turned away from Ryanair flight over Covid tests [INSIGHT]
Britain's most expensive seaside town [DATA]
Currently, Britons are allowed to travel quarantine-free to Portugal thanks to its place on the UK's "green list".
Portugal is also allowing UK arrivals to enter the country, though there are some entry restrictions in place.
The FCDO explains: "All passengers, excluding children up to the age of 2, travelling to or through Portugal in transit, must show a negative RT-PCR test result for SARS/COVID-19 at the time of boarding.
"The test must have been taken within 72 hours of departure.
"Your airline is likely to deny boarding if you cannot provide this at check-in."
Passengers will also be subject to a health screening upon arrival in Portugal.
"If your temperature is 38 degrees celsius or over or you show signs of being unwell, you may be required to take a further RT-PCR COVID-19 test and remain at the airport until you receive your test result," the FCDO adds.
Before returning to the UK travellers must take a COVID-19 test, as well as book as pay for a second PCR test to be taken on day two of their return.
Holidaymakers are warned not to use the NHS testing service in order to facilitate travel to another country.
In response to Portugal's position on the green list, airlines have ramped up their offering to the destination.
TUI, easyJet and Ryanair have all boosted the number of flights and seats operating to the country.
However, airline bosses are calling for the green list to be expanded.
Source: Read Full Article