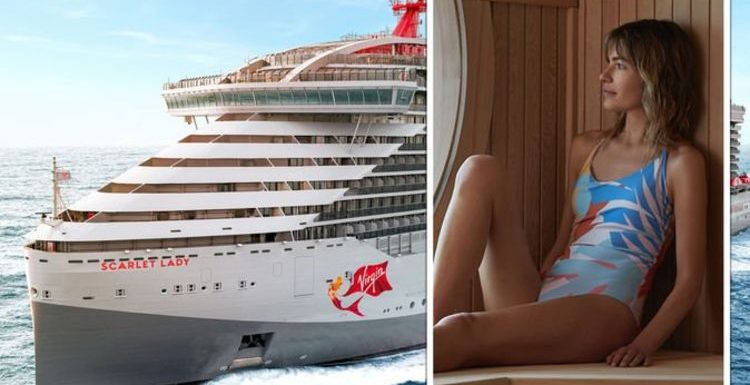 Virgin Voyages show off their cruise ship
We use your sign-up to provide content in ways you've consented to and to improve our understanding of you. This may include adverts from us and 3rd parties based on our understanding. You can unsubscribe at any time. More info
The first of four cruise ships, Scarlet Lady is a luxury vessel from Virgin Voyages. "Bringing the luxe of a boutique hotel to the seas", the ship was built in Italy.
The interiors of Scarlet Lady were designed by Roman and Williams, as well as Tom Dixon.
Bold colours, clashing prints and "Mega Rockstar Quarters", the ship was built to impress.
There is a wellness focus too, with gym programs, group workouts and an outdoor yoga area.
With 20 eateries onboard and special on deck voyages with DJs, Scarlet Lady is trying to attract a millennial crowd.
It has lately announced it will be serving Aviation Gin onboard, the alcohol brand of Hollywood star Ryan Reynolds.
Twitter user Cruise Addicted said: "Scarlet Lady & Virgin Voyages are cruise gamechangers."
The ship will be featured in tonight's The Apprentice BBC show.
The first episode of the new series was promoted by the BBC by saying: "Under the watchful eyes of Baroness Karren Brady and the winner of series 1, Tim Campbell, the candidates are thrown in at the deep end as they set sail from Portsmouth on board a luxury cruise ship."
The contestants will have to come up with a marketing campaign for a new cruise liner.
And they will have their work cut out for them, with the cruise industry taking such a big hit over the pandemic.
Contestants will have to create a brand and a TV advert.
Social media users say they will "only be watching because they're on Scarlet Lady" and to "get another peek at Virgin Voyages' lovely Scarlet Lady".
Richard Branson said: "For more than 50 years, Virgin companies have been bringing innovation to industries.
"Virgin Voyages is very much charting our own path, offering a fresh perspective on cruise travel with a mix of the familiar and a healthy dose of Virgin satisfaction."
The cruise ship is adults only and guests can experience the "ask and you shall receive" customer service they'd expect from a luxury hotel stay.
President and CEO of Virgin Voyages Tom McAlpin said: "With Michelin-starred dining, an incredible spa, phenomenal on-board entertainment and amazing crew, our promise is to deliver a sophisticated, yet relaxed, adult-only experience—free of formality, where ordinary becomes extraordinary.
View this post on Instagram

A post shared by Virgin Voyages (@virginvoyages)
"We call this 'Setting Sail the Virgin Way.'"
On Instagram, jlo71uk said: "Did the UK sailing last year on Scarlet Lady and loved her so much.
"Can't wait for my April trip to Bruges and am going to be a rockstar this time."
And Linapope wrote: "Scarlet Lady was amazing and so we know Valiant won't disappoint. See you in March."
Source: Read Full Article