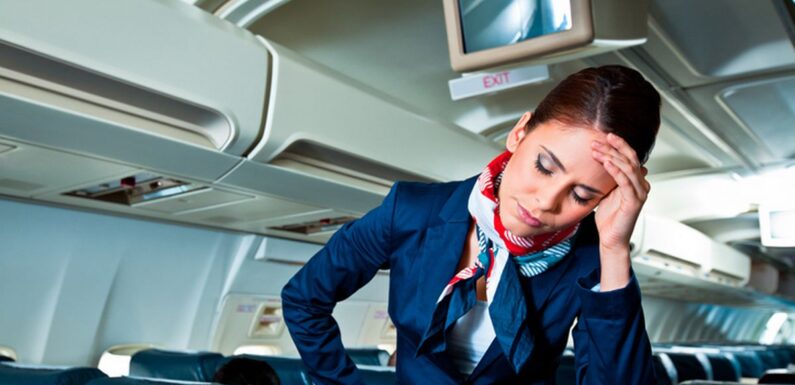 A travel expert has explained that having your seating area in a particular way can really annoy your cabin crew when heading on holiday. They claim that there are certain actions you should always take when on a red eye flight to be polite to those around you.
Stuff spoke to various cabin crew members to discover what irritates them most when at 35,000ft. It seems that one bug bear includes keeping your TV screen and lights set to bright!
Apparently, it's not just those relaxing around you that may feel irritated by the cabin's darkness being disrupted. On red-eye flights – that's those that fly through the night when many want to get some sleep – the lights in the cabin are usually dimmed at bedtime.
READ MORE: Flight attendant reveals how truly disgusting plane toilets are and warns to avoid them
Check out our travel section for more holidays, travel news, hacks, flight secrets and more..
They stated that to create an ideal sleep environment which is dark and quiet you should "take your cue from the flight attendants". So, when they dim the lights you should too – plus you should turn down the lighting level on any screens like laptops and iPads too.
They added: "The overhead seat light is built like a spotlight, its narrow beam illuminating your tiny stage. If you are surrounded by empty seats, don't switch on all the lights and turn your row into a floodlit concert arena."
Flight attendants commented that you should always wear headphones when listening to audio entertainment. But, they noted that you should still turn the volume down as some tinny noise could still escape them and disturb those around you.
You should also bring an eye mask and ear plugs to help you if you want to sleep on the plane. Those who want to read should opt for a clip-on book light rather than the overhead light according to crew members as this is less annoying to fellow flyers.
Disruptive habits around sleep aren't the only behaviours that annoy flight attendants though. Kali Harlow told the Daily Star that angry passengers can be a downside to the job. She said: "The most annoying thing that passengers do is they blame the flight attendants for things that are out of our control.
"This happens because we are simply the face of the company and the easiest target to take their frustrations out on, us and the gate agents. They blame us because we have to go back to the gate – they blame us because their bag doesn't fit. They blame us because they spilled their coffee on them outside of the terminal even though we was on the plane not even around them (yes this has happened to me). They blame us because it's a blizzard outside – the list goes on."
Flight attendant Kristina has previously revealed her pet peeves on flights – and asking for water is one of them. That's not to say you can't get a drink at all, but explained that she dislikes it when she's distracted from other tasks by people requesting drinks.
With that in mind, her main recommendation for passengers is never to ask the crew for water. She explained: "Number one – don't push the call button for asking for a cup of water because our job is hard!"
Source: Read Full Article