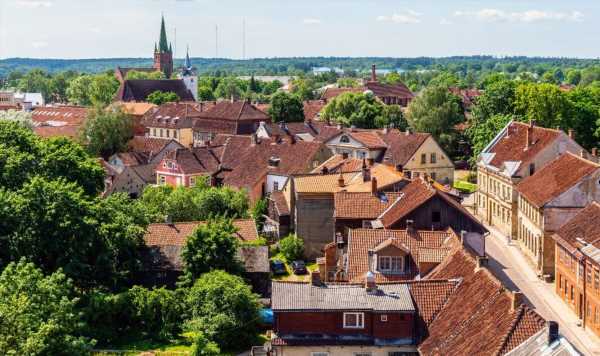 From Rome's historical highlights to Paris's gourmet cuisine, Europe has so many incredible destinations to explore. But British tourists might find some spots very overcrowded.
New research found the world's most overcrowded holiday destination was a small country in Europe. However, if the crowds seem offputting, there are luckily still a few hidden European gems to explore.
UNESCO has just named 27 new World Heritage sites for 2023 and one is a breathtaking Eastern European hotspot.
Kuldīga, in western Latvia, had its Old Town awarded UNESCO status. The gorgeous town is also home to Europe's widest waterfall.
A UNESCO spokesperson said: "The town of Kuldīga is an exceptionally well-preserved example of a traditional urban settlement, which developed from a small medieval hamlet into an important administrative centre of the Duchy of Courland and Semigallia between the 16th and 18th centuries.".
READ MORE 'Europe's Hawaii' is beautiful but the islands don't get many tourists
With its tiled roofs and winding streets, it's not surprising that Kuldīga is considered one of Latvia's most beautiful cities.
The Aleksupite River flows through the town and has even earned Kuldīga, the nickname "Venice of Latvia". The water passes directly along many of the buildings' walls.
Many tourists also visit the Venta Rapid Waterfall on a trip to Kuldīga, as it's Europe's widest waterfall. Visitors might be able to see fish leaping from the water.
Don't miss…
Europe's most overcrowded country for tourists named[NIGHTMARE]
England's most 'beautiful' walk has 'unique wildlife' and 'rare butterflies'[STAYCATION]
Airbnb vs hotels – 'I wanted to see which is best'[EXPERT]
We use your sign-up to provide content in ways you've consented to and to improve our understanding of you. This may include adverts from us and 3rd parties based on our understanding. You can unsubscribe at any time. More info
'Sulev Nurme' wrote: "What I can say, beautiful! It's Europe's widest waterfall! Scenery is really beautiful. Water is pure and refreshing."
'Alex G' wrote: "Really cool experience. It was great. The waterfall is nice, the water was warm and it's really a wonderful experience to see the widest waterfall in the whole of Europe."
It's a great spot to visit during spring as that's salmon spawning season, a fantastic spectacle to watch. Only two metres tall, tourists can take a dip in the water or walk along the top.
For British tourists it's easiest to reach Kuldīga from Latvia's capital city, Riga. It's just two hours drive from the capital, making it an easy day trip.
Skyscanner has direct return flights to Riga for as little as £30 in November and Ryanair and BA both offer direct routes.
Not interested in Kuldīga? Why not check out one of the world's least visited countries that's also one of its most beautiful?
Source: Read Full Article