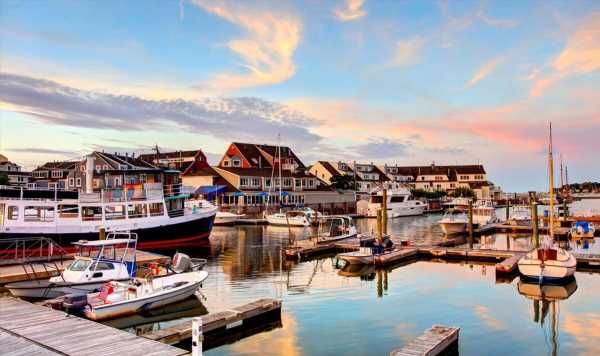 Salem has become known as one of the most bewitching locations in the world due to its infamous history of witchcraft, where in 1692 hysteria took hold of the town's colonists and over 200 people were accused of being witches.
In Salem's Witch Trials, 20 people were executed for the crime of witchcraft, making it the deadliest witch hunt in the history of America.
However, in modern times this charming Massachusetts seaside town has embraced its dark history and is now known for being the ultimate autumn and Halloween destination due to its many charming attractions.
In the autumn, New England is known for its vibrant foliage which makes Salem an incredibly beautiful place, but the cozy atmosphere of the town's many teashops, cafes, restaurants, and many seasonal festivities make this town an unforgettable visit on its own. However, there are also many graveyards, museums, and landmarks to visit in order to explore Salem's rich yet chilling history.
Helene Sula, a travel expert, has explained the many places to visit if visiting Salem, Massachusetts. In a video online, Helene said: "New England is the best place to visit in the autumn, and Salen is the perfect stop to get into a spooky mood…but it's also the home and filming location for the movie Hocus Pocus."
History
In Salem, there are many witch and ghost tours to delight you if you are looking to discover the town's spooky history, but if you wish to navigate Salem on your own then there is a yellow line throughout the town that begins on Essex's Street that will take you the main historical locations.
On Essex Street, the tour will begin at the Witch House Museum, which is the 17th-century home of Judge Jonathan Corwin, one of the main judges who premises over the Salem Witch Trials. Not only does this "Instagram-famous" home look like something out of a horror movie, but according to Helene it is "the only structure still standing in Salem with a direct tie to the witch trials of 1692."
The tour will also take you to a simple patch of grass and locust trees right next to the town's Old Burying Point Ceremtary is the Salem Witch Trial Memorial, a memorial to the 20 victims of the witch trials. The memorial has simple stone slabs for each of the people murdered in the trials and it is common for visitors to lay flowers, coins or letters near the slabs as a token of remembrance.
There are also many other historic museums to enjoy in Salem, such as the Pioneer Village in which people can walk through to see what colonial life would have been like as well as the Salem Witch Museum, which will go into more detail about the town's witch trials.
Pop Culture
Don't miss…
Coastal castle and village described as the 'most beautiful spot' in the UK
Mum blasts Disney World's 'daylight robbery' as she spends £3k in a da
English town famous for Dracula and Goth weekends is perfect for an autumn visit
Advert-free experience without interruptions.
Rocket-fast speedy loading pages.
Exclusive & Unlimited access to all our content.
Throughout the years, Salem has become the biggest witch tourism site in the world, and Hollywood has also paid a visit to the town. Salen has also become famous for being the filming location of Hocus Pocus, a famous Disney Halloween movie about witches coming back to Salem for revenge.
Helene said: "I recommend taking a self-guided walking tour to see places like Alison's mansion, where Max and the gang went to school, and where Winifred puts a spell on you for the Halloween party."
The town also has a tribute to the 1960s sitcom 'Bewitched', which was also filmed in Salem. Visitors can visit the bronze Bewitched Statue of Elizabeth Montgomery located in the heart of the town and one episode of the 1990s sitcom Sabrina the Teenage Witch was also filmed in Salem.
Other things to do
In October, simply wandering Salem and taking in the autumn foliage and sights is a fun thing to do, as there are usually lots of people dressed up as witches and ghosts at this time of year to help you get into the Halloween spirit.
Salem is also famous for its many physics parlors, bookshops, and witchcraft shops, so if you are in the mood to get your future read or wish to buy some fun Halloween gifts then take a look at the many specialty shops in town.
Being on the coast, Salem is known for its seafood but this time of year there is also lots of autumn food to enjoy, much as at the Gulu-Gulu Cade, which is known for its incredible breakfasts and witchy atmosphere.
Helene said: Explore the spooky and themed shops on Essex Street. Usually, you'll see people dressed up. Head to Turner Seafood for dinner…[or] go to a nearby farm, like Connors farm that has apple cider donuts, pumpkins, and a corn maze."
Follow Daily Express US on Facebook and Twitter @ExpressUSNew
Source: Read Full Article