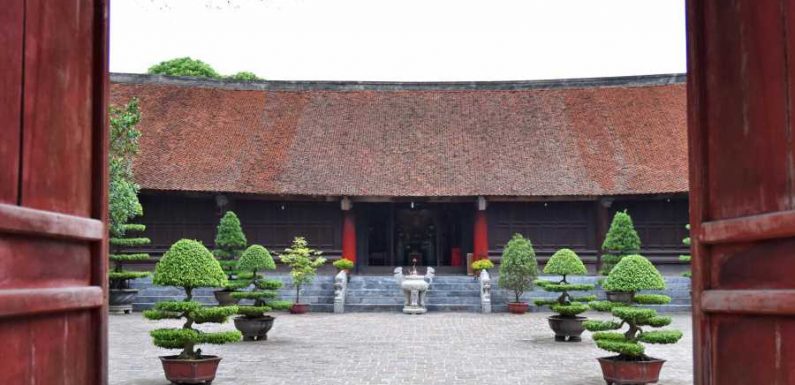 It is not easy to spot, yet it's an image that explains the downfall of a 2,300-year-old Vietnamese empire. Carved into a timeworn wooden pillar, in a little-visited village near Hanoi, is a small depiction of a man holding a crossbow. It was this weapon, and the magic powers it bestowed upon its user, that allowed a Chinese soldier to betray his wife, overpower her emperor father, and seize Vietnam's first-ever walled city.
This is just one of the extraordinary tales embedded in the ancient citadel of Co Loa. In a typical year, millions of tourists visit Vietnam's charming capital city Hanoi, savoring its renowned cuisine, exploring the throbbing streets of its Old Quarter, and examining its excellent museums. A mere five miles north of Hanoi's tourist precinct lies the remains of Co Loa, one of the country's most overlooked historical sites.
Twice serving as the imperial capital of Vietnam, Co Loa was once an enormous city protected by four thick, lofty stone walls, each of which was two and a half miles long. While Hanoi's more centrally-located Thang Long citadel receives many tourists, very few visit Co Loa, which boasts about 60 historical sites, including temples, pagodas, and communal homes, scattered throughout a cluster of peaceful villages.
Load Error
Co Loa's small but comprehensive museum includes numerous ancient artifacts, including a 14-pointed star surrounded by depictions of humans celebrating a harvest festival. For more than 2,000 years, this priceless Vietnamese artifact was hidden in Co Loa, beneath the soil. Over the 20th century, repeated archaeological excavations here have unearthed thousands of remnants that have revealed the story of this citadel.
These include fragments of the unique bronze crossbows which were the preferred weapon of soldiers in the Au Lac Kingdom, which controlled a swathe of northern Vietnam for about 50 years during the 3rd century BC. This kingdom was ruled by An Duong Vuong, a Vietnamese warlord. Vuong made Co Loa his capital and protected it from invasion by erecting high, steep outer walls, and a series of ramparts, moats, and guard towers which acted as a second line of defense.
Gallery: Inside Asias 10 Most Beautifully Mysterious Parks (Fodor's)
Best & Worst Refinance Mortgage Companies of 2021


Ad
Microsoft

19 Great Ways To Supplement Social Security Every Month That Many Didn't Know


Ad
Microsoft
Inside Asias 10 Most Beautifully Mysterious Parks
Some of these outdoor spaces tell tales featuring demons, poems, and even sacrifices.
Cults, executions, giant lizards, sacrificial altars, and lawless walled cities—woven into the natural beauty of Asia's city parks are many extraordinary stories. In giant cities like Beijing, Delhi, Hong Kong, Bangkok, and Seoul, the pace of life can be so tiring that tourists flock to green spaces to relax and rejuvenate. But these parks are not just peaceful getaways from the hustle and bustle, they are also mysterious places that intrigue visitors with their curious histories. From the Phnom Penh park covered in poems to the Vientiane "cult" garden embedded with clues to the Singapore hill haunted by Islamic kings, here are 10 of Asia's most curious parks.
Buddha Park
WHERE: Vientiane, Laos
On the outskirts of Vientiane, in a park overflowing with Buddhist sculptures, are a series of hidden clues intended to reveal the intense philosophies of a cult leader. Legend has it that some of the more than 200 demon, deity, and warrior statues that decorate this green space are etched with hints left behind by Bunlea Sulilat, a Thai shaman who attracted a gang of devoted followers.
He built this park, called Spirit City, in 1975 as a meeting place for disciples of the religion he created by borrowing parts of Buddhism, Shamanism, and Hinduism. Now it is one of the most peculiar tourist attractions in Laos.
Kowloon Walled City Park
WHERE: Hong Kong
Nowadays, Kowloon Walled City Park is one of the most serene locations in relentlessly-hectic Hong Kong. Yet, just 30 years ago it was the site of a giant housing complex which was the most dangerous, chaotic place in the city, earning the moniker "City of Darkness."
Filled with brothels, gambling dens, and drug lairs, it was a filthy and intensely-overcrowded cluster of apartment blocks commanded by organized crime gangs. Many police reportedly would not enter this walled city due to its hazardous, lawless environment. In 1994, it was razed to make way for this picturesque park.
Lumphini Park
WHERE: Bangkok, Thailand
I almost swallowed my tongue from the shock. On my first visit to Bangkok, I was lying alongside a lake looking at the skyscrapers that encircle Lumphini Park when, from the corner of my eye, I saw something terrifying. It looked like a small crocodile had just lurched out of the water. What I didn't know was that this large, attractive park in downtown Bangkok, is renowned for its huge water monitors—strongly-built lizards up to 6-feet long. They're not dangerous, but they are scary.
Wat Phnom Park
WHERE: Phnom Penh, Cambodia
An exiled prince, walls covered in poems, Buddha statues discovered inside a tree, and the woman who created Phnom Penh —the history of Wat Phnom park is dense and remarkable. One of the few green spaces in downtown Phnom Penh, which is a true concrete jungle, this small park is centered around the hilltop Buddhist temple where Phnom Penh is believed to have been born.
According to local legend, in 1372 a wealthy lady organized for this 90-foot-high hill to be built, topped by a sanctuary for four Buddha statues found inside a tree trunk. A Khmer king then decided to construct Phnom Penh around this hill, which now boasts Wat Phnom temple, the walls of which are decorated with ancient poems.
Fort Canning Park
WHERE: Singapore
Fort Canning Park is one of Singapore's most picturesque green spaces and a key historical site from the British colonial period. But beneath its leafy environment lurks an eerie tale. It was home to an ancient Malay palace, which legend says became haunted by the souls of Islamic Kings, and was given the name "Forbidden Hill," and ultimately turned into a pilgrimage site for Muslims.
This is the little-known history behind this imposing British fort and Governor's residence, which are surrounded by beautifully landscaped gardens. It is believed this park was home to a royal Malay compound more than 600 years ago.
Rizal Park
WHERE: Manila, Philippines
It is variously an execution site, the social heartbeat of Manila, a location for commemorating revered Filipinos, home to Japanese and Chinese classical gardens, and the location for the Philippines' two best museums. Rizal Park is the lush hub of Manila.
On any given day, this green space in downtown Manila is filled with thousands of Filipinos picnicking, exercising, or even napping. Yet a dark tale looms over Rizal Park, which is named after the revered Filipino freedom fighter who was executed by the country's Spanish colonial powers for the crime of rebellion. A huge, evocative art installation at the park depicts the moment of Rizal's death.
Seonjeongneung Park
WHERE: Seoul, South Korea
It may just be Seoul's most overlooked UNESCO World Heritage Site. While tourists flock to the city's UNESCO-listed royal palaces and Jongmyo Shrine, very few travelers cross the Han River to visit a beautiful park that helps explain the history of South Korea.
Here in Gangnam, an area best known for its luxury shopping and ritzy restaurants, are the grand tombs of kings from the Joseon Dynasty (1392-1910). This five-century long kingdom marked perhaps the most tumultuous period in Korean history, dense with war, royal coups, invasions, religious upheaval, and enormous cultural change. This gorgeous park is home to a sequence of grassed-covered, dome-shaped tombs.
Ueno Park
WHERE: Tokyo, Japan
The location of Ueno Park is simultaneously brilliant and awful. This sprawling park in Tokyo's inner-north is in a very handy position alongside the Tokyo National Museum and Tokyo Metropolitan Art Museum. The problem is that it's also facing in a north-east direction which, according to ancient Japanese beliefs, is called the demon gate.
This orientation is considered very unlucky and creates a passageway for malevolent spirits to enter the living world. Of course, this is no reason to avoid Ueno Park as you're unlikely to bump into one of these ghouls.
Ditan Park
WHERE: Beijing, China
It rises from the middle of a meticulously-maintained park in Beijing's inner-north—a large, flat platform that looks unremarkable at first glance. But this is an extraordinary place, a 500-year-old altar where, for centuries, Chinese Emperors offered sacrifices to the God of the Earth.
In the 1920s it was turned into a public park and is among the most popular and beautiful green spaces in Beijing. Ditan Park is home to the Temple of the Earth which is one of Beijing's four cosmological temples, each of which was dedicated to a different god and acted as a site of sacrificial rituals.
Lodhi Garden
WHERE: New Delhi, India
Spread over 90 acres in a quiet part of southern New Delhi, the attractive lawns and groves of Lodhi Garden are upstaged only by a sequence of majestic tombs. Dating from the late 1400s to the early 1500s, these massive structures showcase India's renowned Mughal architecture.
The resting places of revered Indian leaders, these tombs are embellished by giant domes, intricate stonework, and clusters of mesmerizing arches. Meanwhile, joggers, tourists, and picnicking families can savor the park largely oblivious to the dynasty that is buried here.
Co Loa grew into a giant city before it was brought down by love and a magic crossbow. Legend has it that Vuong's daughter, My Chau, was seduced and tricked by her husband Trong Thuy, the son of a rival Chinese general. This betrayal centered on a crossbow, owned by Vuong, who became invincible when he wielded it. Trong Thuy convinced his wife to give him access to her father's weapon, which he then stole and gave to his general father, who exploited its power to invade and capture Co Loa. My Chau's mistake not only led to her father's death but paved the way for almost a millennia of Chinese occupation in Vietnam.
Eventually, Co Loa bounced back, just like the Vietnamese people. When finally, after 1,000 years, the Chinese were driven out of Vietnam, Co Loa again became the capital of this newly-independent nation. Vietnamese statesmen Ngo Quyen, who had just defeated Southern Han invaders in 938 AD, made Co Loa the hub of his Annam Kingdom.
There's next to nothing left of the original city walls which witnessed these many battles. Fortunately, in the Co Loa museum, there are hundreds of important artifacts from its reigns as the capital of the Au Lac and Annam Kingdoms. This museum, which has English language plaques, boasts ceramics, tools, weapons, and sculptures up to 2,300 years old.
It also has an exhibition that explains the citadel's biggest annual event—the Co Loa Citadel, which usually is held over two days each February, and involves a loud and colorful parade.
Dressed in red-and-yellow tunics, over white pants, men and women from Co Loa's villages march in groups while holding flags, gongs, drums, and palanquins dedicated to Vuong and his daughter My Chau. This procession, which attracts thousands of spectators, passes two magnificent 18th-century temples built in honor of those historical figures.
An Duong Vuong Temple is another key building here. Its grand stone gate, decorated by intricate stonework, reflects in the large lake which abuts this Buddhist temple. A sequence of courtyards leads to the temple's main prayer hall, which is flanked by a graceful pagoda amid landscaped gardens.
Similarly serene is My Chau temple, just a short walk away. This large Buddhist complex is centered around a shimmering gold shrine. Few tourists pass through here, and it's easy to wonder if those that do are aware that a mighty civilization once existed here. A powerful kingdom, a thriving society, and Vietnam's first citadel, all of which was brought to its knees by a magic crossbow.
Source: Read Full Article