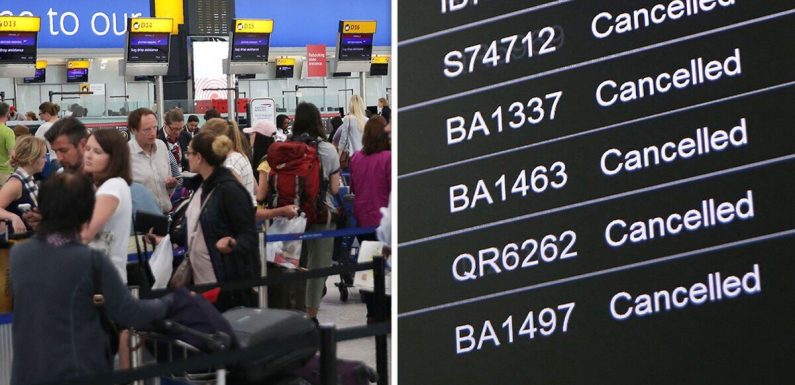 The full list of TUI flights delayed or cancelled amid travel chaos
We use your sign-up to provide content in ways you've consented to and to improve our understanding of you. This may include adverts from us and 3rd parties based on our understanding. You can unsubscribe at any time. More info
The UK has been experiencing mass flight cancellations for a few months, and a new study has revealed which airport is the worst, with one in England seeing more than one in six flights cancelled. So if you're thinking of jetting off somewhere hot this August, consider avoiding these airports for a stress-free journey outbound.
The study by money.co.uk analysed CAA Flight Cancellation data to reveal the UK airports that have seen the most flight cancellations.
The UK airport that saw the highest percentage of flight cancellations in May was Humberside, with 10 percent of all flights cancelled.
The international airport consists of only one terminal and is situated in eastern England, in the middle of the city triangle which consists of Hull, Grimsby, and Scunthorpe.
With 4.05 percent of flights cancelled in May 2022, Southampton airport ranks in second place.
The airport offers flights to more than 30 destinations including the Netherlands, Portugal, and France.
Taking third place is London's Gatwick airport, which saw 523 out of 22,050 flights cancelled in May (two percent).
Gatwick airport flies to more destinations than any other UK airport, handling over 43 million passengers a year.
Some airports have had no cancellations, so far this year.
These include Southend, Bournemouth, Prestwick, Exeter, Shoreham and Teesside International – so, if you are thinking of flying this summer you may want to consider leaving from one of these.
James Andrews, Senior Personal Finance Expert at money.co.uk, commented on the research.
He said: "With thousands of flights cancelled across the UK in May alone, the good news is that there are a number of ways you can deal with them.
"Before flying, make sure you know your rights and what you are entitled to if your flight gets cancelled.
"Under UK law, airlines must provide a reasonable amount of food and drink during a significant delay, which are often provided in the form of vouchers.
"These can usually be collected at check-in or bag drop from a member of the airline's staff.
"Airlines must also provide accommodation if re-routed to the next day, or for as long as you are unable to fly, as well as transportation to and from the accommodation.
"If airlines are unable to arrange assistance, it is important you keep all your receipts so you can claim the cost back at a later date.
"However, remember that airlines are unlikely to refund unreasonable costs such as alcoholic drinks.
"If you were given less than 14 days' notice of the flight cancellation, you may be entitled to compensation.
"However, this is only the case if the cancellation is the airline's fault," James added.
"Cancellations caused by factors outside the airline's control, such as extreme weather and air traffic control issues, are not eligible for compensation."
The top 10 airports with the most flights cancelled in May 2022 were:
1. Humberside – 38 flights cancelled, or 10.30 percent
2. Southampton – 58 flights cancelled, or 4.05 percent
3. Gatwick – 523 flights cancelled, or 2.37 percent
4. Heathrow – 815 flights cancelled, or 2.27 percent
5. London City – 98 flights cancelled, or 2.16 percent
6. Glasgow – 102 flights cancelled, or 1.77 percent
7. Manchester – 252 flights cancelled, or 1.71 percent
8. Belfast International – 57 flights cancelled, or 1.54 percent
9. City Of Derry (Eglinton) – 4 flights cancelled, or 1.45 percent
10. Bristol – 82 flights cancelled, or 1.42 percent
Source: Read Full Article