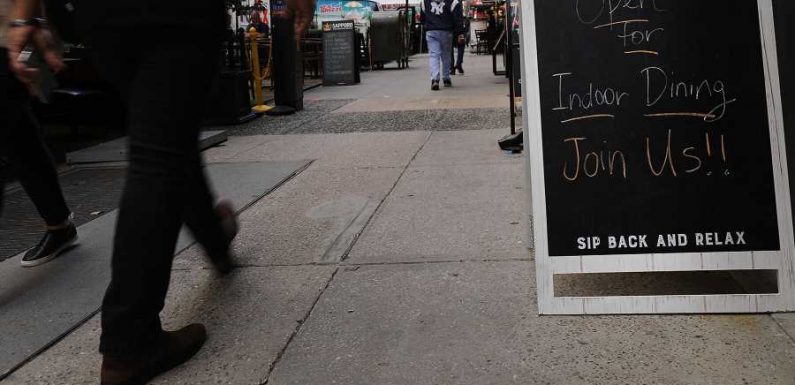 Governor Andrew Cuomo has given New Yorkers the go-ahead to dine out on Valentine's Day, but lovebirds who are feeling comfortable enough to eat indoors may have trouble scoring a seat on what is already one of the busiest nights of the year: When New York City restaurants are allowed to reopen on Feb. 14, they'll have to limit themselves to just 25% capacity.
The option to reopen indoor dining may offer a tenuous lifeline to struggling restaurants in the city — marking only the second time indoor dining will have been allowed since the initial COVID-19 shutdown in March of last year. In September, restaurants were allowed to open (also at 25% capacity) before being told to keep diners out again in December after what was considered a post-Thanksgiving spike in cases.
With vaccines rolling out and case numbers meeting certain benchmarks, it's possible indoor dining can continue for good. However, Cuomo did warn that if the numbers change, so could the city's dining policies. And even with the new rules, Cuomo stressed that his Valentine's Day gift was contingent on COVID-19 rates following their current downward trajectory.
As to why struggling restaurants would have to wait over two weeks to let patrons in from the winter weather, Cuomo only added, "The restaurants want a period of time so they can notify workers — they can get up to speed for indoor dining, order supplies, etc. So, we're saying indoor dining — 25% — on Valentine's Day."
Whether 25% capacity is actually enough to benefit restaurants is up for plenty of debate. In anticipation of Cuomo's announcement today, which had been hinted at earlier in the week, the New York Post was prepared yesterday with a story titled, "NYC restaurant owners fuming over plan to resume indoor dining at 25%."
On the other hand, shutting down businesses in a large, complex population center like New York City could be why it's seeing lower infection and hospitalization rates to begin with. As a CDC study released in September showed, adults who tested positive for COVID-19 were three times as likely to have visited a restaurant, bar, or coffee shop.
This story originally appeared on Food & Wine.
Source: Read Full Article