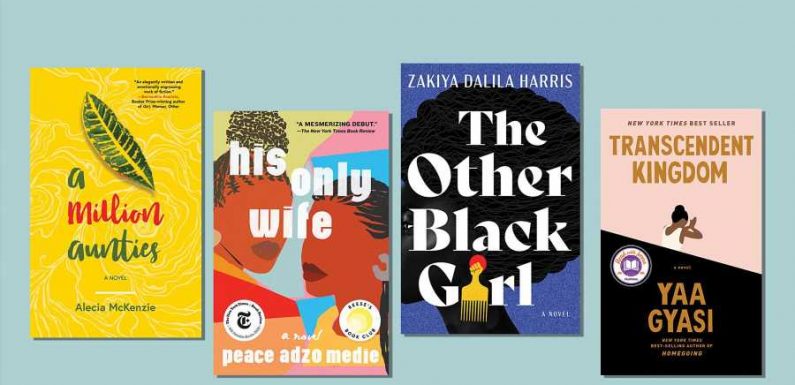 Hopping on a plane or jumping in the car aren't the only ways to go on an adventure. Books have a way of transporting us to new places, and the following list of novels is no exception. We've rounded up 30 travel-themed books by Black authors that will satisfy your thirst for adventure and possibly even inspire your next trip. Each book offers a rich narrative with fascinating characters and captivating settings around the world. Read on.
1. "Behind the Mountains" by Edwidge Danticat

This novel follows young Celiane as she leaves her small town in Haiti for Brooklyn, New York. Readers will fall in love with Danticat's description of Celiane's simple life in the lush mountains of Haiti.
For more information: edwidgedanticat.com
2. "Born a Crime" by Trevor Noah

"Born a Crime" is Noah's love letter to both his Black mother and life in South Africa. The memoir takes place in the years after apartheid and gives readers an intimate portrait of the comedian's home country.
For more information: trevornoah.com
3. "Black Girl in Paris" by Shay Youngblood

Paris is for lovers. It's also for Black girls from Alabama who travel to Paris to follow in the footsteps of writer James Baldwin. "Black Girl in Paris" explores the idealization versus reality of living in the famous French city.
For more information: shayyoungblood.com
4. "Queenie" by Candice Carty-Williams

"Queenie" is based on a young Black professional living in London, who comes from a traditional Jamaican family. Queenie struggles to find her place at her newspaper job, and also seems to have bad luck in her relationships. In the end, she learns to stand up to her family and for herself.
For more information: simonandschuster.com
5. "Stay With Me" by Ayobami Adebayo

Nigeria serves as the background for this emotional story about a modern African marriage. "Stay With Me" is about the contrast between old traditions and new ways, and what happens to a couple who is stuck in between.
For more information: ayobamiadebayo.com
6. "The Star Side of Bird Hill" by Naomi Jackson

"The Star Side of Bird Hill" centers on two sisters, Dionne and Phaedra, who are sent from Brooklyn to Barbados to live with their grandmother. The girls learn about their mother's secretive history, and when their father shows up, things get complicated. The novel is just as colorful as the Caribbean island.
For more information: naomi-jackson.com
7. "Their Eyes Were Watching God" by Zora Neale Hurston

Hurston's most popular work takes place in the all Black town of Eatonville, Florida, in the 1920s. The story follows Janie in her pursuit of love and happiness. And it has everything needed for a Florida setting: the heat, the Everglades, and even a hurricane.
For more information: zoranealehurston.com
8. "Here Comes the Sun" by Nicole Dennis-Benn

In "Here Comes the Sun," Dennis-Benn takes readers beyond the white sands and turquoise waters of Jamaica. In the novel, Margot works at a high-end resort and is faced with hard decisions in order to keep food on the table and her younger sister in school.
For more information: nicoledennisbenn.com
9. "Annie John" by Jamaica Kincaid

Kincaid's "Annie John" is a gentle novel that takes place on the quiet island of Antigua. Set in the 1950s, the coming-of-age story features a young Antiguan girl facing the difficult decision to leave her island and family for a new life in England.
For more information: us.macmillan.com
10. "Ghana Must Go" by Taiye Selasi

In this novel, the death of a patriarch in the opening chapters brings his children back home to Ghana from Boston, New York, and London. The book explores themes of migration, family, and what it means to be home.
For more information: penguinrandomhouse.com
11. "Land of Love and Drowning" by Tiphanie Yanique

If you like novels with a mix of magic realism, "Land of Love and Drowning" delivers. The novel tells the story of a family over three generations, from the 1900s to the 1970s, with the island of St. Thomas as a background.
For more information: tiphanieyanique.com
12. "An American Marriage" by Tayari Jones

Jones often sets her novels in Atlanta, and "An American Marriage" is no different. The book follows a couple who is torn apart by an accusation and must live with the fallout. Lovers of the Peach State can also read Jones' other novels, "Leaving Atlanta" and "The Untelling."
For more information: tayarijones.com
13. "From Scratch" by Tembi Locke

After reading "From Scratch," readers will want to book a flight to Sicily to wander through the cobblestone streets. The memoir begins with Locke falling in love with her future husband while studying abroad in Italy. The couple then moves to Southern California, where a tragedy occurs that brings Locke back to the Italian island.
For more information: tembilocke.com
14. "Dear Haiti, Love Alaine" by Maika and Maritza Moulite

The Moulite sisters' debut novel is just as dazzling as the front cover. The book features a young Haitian American, Alaine Beauparlant, as she travels from South Florida to Haiti to solve a family mystery. The story is unique in its depiction of the Haitian upper class in both Haiti and Miami.
For more information: maikaandmaritza.com
15. "Royal Holiday" by Jasmine Guillory

If you've ever wondered what it would be like to spend a week with the Duke and Duchess, "Royal Holiday" is the perfect read. Vivian Forest and her daughter, who is a stylist for the royal family, travel to England and spend Christmas and New Year's Eve in the English countryside. Over tea and crumpets, Vivian finds herself in an unexpected romance.
For more information: jasmineguillory.com
16. "Queen Sugar" by Natalie Baszile

"Queen Sugar" will pull you in with its family drama and captivating characters. The novel centers on three siblings who return to Louisiana to save their father's sugarcane field. The story is steeped in New Orleans history, while also depicting modern life in the Deep South.
For more information: nataliebaszile.com
17. "Americanah" by Chimamanda Ngozi Adichie

"Americanah," which was released in 2013, remains one of the best-selling novels set in Nigeria. The story traces young Ifemelu's journey from Nigeria to New York and back again. Readers will watch her grapple with her identity and love life, all while writing a popular blog about race in America.
For more information: chimamanda.com
18. "All God's Children Need Traveling Shoes" by Maya Angelou

Angelou is known for her signature storytelling, and in "All God's Children Need Traveling Shoes," the author brings readers with her as she recounts the years she lived in Ghana. In this captivating memoir, Angelou writes about trying to escape racism in America while also struggling to fit into African culture.
For more information: penguinrandomhouse.com
19. "The Turner House" by Angela Flournoy

Set in Detroit, "The Turner House" tells the story of the 13 Turner children over five decades. The novel follows the rise and fall of the Turner family, which mirrors the rise and fall of one of America's greatest cities.
For more information: angelaflournoy.com
20. "Another Brooklyn" by Jacqueline Woodson

Woodson uses Brooklyn as the background for this coming-of-age story of three Black girls in the 1970s. The novel will have you dreaming of hanging out on brownstone steps on a warm summer night.
For more information: harpercollins.com
21. "Transcendent Kingdom" by Yaa Gyasi 

Both Ghana and Alabama are settings for this beautifully written novel that focuses on Gifty, a brilliant PhD candidate, who wrestles with her faith in trying to understand her family's tragedies. The novel is an examination of addiction and mental illness, and it also explores the idea that perhaps faith and science are not as contradictory as we think. 
For more information: penguinrandomhouse.com
22. "The Other Black Girl" by Zakiya Dalila Harris

In "The Other Black Girl", Nella Rogers is the only Black girl at a New York publishing company. When another Black girl is hired, Nella is at first happy to have a coworker she can relate to, but things spiral quickly in this tense thriller. This book delivers NYC high-rises full of high-stakes drama.  
For more information: zakiyadalilaharris.com
23. "Glory: Magical Visions of Black Beauty" by Kahran and Regis Bethencourt

"Glory" is a visual feast from husband-and-wife photographers Kahran and Regis Bethencourt. The couple traveled throughout the U.S., Europe, and Africa, capturing the beauty of Black youth. There are stories woven throughout the photos, revealing that from California to Paris, Ghana to Mississippi, Blackness is just as beautiful and diverse as the countries represented. 
For more information: us.macmillan.com
24. "The Woman Next Door" by Yewande Omotoso 

South African neighbors Marion and Hortensia have a lot common, but there's very little they agree on. While Hortensia is Black and Marion is white, both are widows and live in the upscale South African neighborhood of Constantia. In this contemporary novel, the author digs into the history of apartheid in South Africa, while showing us it's never too late to change. 
For more information: us.macmillan.com
25. "The Field Guide to the North American Teenager" by Ben Philippe

Norris Kaplan is a Black French-Canadian teen who learns that he will be moving to Austin, Texas. The problem is, he's never been to Texas, and most of what he knows about America, he's learned from watching TV. In this quirky YA novel, Norris learns to let go of labels as he figures out exactly who he is and where he belongs. 
For more information: benphilippe.com
26. "Where the Rhythm Takes You" by Sarah Dass 

Sarah Dass' debut novel, "Where the Rhyme Takes You," features 17-year-old Reyna, whose family owns a resort in Tobago. Reyna is on the verge of adulthood, and without her mother, who passed away two years ago, and her first love Aiden, who moved away to follow his dreams of being a musician, she's not sure what her next move should be. To Reyna's surprise, Aiden unexpectedly comes back to Tobago, forcing her to make some hard decisions.  
For more information: sarahdass.com
27. "His Only Wife" by Peace Adzo Medie 

Afi Tekple's husband doesn't show up on their wedding day — not because he gets cold feet, but because the wealthy Ghanian is away for work, and he sends a stand-in instead. Afi learns that her husband is in love with another woman, and she has been chosen by his family to woo him away from the other woman. The novel raises questions about marriage, love, and a woman's right to control her own destiny. 
For more information: peacemedie.com
28. "Love in Color" by Bolu Babalola 

Travel around the world and through history with a collection of mythical tales retold by Bolu Babalola in "Love in Color." The anthology includes West African folktales, Greek myths, and Middle Eastern legends — all love stories retold from Babalola's fresh perspective. It's hard to choose a favorite — each one is more colorful and entertaining than the last. 
For more information: harpercollins.com
29. "A Million Aunties" by Alecia McKenzie 

Searching for healing, Chris heads to his mother's homeland of Jamaica. An artist from New York, he begins to learn about himself and his family during his stay on the tiny island. But before he can fully let go, Chris is called back to the United States to care for his ailing father. "A Million Aunties" is a novel about family, loss, and love, and finding our way back home. 
For more information: aleciamckenzie.com
30. "The Yellow House" by Sarah M. Broom 

"The Yellow House" is a reference to the New Orleans shotgun home that Sarah M. Broom grew up in. The stunning memoir traces Broom's family's history, from the purchase of the home in 1961 to its eventual destruction in Hurricane Katrina. Brown's memoir is a poignant reminder that home is more than a structure. Home is land; it's family, history, and memories — and these are things that can never be washed away. 
For more information: sarahmbroom.com
Source: Read Full Article