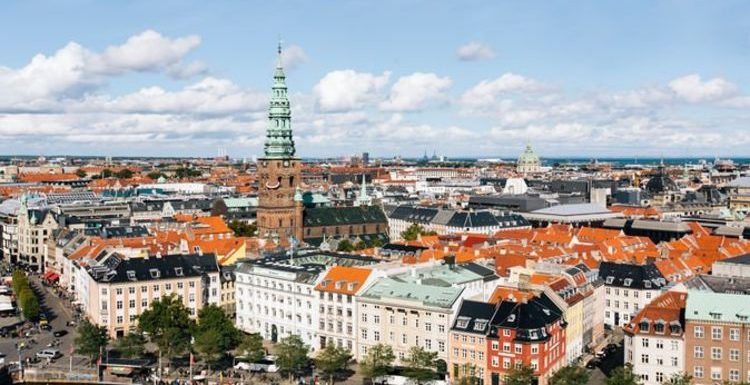 Copenhagen: Expedia gives virtual tour of 'The City of Spires'
We use your sign-up to provide content in ways you've consented to and to improve our understanding of you. This may include adverts from us and 3rd parties based on our understanding. You can unsubscribe at any time. More info
After a pandemic that has lasted for what seems like a lifetime, when I got the chance to travel for the first time in over two years, it was a no brainer. After a few train journeys I finally made my way to Gatwick Airport, which seemed eerily quiet as I meandered through the terminal.
Having not flown anywhere for a few years, I was pleasantly surprised to find how it easy it was to check in. No long waits and no screaming children made for a lovely morning.
After landing in Copenhagen, I was picked up by a Viggo electric car, Denmark's eco-friendly answer to Uber or Lyft. One 30-minute drive later and I had arrived at the Hotel Mayfair. The four-star hotel was the perfect overnight stop for a quick visit to the city.
It was less than a five-minute walk from Copenhagen Central Station and is surrounded by wonderful architecture, independent cafes and restaurants serving all kinds of cuisine.
The room came equipped with complimentary coffee and tea as well as a number of sustainably packaged face masks and soaps. The only downside was the TV didn't have any Danish channels. I was looking forward to seeing what Denmark's equivalent of EastEnders was.
After briefly unpacking and admiring the view – the main road into Central Copenhagen and the edge of the meat packing district – it was time for the first attraction, and the main reason for the trip.
Just over 10km north of Copenhagen, in Charlottenlund, lies a majestic manor house containing one of the largest hauls of artwork from around Europe.
Ordrupgaard is a stunning complex of museum houses and art galleries located inside the home of Wilhelm and Henny Hansen. The pair were best known for their incredible collection of French impressionists, but their endeavours started with Danish art.
The gallery was the subject of a new film from Exhibition on Screen entitled The Danish Collector: Delacroix to Gauguin, directed by David Bickerstaff. The collection was given the silver screen treatment as a result of Covid guidelines around museums, meaning not enough people would be able to see the wonders of the attraction.
DON'T MISS
Spain to cut taxes for one type of expat [INSIGHT]
Best country for expats named – and Spain is not in the top 10 [ANALYSIS]
Royal sadness as Danish Queen cancels New Year's events [SHOCKING]
The film follows the work done by the staff to bring together some of the best examples of 19th-century French art in one of the greatest collections ever amassed.
The country home was filled with countless stunning artworks from the likes of Claude Monet, Henri Matisse and Paul Cézanne.
Whilst there, myself and two other guests were given the privilege of having a guided tour from one of the curators of the museum to give a fascinating insight into the history of the buildings as well as expert knowledge of the thousands of pieces of art on display.
After spending a few hours touring the complex, we took another Viggo to our next stop – dinner. After a recommendation from our gracious tour guide, we visited Maple Casual Dining, a phenomenal bohemian eatery.
TUI Summer Holiday deals from £214pp
Use code SUMMER to save £100 per booking on holidays to Spain, the Balearic & Canary Islands, Greece, Portugal, Morocco, Malta, Cyprus, Croatia, Italy, Switzerland, Gibraltar, Iceland, Jersey, Jamaica, St. Lucia, Aruba, Antigua, Barbados, Grenada, Dubai and the USA. Departures up to 30th September 2021. Min Spend £1000. T&Cs apply.Plus, save an extra £25 when you book through the TUI app. T&Cs apply.
This box contains affiliate links, we may receive a commission on any sales we generate from it. Learn more.

Source: Read Full Article