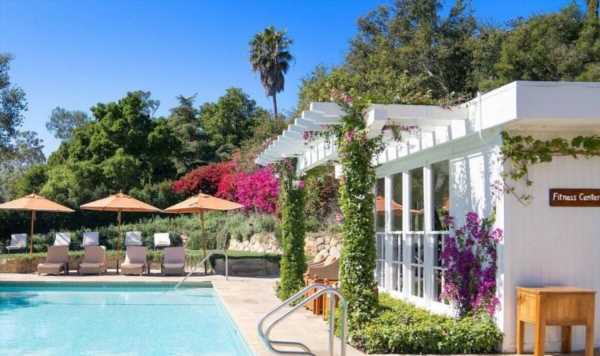 Meghan Markle sparked scandal with wedding outfit choice
We use your sign-up to provide content in ways you've consented to and to improve our understanding of you. This may include adverts from us and 3rd parties based on our understanding. You can unsubscribe at any time. More info
The Duchess of Sussex was featured in new photos for Variety. The photoshoot took place at San Ysidro Ranch in California.
The luxurious ranch has previously been called the number one resort hotel in California by Travel+Leisure.
With a historical guest list including Winston Churchill, Groucho Marx and John and Jackie Kennedy, Meghan isn't the only celebrity to visit the ranch.
The website says: "Tucked away in the leafy foothills of Santa Barbara, San Ysidro Ranch offers a unique blend of privacy, peace and tranquillity in an idyllic setting."
The ranch includes 38 vine-covered cottages surrounded by landscaped gardens and citrus groves.
View this post on Instagram

A post shared by Variety (@variety)
Each of the luxurious cottages is decorated with antiques and artwork from around the world and boasts a stone fireplace.
Guests enjoy king-sized four poster beds and outdoor rainfall showers to admire the property's views.
The resort's 'Crown Jewel' is the 6,000 square foot Warner Cottage which has its own 33 foot swimming pool.
Each of the master bedrooms has a TV and the bathrooms feature heated floors and luxury Italian linens.
But Warner Cottage doesn't come cheap and guests will need to pay $10,000 (£8,898) per night for four people.
San Ysidro Ranch has several restaurants for its guests including the Stonehouse Restaurant which offers New American style cuisine.
Guests enjoy views of the creek in a romantic dining room with a fireplace and fairy lights.
The ranch also offers private dining spaces for visitors who want to enjoy an intimate celebration.
A romantic oasis, San Ysidro Ranch is also a popular wedding and offers intimate and large celebration options.
Laurence Olivier and Vivien Leigh exchanged midnight wedding vows on the grounds and the Kennedys honeymooned there.
Couples can have 100 guests at a ceremony in the property's stunning gardens with views of the mountains.
San Ysidro also has its own spa and salon. An hour's facial at the resort's spa costs around $250 (£222).
Guests can also book a California Wine Country package for their stay and enjoy a five day itinerary of wine tastings.
On the day of the shoot, the Duchess "sped past a group of 60-something women who'd made the trip to Montecito to celebrate a birthday".
Variety said that the group stopped dead as Meghan waved and smiled from the golf cart she was in.
One of the resort's smaller cottages cost around $2,600 (£2,219) for a night's stay in November.
Source: Read Full Article