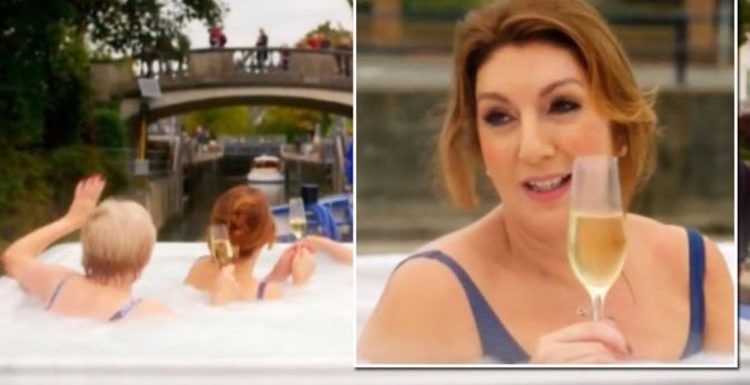 Jane McDonald drinks champagne on hot tub boat ride
When you subscribe we will use the information you provide to send you these newsletters. Sometimes they'll include recommendations for other related newsletters or services we offer. Our Privacy Notice explains more about how we use your data, and your rights. You can unsubscribe at any time.
Jane took her two friends on a trip for their 70th birthdays. They joined the singer and presenter on a river cruise down the Thames.
The trip saw Jane and her friends cruise with European Waterways on the luxury hotel barge, Magna Carta.
The six-night cruise through England starts at Hampton Court Palace.
It then travels through Windsor, Cliveden, Cookham, Hurley, and Henley-on-Thames.
In one moment, which thrilled viewers, Jane and her friends got in their swimming costumes to sit in a hot tub on the deck.
The autumn air looked freezing but, according to Jane, the water was warm.
"We need a drink," she cried, as cars whizzed past her on the side of the capital's river.
All four of the party cheered as the bubbles appeared.
Soon, Jane's wish was answered as Champagne was brought to the guests.
DON'T MISS
Jane McDonald details 'emotional' final series after partner's death [INSIGHT]
Jane McDonald warns 'be prepared' as she shares luggage tips [CRUISE]
'Frightened to death!' Jane McDonald terrified [VIDEO]
The thirsty star reaches forward to grab a glass. "I'm going in," she murmured.
Bewildered Britons looked on as Jane and her friends sailed slowly past them in their hot tub.
Fans were in awe of Jane's antics. One wrote: "Jane McDonald having the time of her life sat in a jacuzzi on a moving boat going down a cold British river whilst drinking champagne on Channel 5."
They added: "Maybe she won."
Another said: "Only Jane could be in a bather in a hot tub, on a boat, in the middle of winter, saying hello it's lovely to meet you, to the public, on the street, whilst going under a rather busy bridge full of more public."
Another wrote: "Jane McDonald and Sue Ravey drinking hot chocolate with marshmallows and cream while sat on a barge, and wrapped in blankets, on primetime TV in 2021."
"Cruising with Jane McDonald is the best thing about Sundays," one wrote.
To finish off the show, which saw Jane take a trip from Hampton Court to Henley, the presenter sang Waterloo Sunset by The Kinds.
"Jane McDonald covering The Kinks. Didn't see that coming," one wrote.
Another said: "Love Jane Mcdonald, till she starts singing…"
Another wrote: "Jane McDonald destroying a kinks classic was my TV highlight of Sunday."
Source: Read Full Article