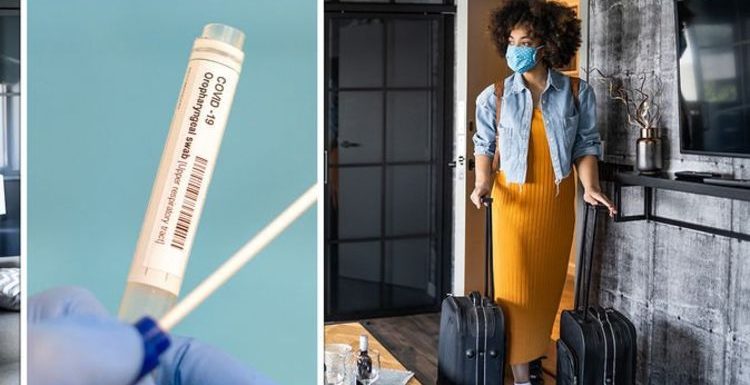 Travel: Calder discusses potential green list countries
When you subscribe we will use the information you provide to send you these newsletters. Sometimes they'll include recommendations for other related newsletters or services we offer. Our Privacy Notice explains more about how we use your data, and your rights. You can unsubscribe at any time.
Britons have been left stranded abroad and unable to fly home thanks to big delays in coronavirus testing with Qured, which promises "fit-to-fly" certificates within hours of receiving a negative test over video call.
The company says on its website that its "testing services are government recognised and rated 10/10 by thousands of our patients".
However, customers have complained that they have seen huge delays in the service, meaning many have missed their flights home.
Others have said that Qured's £39 test kits were not delivered to their homes on time before they went away, meaning they could not leave.
Some even complained that part of the £198 package for travellers returning from amber list countries never showed up, meaning they were stuck in self-isolation without the right tests.
One person trying to get home said: "Almost 24 hours later and no fit-to-fly certificate, despite a negative result in 20 minutes."
Another wrote on the NHS website: "Delays, no customer service, test results arrived later."
One man said he and his family were "trapped" in self-isolation due to their testing kits that never arrived.
A spokesperson for Qured said: "While the timings of delivery and results are generally accurate, they are subject to change due to circumstances out of our control."
DON'T MISS:
Holiday warning: Ibiza and Mallorca could stay on amber list [INSIGHT]
Ryanair boss explains how to get 'best price' for flights [COMMENT]
Prince William and Kate's face holiday 'difficulties' say experts [EXPERT]
The company partnered up with British Airways to offer tests earlier this year.
A statement on the BA's website read: "To make it easier to test when you're outside of the UK, we're offering discounted antigen kits with Qured – simply pack your test and use it wherever you are in the world."
A Department of Health spokesperson said: "If a provider is failing to meet required standards, they get a five-day warning and then they are removed from the gov.uk list."
Rory Boland, the Which? Travel editor, said the consumer group raised concerns about the testing regime prior to international travel restarting.
He said: "Proper regulatory oversight of testing for travel is urgently needed, not least to protect public health, and cannot be delayed any longer.
"Millions of people are going to rely on this system over the summer, and risk being left significantly out of pocket through no fault of their own if these problems are not addressed by the Government immediately."
The Government recently revealed its travel traffic light system which details the countries British holidaymakers can travel to.
The "green" list countries mean quarantine is not required on return into England but a Covid test is required before you travel as well as on arrival back into the country.
"Green" list countries include Gibraltar, Portugal, Iceland, Faroe Islands, Brunei and the Falkland Islands.
Those returning from "amber" list countries are required to have a Covid test on or before day two and on or after day eight of returning back into England, and are also required to self-isolate while they await the results.
There is also the option of a third test, which releases you from quarantine on day five.
Testing is also required prior to travelling to an "amber" list country.
Source: Read Full Article