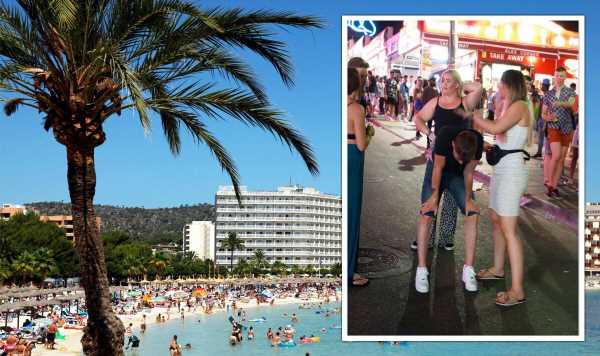 Simon Calder outlines customer rights after EasyJet cancellations
We use your sign-up to provide content in ways you've consented to and to improve our understanding of you. This may include adverts from us and 3rd parties based on our understanding. You can unsubscribe at any time. More info
The Spanish party resort has long had a reputation for hedonism and is a favourite of party loving Britons. However, new limits on all-you-can-drink deals and party boats were designed to crack down on drunken behaviour.
A tourism chief has claimed that Magaluf still has the same problems with drunken behaviour despite the new rules.
Pepe Tirado, president of the Acotur tourism association, said Magaluf had the "usual problems".
"There is talk of improving the quality of tourism, but nothing changes," he told Spanish publication Ultima Hora.
Tirado said: "The pub crawls have returned. Going to a series of bars and drinking for little money.
"There are the party boats, illegal parties with alcohol at sea. Without any control, just as there is no control over those who organise them.
"There is the general quality of the tourist who visits us. In particular the alcohol tourist, who has no qualms about urinating in the street and laughing about it."
Tirado also complained that the number of street sellers approaching tourists on beaches in Magaluf was increasing.
He said it was "unfair competition" for shops and businesses in the resort and no one was doing anything about it.
Tirado said he thought the Balearic Government's laws on drinking and illegal parties were good.
However, he said that there weren't the "necessary means" for the law to be effective as there were not enough police to enforce them.
He added that tourism in Magaluf would only improve if the Government brought order to the streets.
Although new laws on drinking were introduced in Magaluf in 2020, this will be the first busy year they have been in place.
British tourists staying at Thomas Cook all-inclusive resorts will have a maximum limit of six drinks.
Supermarkets that sell alcohol must close at 9:30pm while there is a ban on new boat party licences.
Bars will be banned from advertising alcohol offers including buy one get one free deals which are usually popular in the resort.
Tourists will also be subject to heavy fines for attending illegal parties organised without licences.
British tourists will also be fined if they are caught "balconing" or attempting to climb on balconies in Magaluf.
"Balconing", or climbing on hotel balconies, has led to the tragic deaths of several British tourists in Spain.
Hotels will also be fined if tourists are caught attempting to climb or jump from balconies at their establishment.
The new rules are also in place in Ibiza as the Balearic Government aims to crack down on drunken behaviour in party hotspots.
Source: Read Full Article