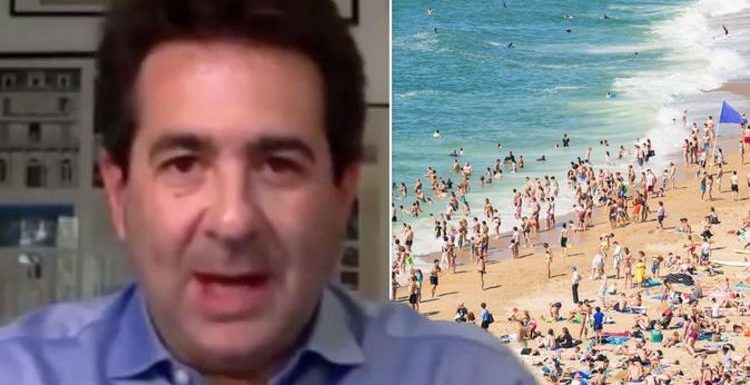 Travel: Double jab rules will be 'boost for economy' says expert
When you subscribe we will use the information you provide to send you these newsletters. Sometimes they'll include recommendations for other related newsletters or services we offer. Our Privacy Notice explains more about how we use your data, and your rights. You can unsubscribe at any time.
Holiday-starved Britons could soon receive a welcome boost, with the Government expected to unveil its plans to lift quarantine for the double-jabbed later today. Ahead of this, Paul Charles, CEO of the PC Agency, is urging hopeful passengers to "lock-in" their travel plans now.
According to the expert, airlines and holiday providers are anticipating a surge in bookings once the plans are unveiled.
Prime Minister Boris Johnson is expected to say that all Britons who have received both doses of their COVID-19 vaccine are able to jet off to amber list countries without having to self-isolate on their return.
Posting to Twitter, Mr Charles warned Britons of the looming rise in travel costs.
"I'd advise consumers to lock in deals today before prices go up – and travel firms bring back some sales staff from furlough – as tomorrow the government is likely to announce a vaccine dividend for the fully-jabbed from 19 July," he said.
While it is a welcome development for the travel industry, Mr Charles stressed that the Government must not delay bringing the rules into force.
"I think the travel industry is hoping that the government announce would in effect be a vaccine dividend for anyone who is fully jabbed before 14 days of going away," he told GB News.
"This could be the news the sector needs for that vital lift to help it recover.
"If the Government signals the 19 July onwards would be the day when the fully jabbed can go to amber countries and come back and not have to quarantine in the UK, that will provide a significant lift in confidence and a significant boost in bookings which is exactly what the industry needs to help it survive.
DON'T MISS
Dad's outrage as he's quoted £71,000 for week-long UK family holiday [COMMENT]
Car camping: Couple transform Mercedes van for ultimate UK road trip [INSIGHT]
Balearics enforce restrictions after mass COVID-19 outbreak [UPDATE]
"If the Government goes any later, if it says we are only going to open things up more fully from early august, that won't help the sector and indeed most of the summer season will be lost."
It is not yet clear whether or not the current testing rules for those returning from green and amber list countries will remain.
Currently, all arrivals heading to the UK must take a COVID-19 test before they board their flight.
Green list arrivals must then take a second PCR test on day two of their arrival.
Amber list arrivals, meanwhile, must take two PCR tests on day two and day eight of their arrival.
"It is going to be interesting to see what they say about the traffic light system," said Mr Charles.
"Whether in fact, they tweak it to make it much simpler which the industry and consumers would prefer, and also what they say in regards to testing.
"Obviously one of the barriers to people booking has been the high cost of texting so will they dilute that testing policy?
"Especially for the fully jabbed so, in fact, they wouldn't have to test on day two of coming back from a green country for example which you have to do at the moment."
The PM previously set out his plans to ease Covid restrictions across the UK.
Mr Johnson said: "We will work with the travel industry towards removing the need for fully vaccinated arrivals to isolate on return."
Britons will be required to use their NHS app to prove their inoculation status when travelling in the future.
Source: Read Full Article