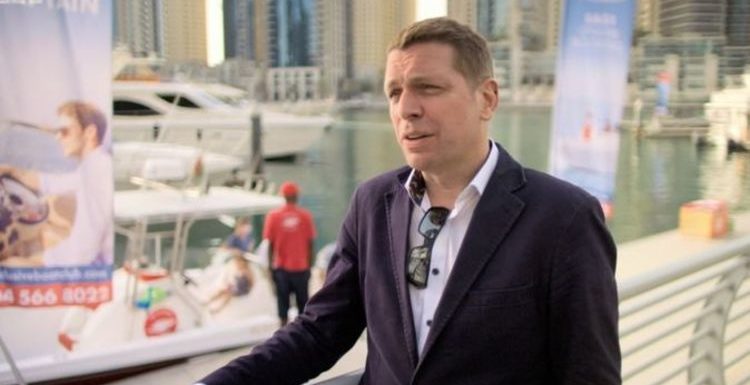 Influencer shows incredible views from her Dubai hotel bathroom
We use your sign-up to provide content in ways you've consented to and to improve our understanding of you. This may include adverts from us and 3rd parties based on our understanding. You can unsubscribe at any time. More info
An estimated two and a half million expats live in Dubai including many Britons. The tax free income attracts people from all over the globe.
The BBC joined Geordie Mark, 47, as he raced a sports car through the Dubai dunes.
The former supermarket shelf stacker had accepted a lucrative new job offer in the buzzing city.
Mark had been offered an exciting job opportunity managing a chain of 12 music shops in Dubai.
He told viewers he'd initially come to Dubai on holiday, saying: "I just didn't realise 10 days would turn into, who knows, 10 years possibly, who knows?
"I travelled out here to Dubai just for a short break and then my flight kept getting cancelled so I thought I'd better look and see if I could find a job.
"Then all of a sudden, a job appears and it's me. I get healthcare cover and the company also offers me a return flight every year so I can go home and see my family as part of my package.
"On top of that, no tax. Everything you earn is yours which somehow I prefer. Yeah, I can't believe it."
Mark's new managerial job comes with an £80,000 annual salary which the expat will see every penny of.
He said: "They very much cater for the expat. I think Dubai is very keen to look after the guests in its country.
"I'm trying to work out. Is someone coming to steal my soul at the end of the evening?"
The Briton wasn't put off by Dubai's strict laws, including on clothing and public displays of affection.
Mark said: "You hear all these horror stories, about people getting into trouble for petting on the beach and that sort of thing.
"It's not without its restrictions. Most Brits do see this dictatorship attitude as a bad thing but I think if you're prepared to subscribe to the way in which the Government wants the country run, Dubai seems to be the land of opportunity."
The show also featured British socialite and influencer Caroline Stanbury as she took part in a photoshoot with her boyfriend.
Caroline can earn as much as £5,000 for posting one Instagram ad for the hotel, as well as a free stay in one of its top rooms.
Caroline showed off the bathroom, saying: "Look at this bathtub! You've definitely seen an Instagram picture of me in this. I love these bathtubs just sitting here. A lot of people won't get to see a bathtub in an obelisk in the middle of Dubai."
Caroline couldn't understand why there's a "very negative feeling towards Dubai" in Britain.
She said: "Is it because in Britain, we're taught that if you have money, you shouldn't show it?
"You're meant to turn your lights off at seven and share a bath with your family? Here it's like you turn every light on and put all your jewellery on at once.
"Any British billionaire is dressed in Marks & Spencers and that's just what we do and here they wear Dolce & Gabbana and so do their children. They're doing something right, that the rest of the world hasn't cottoned on to."
But viewers were less impressed with 'angenevs' tweeting: "I don't get the fascination. It looks horrendous."
Arthur said: "Actually my idea of hell. Somewhere for people with way more money than taste."
However, Mark Ede tweeted: "Watching Inside Dubai, makes me wanna move back so much!"
Another tweeter said: "10 minutes of this Inside Dubai show and I've decided that within the next six months that's my next holiday destination."
Source: Read Full Article