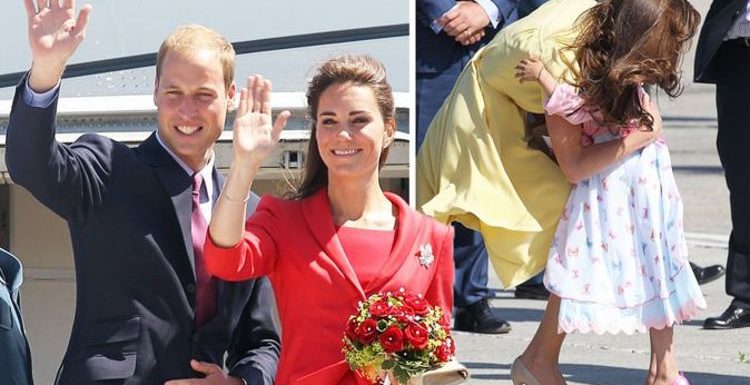 Kate Middleton hugs fan during royal tour in 2017
Kate Middleton has enjoyed plenty of globetrotting in her role as a royal. Protocol often has to be adhered to when the Royal Family goes away. However, the Duchess of Cambridge doesn't always follow the rules.
Kate has displayed her penchant for hugging on various trips abroad.
This is despite the fact that physical intimacy is not the formal way to greet a royal.
On the Royal Family's website, it says, when greeting a member of the clan: "For men, this is a neck bow (from the head only) whilst women do a small curtsy.
"Other people prefer simply to shake hands in the usual way."
We will use your email address only for sending you newsletters. Please see our Privacy Notice for details of your data protection rights.
However, the website also stresses that the protocol is advisory, but not enforced.
It explains: "There are no obligatory codes of behaviour when meeting The Queen or a member of the Royal Family, but many people wish to observe the traditional forms."
Older members of the royals are rarely seen in embraces but it seems the younger folk are eager to display intimacy.
Prince William's mother, the late Princess Diana, sparked surprise during her time as a royal when she hugged those she met.
It would appear William's wife is eager to replicate Diana's affectionate behaviour.
In 2010,7 the Cambridges visited Germany on an official royal tour and Kate and William visited Strassenkinder, a charity that supports children from disadvantaged backgrounds.
While there, Kate greeted the children with large hugs – despite what the royal protocol dictates.
One young girl hugged Kate, who replied saying: "That's nice of you," while another youngster hugged her from the side.
This was far from the only time the mother-of-three showed her tactile side.
In New Zealand in 2014, Duchess of Cambridge shared a hug with a little girl at Dunedin airport.
And in Calgary, Canada in 2011, the Duchess of Cambridge received a hug from six-year-old Diamond Marshall, who tragically died of cancer three years later.
Kate's sister-in-law. Meghan Markle has also often been seeing breaking royal protocol and hugging those she meets.
The Queen herself has flouted the rules on a few occasions in public.
In 2012, a Ugandan orphan hugged Queen Elizabeth while at Windsor Castle.
Former First Lady Michelle Obama also gave the Queen of England a hug and put her arm around her in 2009.
However, on most occasions, the Queen shakes hands with key figures she meets.
Source: Read Full Article