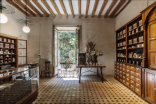 More than most places, Mallorca means different things to different people. For many the Spanish island is synonymous with the endless trinity of sun, sea, and sangria, since it virtually invented European beach tourism in the early 20th century. In 1929, Gertrude Stein wrote to her war-traumatized friend the novelist Robert Graves, recommending Mallorca as the perfect place to downshift and de-stress. ("It's paradise," she suggested, adding the biting qualifier, "if you can stand it.") But as the popularity of the island soared, its culture became ever more marginal. Traditional farming and cooking almost withered on the vine. (The vines themselves also withered, as ancient grape varieties including Manto Negro and Callet were pushed aside to make way for Cabernet Sauvignon and Chardonnay.)
When I first came here, in the 1980s, it was as a footloose student with a Lonely Planet guide and a fistful of traveler's checks. If in those days the island suffered from a serious case of low self-esteem, by the turn of the century it had started to feel better about itself. The old city of Palma, once almost a no-go zone, had begun its rapid transformation into one of the Mediterranean's most desirable destinations. In 2011 the Serra de Tramuntana mountain range was declared a UNESCO World Heritage Site, suggesting a new impulse toward conservation and restoration at the expense of untrammeled development. Now, fueled by nostalgia for the quiet, easygoing past and the current yearning for sustainable and slow travel, the latest phase of the fight back is firmly underway.
Revolutions aren't always full of sound and fury and shouted slogans. Sometimes they're about a diverse group of people all quietly heading in the same direction. The movement on Mallorca is taking place simultaneously on several fronts. On the one hand are the newcomers: the designers inspired by a long-established craft ethos, the artists and creatives relocating here as a back-to-the-land lifestyle choice, and the high-end hoteliers prioritizing all things zero-waste and organic. On the other are the homegrown artisans finding a fresh interest in their work—as well as the cooks, farmers, and winemakers rediscovering a rural gastronomy sidelined for decades by mass tourism and supercharged consumerism. To name but three: chef Maria Solivellas, tireless standard-bearer for local ingredients at her restaurant Ca Na Toneta; Pep Rodríguez, maverick maker of natural wines with rare indigenous grape varieties; and Juana Maria Verger, who is adding value to the glossy-leaved carob crop (for years its chocolate-brown pods were fed to livestock or simply left to rot on the ground) with her range of gluten-free flours, syrups, and infusions.
This year I reached the island at the tail end of a summer that was long and strange here, as it was everywhere else. Mostly for the collapse of the travel sector, overwhelmingly Mallorca's largest source of income, but also for the near-empty beaches, the less-polluted sea and sky, and the locals' delighted rediscovery of their home as something resembling its pre-touristic incarnation. Most of the hotels had either closed for the coming winter, exhausted by the pandemic's rules and regulations, or sadly hadn't bothered to open at all.
Casa Balandra could hardly be described as a hotel. It's a rambling, beautiful house in the little-visited inland village of Pórtol (known for its pottery workshops) where Claudia del Olmo Russo and Isabella del Olmo spent their childhood. The sisters and their associate Cécile Denis, who met Claudia in a design course at Goldsmiths University of London, opened the property in August 2020—emphatically not as a conventional place to stay, rather as a homey haven where creative spirits could come together for informal retreats. When I arrived, it was still in the afterglow of something the hotel termed an indulgence weekend, with banquets, brunches, and picnics in olive groves. Chef Naiara Sabandar had prepared a bevy of fruits and vegetables in their seasonal prime: fennel, almonds, persimmons, olives. Casa Balandra's bright-white interiors, filled largely with vintage furniture from nearby markets, were illuminated with laughter and tall church candles. My hosts were two fine examples of Mallorca's energetic new crowd. Their circle also includes Barcelona-born travel photographer Pia Riverola, Spanish beauty entrepreneur Nuria Val, and Lena Catterick and Carlo Letica of ethical clothing line Yöli & Otis, who recently swapped Australia's Byron Bay for a country house in the hills outside the Mallorquin town of Sóller.
Heading into the foothills of the Serra de Tramuntana, I stopped for a café con leche with two other imports: Swedish designers Christoffer and Josephine Du Rietz. The main square of pretty Alaró was bathed in a pinkish, autumnal light. A gang of children played by the church wall as their parents watched from café tables. It was a search for improved quality of life that impelled the Du Rietzes to sell up in Stockholm and move to a place they already loved for its expansive natural beauty, interesting mixture of seclusion and connectedness, and the slow-paced rhythms of daily life.
The couple's main business is buying and doing up old Mallorquin town houses, with great attention to detail and reverence for history. They work with neighborhood carpenters and blacksmiths to re-create doors, furniture, even curtain rails, prioritizing materials such as sustainably grown woods and preservation-approved color palettes. "Every house has its soul, and we try not to destroy anything about it," said Christoffer. "What drives us is our respect for the island's architecture and culture."
Traditional crafts such as basketry, weaving, and woodwork are also reappearing from the shadows. Keen to delve into the world of artesanía, I followed a lane out of Binissalem toward a huge possessió (country estate) with a great stone house at its heart. Finca Bellveure is the home of Con Alma Design (the name means "design with soul"), a workshop formed by Alvaro Garriga, from Barcelona, and his partner Maria Antònia Marqués, a sixth-generation member of the farming family that owns the property. The pair was working in London when they hatched a plan in a Hampstead café: They would return to Mallorca and reinvent themselves as makers of simple functional objects, using olive and almond wood from the land.
I found Alvaro in his dusty-blue work coat crouching over a workbench in a high-beamed room—by a nice coincidence, the estate's former carpentry shop. Con Alma Design makes fabulous rustic furniture to order (a recent commission came from Durietz Design & Development), but their biggest seller so far is the olive-wood chopping board incorporating a ceramic tile, handmade and painted by an elderly potter they discovered in Santa Maria del Cami. "She's the last of her kind," said Alvaro. "The technique is almost forgotten. It's a familiar story. But we're passionate about supporting Mallorca's traditional artesanos."
Jaume Roig takes such crafts as far as they can go in the direction of high art. A brilliant ceramist, he lives a quiet life with his partner, carpet designer Adriana Meunié, in a ranch on the eerie flatlands of Ses Salines. Their house, built of stone and breeze blocks, with concrete floors and basic furnishings, is impressive in its artful plainness. Just beyond the front gate, a flock of red sheep, a heritage breed descended from Berber stock, was dozing under a fig tree. Jaume and his brother Joan, also a talented potter, learned the trade at their mother's workshop in Palma, but the siblings soon went their different creative ways: Joan toward the rustic-modern tableware used by restaurants such as Ca Na Toneta; Jaume toward contemporary ceramics with rough textures and billowing organic forms. Tall and soft-spoken, his diffidence concealing a fierce vein of nonconformism, Jaume has an interesting take on the island's recent history. When he was growing up, Mallorca felt like it was languishing. At school he was even teased for speaking the local dialect of Catalan. Recently, though, he has noticed an about-face. "There's a movement against the way things have been—Magaluf and all that. Our old culture has recovered a little. People from outside are bringing in fresh ideas. In the last two or three years, I feel there's a new love for the place, and that is making all the difference."
In the rural heart of the island, everything is rich and earthy. But the coast is also part of this story. Since the 1960s the prodigious village of Deià has been Mallorca's axis of music, art, and alternative ways of doing things. Meanwhile, nearby Sóller remained a buttoned-up and bourgeois little town, best known for the oranges sold there. As rents in Deià have gone through the roof and the vibe has waned, a younger crowd has shifted to Sóller. Two pioneers on the scene are local Barbara Martí and her Dutch husband, Martijn Lucas, who opened Ecocirer, the island's first eco-minded hotel with vegan and vegetarian offerings, in 2015. Then, in 2019, came Re Organic, a Mallorquin-owned food shop and restaurant whose minimalist interior and superb produce (not to mention the gorgeous secret terrace out back) have made it a hub for Sóller's clean-eating, slow-living community.
Winter was coming, but from what I could see the off-season is pretty enticing
Down at Sóller harbor it was a quiet autumn lunchtime, the sheltered bay's clear-blue waters warmed by three months of summer sun. At the end of Repic Beach, I found a chiringuito, a little seaside tapas bar. In a departure from ubiquitous paella and calamari, Patiki Beach's English chef, Grace Berrow, cooks deliciously fresh food with ingredients supplied by neighboring growers. A fisherman brings in oranges and lemons. She nips down to Palma to buy sourdough at Thomas Bakeshop Boutique and visits Sóller's agricultural cooperative to see what's in season. (These foodie spots are favorites of Casa Balandra's Claudia del Olmo Russo, who also scours Pere Garau market for island-grown produce and stocks up on coconut flour at next-wave grocers Nu Market & Coffee.) "I feel like we're in Eden here in this valley," Grace told me. "I want people to bring in boxes of whatever they have. I'm 100 percent interested in buying from the smallest producers possible."
Grace brought me plates of labneh with caramelized shallots, squid with herb aioli, and whole grilled fish with braised zucchini as she told me her story, which involves a freewheeling artistic upbringing in Palma and Deià (her father and uncle were Duran Duran's managers), a stint at Skye Gyngell's restaurant Spring in London, and a spell as a private cook for the actor Emilia Clarke.
Though she returned to the island without a set plan, she developed one fast. "I wanted a beach club, somewhere people could come and eat and drink grapefruit margaritas and sit for hours." When she found this little spot, it was a down-at-heel Argentine grill. "We threw out the deep fat fryer, painted everything white, and waited."
As she spoke I got the impression of a scene that is gradually evolving as musicians, artists, designers, and foodies find their way to Mallorca. There's an influx from Barcelona and overpriced Ibiza. Photographer Mario Sorrenti has a house down the road. Knitwear designer Zoë Jordan swings by for family lunches. "All the restaurant staff are our friends," Grace said. "Vicki, my right-hand lady in the kitchen, is a ceramist. She's setting up a studio."
My gaze turned from the sea to the Serra de Tramuntana behind the town, looming dark green in the late-afternoon light. Winter was coming, but from what I could see the off-season is also pretty enticing. Grace will be cooking daily plant-based lunches for delivery and learning more about fine Mallorquin wine. There will be feasts on the beach, impromptu art shows in friends' houses. "I'm just bristling with what we're going to create," she said with a grin. "When we look back, we'll remember what a really exciting time this was."
How to slow down in Mallorca
Stay
Can Aulí Luxury Retreat At this 17th-century monastery in the northern town of Pollença, the emphasis is on ecological values and island-grown talent. Doubles from $212; boutiquehotelcanauli.com
Es Racó d'Artà Just outside the Parc Natural de la Península de Llevant, this vast new wellness retreat revolves around a 13th-century dwelling with a zen-like simplicity. Doubles from $472; esracodarta.com
Casa Balandra A guesthouse with lush gardens, it is ideal for artistic residencies and experiential retreats. Sleeps 12, from $638 per night; casabalandra.com
Ecocirer This six-room hotel in a Sóller town house touts organic, zero-waste, and vegan gastronomy, with olive-picking and breadmaking experiences available at a finca nearby. Doubles from $124; ecocirer.com
Casa Grande Country House This property near Sa Pobla is surrounded by olive and almond groves and farmland where 200 sheep roam. Sleeps 10, from $4,758 per week; thethinkingtraveller.com
Eat
Brut Argentine chef Eduardo Martínez forages for wild chard and carrot, smokes local meats with almond wood, and brews his own kombucha. From $62 for dinner for two; brutrestaurante.com
Ca Na Toneta The restaurant in the village of Caimari champions Mallorquin ingredients and sustainable fishing practices. About $70 for dinner for two; canatoneta.com
Dins Santi Taura Mallorca's most talented chef makes traditional dishes such as sopes mallorquines, snails in the island style, and fish greixonera elegant and earthy, refined and authentic. From $100 for dinner for two; dinssantitaura.com
Patiki Beach Dig into farm-to-table cooking at this wooden-decked, waterfront chiringuito in Port de Sóller. The restaurant is closed in the off-season; otherwise, check the website and Facebook page for opening times. About $66 for two; patikibeach.com\
This article appeared in the January/February 2021 issue of Condé Nast Traveler. Subscribe to the magazine here.
More Inspiration from Condé Nast Traveler
Canada's Rocky Mountaineer Train Is Heading to Colorado and Utah
The Best Destinations in the World: The 2021 Gold List
Riding through Russia on the Trans-Siberian Railway
50 Things to Do in Europe At Least Once in a Lifetime
The Most Beautiful Places in the World
The Best Travel Movies of All Time
Source: Read Full Article