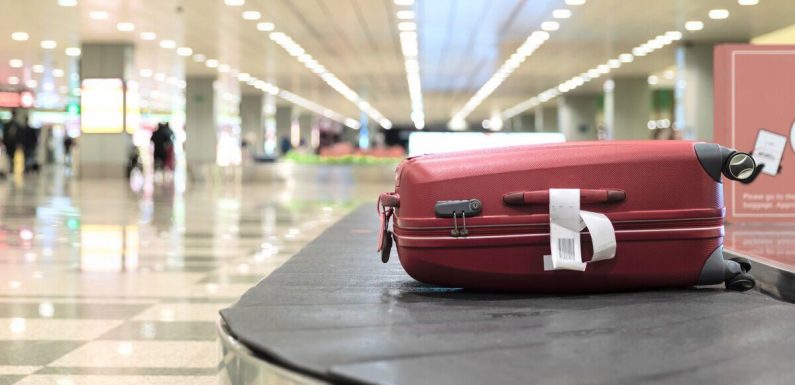 Cierra is a flight attendant who travels around the world regularly, and shares useful advice on how to make travelling simpler and more enjoyable on her TikTok account @cierra_mistt. Recently, Cierra has shared insider information on how to get your bags checked for free at the airport before you board your flight.
Cierra began her video and said there were some things that "passengers should know" that flight attendants never speak about. She said: "Until now that is" and said she had a way to get any luggage bag checked for free before you board your flight.
She said: "Here is what you are going to do. Walk into the airport and walk straight through security like you normally would. Yes, security is going to look at you a little funny but they are not going to make you check that bag because they know this hack too."
The flight attendant then explained her hack, and said: "After you go through security and you are at your gate waiting to board, be listening for your gate agent's announcement about voluntarily checking bags. This will not only get your bag checked for free, but you will also be one of the first people to be able to board the flight."
@cierra_mistt

flight attendant secrets YOU need to know (p 2) ✈️

♬ original sound – Cierra Mistt
Cierra has other secrets she shares regularly on her TikTok page, and in one video said: "I heard you guys have been missing my flight secrets, tips, tricks and hacks, so this one is for you." Cierra has other tips on how to keep your travelling cheap and also has a top tip for getting into first class for free.
She said: "First things first if you want a cheap flight, look for flights on Tuesdays, Wednesdays and Thursdays. That is when they will be the cheapest. Not only that, but I highly suggest you use a VPN so they do not know what country you are searching for flights on because normally in the United States they are going to jack those prices way up."
Cierra also said in order to get the chance for an update for first class, you have to carefully chose where in the place sit. She said: "Another thing airlines do not want you to know is that on the majority of the flights we have to move people for weight and balance purposes."
She continued: "That being said if you want to fly first class, and not have to pay for it, I highly suggest you chose sitting in the last row because if we do have to move people for weight and balance purposes, that is where the flight attendant is going to go."
DON'T MISS:
Flight attendant shares 'travel essentials' packing list [REPORT]
Flight attendant shares 'genius' way to avoid overweight baggage [REVEAL]
Flight attendant says hotel guests should use sign method to stay safe [INSIGHT]
Cierra also had one other method for getting into first class for free, as well as getting other free things from airlines. She said: "Now this next way is super low-key, and not a lot of people know about it but we should talk about it."
The flight attendant said it was important to "look at the big picture" and said: "Everyone is flying right now and no one is more excited about it than commercial airlines.
"The majority of airlines are overbooking every single flight that they have I am not talking about just one or two seats, I am talking about ten to thirty seats that have been oversold."
Cierra then explained her method and said: "If everyone does show up, including the extra passengers that were oversold their tickets, then the airlines have no choice but to financially compensate."
She said that "normally" the airline will offer vouchers for around $500, but Cierra has said to be bold and ask for more. Ciera said: "Depending on the flight and how desperate they are, the airlines can go up to $1000."
The flight attendant then shared her secret for getting into first class. She said: "This is where the free upgrades come in. You can also ask for other incentives. For example drinks, dinner, breakfast and even a hotel if you have to stay overnight until the next flight and yes, you can even ask for first class. "
Source: Read Full Article