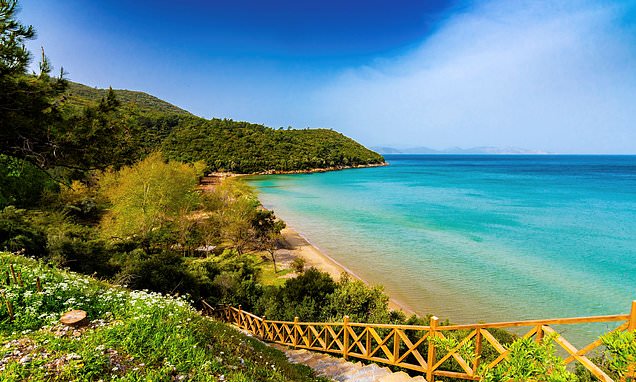 Dreamy beaches, ancient ruins and outstanding natural beauty! Izmir is Turkey's undiscovered gem – here's what you need to know
Discover six reasons to visit Izmir this summer 
Ad Feature by Jet2holidays
Perfectly perched on the northwestern stretch of Turkey's Turquoise Coast and in the heart of the TurkAegean Region, is a beachside destination of lush peaks that's steeped in history and sprinkled with lavish hotels.
This is Izmir, lesser known than its headline-grabbing neighbours, Bodrum and Dalaman, but just as rich in sun-soaked golden beaches, bustling bazaars and traditional restaurants. 
Izmir is the latest Turkish hot spot chosen by Jet2holidays to be added to its collection. There's an impressive range of hotels and resorts and Jet2holidays will create the perfect package for you. 
Add in ancient ruins, tranquil hot springs and action-packed waterparks and you have the perfect family destination just a short hop from the UK.
Izmir is Turkey's undiscovered gem
You can reserve with just a £60 per person deposit*, and your package will include flights from your preferred airport, transfers and 22kg of baggage included. 
You have complete flexibility to choose the length of your holiday. No more sticking to rigid seven, 10 or 14-day trips, and everything is taken care of, so all you have to do is enjoy exploring Izmir. Once there, make sure to check in with your In-Resort Customer Helper; they can give you tips and inside information on the best things to see and do.
The ancient ruins of Ephesus await, or perhaps you'd rather explore the finest stretches of pristine sands, discover picture-perfect hot springs, charming beach towns and even great surfing spots.
You also have a selection of fantastic hotels tempting you to simply sit back and relax in the Turkish sunshine. With infinity pools, rejuvenating spa facilities and even splash parks and kids' clubs for the little ones, there's something for every member of the family.
Still looking for some inspiration? Here are six dazzling reasons why Izmir is the undiscovered Turkish gem to explore this summer.
It's where coast meets culture
Dilek Peninsula National Park in Kusadasi
Kusadasi is the perfect base from which to explore the wonders of Turkey's Izmir region, offering a whole host of stunning all-inclusive hotels and family-friendly resorts dotted across the gorgeous beaches of the Ionian Sea.
At Long Beach you can spend time relaxing while you soak up the sun before cooling off in the crystal clear waters. And why not give surfing a go and catch a few waves too?
Enfolded within city walls, this tangle of cobbled streets has a unique blend of historic houses, as well as bustling markets, street food options and bars perfect for evening strolls.
And anyone looking for hidden coves and breath taking scenery should take a walk in the beautiful Dilek Peninsula National Park. 
Explore one of the Seven Wonders of the Ancient World
The ancient city of Ephesus dates back to the 10th Century BC and is incredibly well preserved – a fascinating day out for all the family
The ancient city of Ephesus dates back to the 10th Century BC, and was considered the most important city in ancient times, before being conquered by the Roman Empire in 129 BC.
These atmospheric ruins make for a fascinating day out and are incredibly well preserved.
Visit the remains of the Temple of Artemis, which was once considered the most decadent and ornate of all the Ancient Seven Wonders of the World, as well as the remarkably preserved Library of Celsus, a colossal amphitheatre with a capacity of 25,000. 
The nearby House of the Virgin Mary and the Basilica and Tomb of St. John are local pilgrimage sites, while the Selçuk Museum houses wonderful artifacts from Ephesus and its surroundings so will provide a truly intriguing step back in time.
Enjoy making memories with the whole family 
Adrenaline junkies and lovers of the lazy river will be in heaven in the Izmir area thanks to the three waterparks located nearby.
Kids big and small will find endless hours of fun zooming down epic slides, swimming in wave pools, getting up speed on winding flumes or just taking it easy in Jacuzzis and whirl pools.
Grab a bite to eat on-site and you can make a whole day of it. Plus, with dedicated zones for little ones, there's something for every member of the family.
For a slower pace and a peaceful day trip why not visit the local art galleries and the nearby wildlife park? 
Step away from the tourist trail
Take a trip to Cesme set around a glamorous marina
Get off the beaten track and spend a few hours in Sirince village
Izmir is brimming with laid-back coastal towns and quaint seaside villages. 
Take a trip to Cesme, the much-loved Izmirian getaway boasting a spectacular Genoese castle, cobbled streets of colourful houses and delicious local food, set around a glamorous marina.
There are plenty of other pretty spots nestled amongst the stunning pine-clad hills and coast of Izmir, so hire a car and explore them all. 
Explore Sigacik and stop for a bite to eat at a traditional restaurant
Alaçati, Sigacik and Sirince, three sleepy Turkish villages where you can get lost in narrow streets and slip into artisanal boutiques and local arts and crafts shops are all worth a visit.
As is Urla, which is famous for farm-to-table dining experiences and its flourishing vineyards, where you can stop for a tasting of locally produced wines or even book a wine tour. 
And don't forget to stop off at a sun-soaked restaurant to enjoy the traditional local cuisine. Try Kumru, Aydin figs, and fresh seafood soaked in olive oil.
Discover the Cotton Castle of Turkey
Pamukkale (Cotton Castle), is a dazzling natural wonder of snow-white hot springs
Another of Turkey's UNESCO World Heritage sites, Pamukkale (Cotton Castle), is a dazzling natural wonder of snow-white hot springs located in nearby Denizli. Gaze out at endless white hills formed from centuries-old calcium pools, admired by travellers for hundreds of years.
Then, as you drink in the breathtaking scenery, take a dip in the hot natural waters for instant calm and relaxation, enjoying their famed healing properties.
Why not book a hot air balloon ride over this incredible natural phenomenon?
For a bird's-eye view, intrepid holiday-makers can take a hot air balloon ride over the geological phenomenon or even paraglide over the scene for an adrenaline-filled experience you won't forget.
Soak up the Aegean sun
Beautiful beaches abound in Izmir – you'll be spoilt for choice
Once only accessible to women, Izmir's famous Ladies Beach is now open to all. So, grab a towel, some sun cream and your favourite book and spend a day drinking in the stunning coastal views and soaking up the warm Aegean sun.
Ladies Beach is the perfect place to unwind with plenty of water sports, modern beach bars and local restaurants to discover, fringed by a palm-lined promenade.
But this isn't the only beach Izmir has to offer. 
Kusadasi is simply bursting with stunning stretches of sand across clear, turquoise waters. 
To escape the summer crowds and enjoy a quieter, more tranquil beach experience, head off the beaten track and visit the oases of calm that are Green Beach or Yilanci Burnu.
Book your idyllic Izmir holiday 
Picture yourself here this summer…
The Aegean coast of Izmir offers accommodation of every type. 
Book with Jet2holidays and you can indulge in turquoise infinity pools, private beach areas and sumptuous on-site spas.
Or opt for a family-friendly resort with wild water slides, kids' clubs, and fantastic seafront dining serving up international dishes every family member will love.
From budget-friendly three-star through to five-star deluxe, Jet2holidays has sought out the best places to stay to enjoy the very best Izmir has to offer. 
It's the perfect reason to discover Turkey's hidden gem this summer.
Jet2.com and Jet2holidays fly to Izmir from nine UK airports, making getting there even more convenient for you. Fly from Birmingham, Bristol, Edinburgh, East Midlands, Glasgow, Leeds Bradford, London Stansted, Manchester and Newcastle.
To find out more and book your holiday, visit jet2holidays.com
*Terms and conditions apply.
Source: Read Full Article