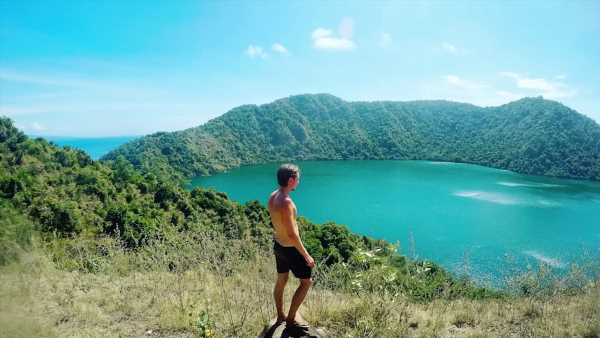 I've visited more than 80 countries – these are the best I've ever been to
Travel vlogger @BackpackerBen shared the best countries he has ever visited
A travel vlogger who has visited more than 80 countries across the world has revealed his favourite locations to visit. 
YouTuber @BackpackerBen posted a video to his channel titled 'Life as a Travel YouTuber (brutal truth)' where he revealed his top foreign destinations. 
During a Q&A to his 246,000 subscribers, he was asked which were, in his experience, the best and worst countries to visit around the globe. 
Coming in at third place in the best countries he has ever visited, Ben chose Australia, where he lived for six months. He labelled the country 'incredible', saying 'it's got everything you need'. 
Sharing his second-favourite country, Ben picked the Philippines, which he felt included everything from its picturesque beaches to the abundance of mountains in the north of the country. 
https://youtube.com/watch?v=DP-nT83rKhM%3Frel%3D0

YouTuber '@BackpackerBen' posted a video titled 'Life as a Travel YouTuber (brutal truth)' where he answered his viewers burning questions about the solo travel lifestyle
Ben named the top three countries he has visited on his travels, listing Australia, the Philippines and Japan as his favourite destinations
When pressed to pick his favourite spot, the vlogger opted for Japan thanks to its 'cultural shock, friendliness of people, cleanliness and safety'. 
However, he did warn viewers that he felt the country was 'too expensive' based on the time he spent there. 
READ MORE: I'm a travel lover – this is how I got over the fear of solo backpacking
Moving on to name the countries he would never like to visit again, Ben said he 'would never go back to Egypt', labelling his trip there a 'nightmare'. 
He added that crime and personal safety were both big issues when he visited the capital Cairo and Siwa, along with 'scammers, touts and dead animals everywhere'. 
Ben finished by saying Brunei was another country he would not be in a hurry to visit again, as he found 'there [was] nothing to do there' due to its small size as an island of just 5,765 kilometres-squared. 
Addressing another question in the video on how to overcome the fear of travelling, he said: 'It's tricky, you go into a hostel and there's a lot of foreign people, you're a foreigner yourself and it's really hard honestly. 
'But once you overcome that fear and you speak to people and you realise you're all the same, you're all doing the same thing, you'll meet some incredible people and you'll overcome that fear.'
He concluded the video by talking about the progress he's made, explaining 'I got to the point where I was going to a new hostel and I was looking forward to it – you meet some incredible people and each hostel you go to, it will continue.
'I was terrified at first but you overcome that fear the more you do it and the more you get involved and speak to people.'
Comments praised the YouTuber's honesty, writing 'It's hard to believe that Ben was ever scared' and 'It is people like yourself which makes this a lovely planet, honesty is always the best policy'.
Others added 'Ben's videos are less of sugar coating and more of raw traveling, it's rare to see such content nowadays' and 'I like videos like this more than the actual travel videos. Interesting to know about the difficulties of travelling etc'.
Source: Read Full Article