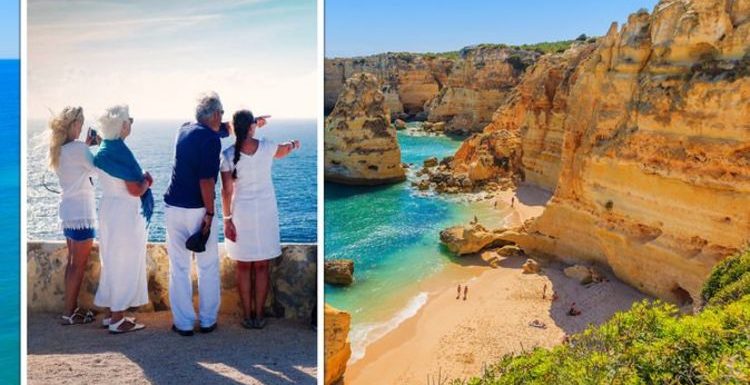 Boris Johnson 'needs to step up for British expats' says expert
We use your sign-up to provide content in ways you've consented to and to improve our understanding of you. This may include adverts from us and 3rd parties based on our understanding. You can unsubscribe at any time. More info
Relocating to a new country is a complete lifestyle change for British expats. The Algarve region of Portugal, however, has a large expat community.
The luxury resort of Vale do Lobo's key market are Britons and Irish expats.
The Algarve resort has been welcoming expats to Portugal for 60 years.
Pedro Reimão, Executive Board Member at Vale do Lobo said: "It's important because if you want to spend a lot of time in your second home and are considering retiring there, you need to have friends, to have a social network.
"People here interact a lot and they have dinners at each other's homes, they play golf and tennis and go to the beach together."
While Portugal offers many of the key things British expats are looking for, such as security, good weather and an active lifestyle, a move to the Algarve can also be motivated by the expat community currently residing there.
Pedro said: "There is a large community of expats, particularly from the UK but from all over the world who have their young families with them here.
"It's not by chance we have two international schools around."
He explained: "One of the things we're proud here is the community, built from people who stay only for holidays, and then increase their time here, and also full-time residents.
"About 10 percent of our owners stay full time. The rest stay from a couple of weekends or weeks just for the holidays to six months.
"We are unique in our community, with a critical mass of full-time residents and that critical mass of owners who come regularly."
The sense of community is important for residents, with some having come to the resort since they were children.
Pedro continued: "A property owner particularly active in the community here has been coming over since he was a kid with his father.
"He knows everyone around and he has his friends here.
"Most of the people we end up selling to are people who already know Vale do Lobo for staying with us or having friends here or nearby."
The expat community in the Algarve may be a strong selling point for Britons looking to relocate, but Pedro is adamant the community is not insular.
He said: "Most people are looking for the local experience and to some extent, the local expats are not necessarily what people move for.
"I do believe that most people want a balance. We are not a close community.
"It's an open resort, we don't even have a gate, we are integrated seamlessly into the broader local community.
"It happens naturally, our own employees contribute to that, but we also have Portuguese locals who own properties here and have businesses here.
"Most of the owners who live full-time at the resort speak Portuguese, because they participate in the local community."
Source: Read Full Article