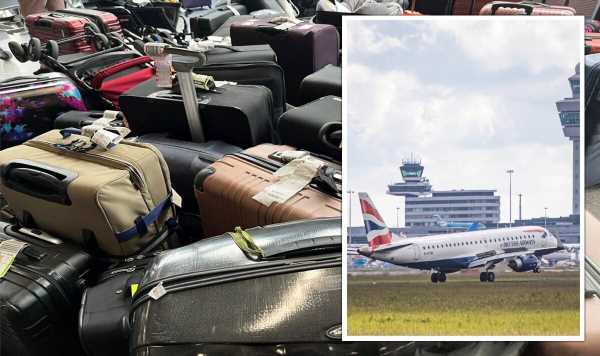 Heathrow Airport: Passengers in long queues on July 1st
We use your sign-up to provide content in ways you've consented to and to improve our understanding of you. This may include adverts from us and 3rd parties based on our understanding. You can unsubscribe at any time. More info
Heathrow Airport has ordered airlines to cancel more flights today. The plans follow issues with the Terminal 3 baggage system at the weekend.
British Airways has cut the most flights due to the issue with 36 domestic and international departures cut.
Some of the flight cancellations were pre-planned and destinations affected include Edinburgh, Glasgow and Aberdeen.
Air France and Virgin Atlantic have also grounded flights due to the Heathrow order.
A Heathrow spokesperson said: "We are expecting higher passenger numbers in Terminals 3 and 5 tomorrow than the airport currently has capacity to service, and so to maintain a safe operation we have asked some airlines in Terminals 3 and 5 to remove a combined total of 48 flights from the schedule.
"We apologise for the impact to travel plans and we are working closely with airlines to get affected passengers rebooked onto other flights."
Affected passengers will likely not to be entitled to any cash compensation as the cancellation isn't the airlines' fault.
Virgin Atlantic said Heathrow Airport had urged airlines not to offer same-day alternatives to affected passengers.
Virgin said the cancellations were due to "significant security delays and baggage system failures this weekend."
It said: "Our teams are working hard to ensure customers can complete their journey as quickly as possible, with the option to rebook on a later date or request a refund.
"Working closely with Heathrow and partners, our collective focus is on our customers, ensuring we minimise the impact to their journeys.
"We're also doing everything we can to locate and return any bags that missed flights to customers as quickly as possible, loading them onto the next available services.
"We sincerely apologise for the inconvenience caused to affected customers."
Heathrow Airport made a similar move on June 30 when it asked airlines to cancel flights due to issues.
The airport was ranked the third worst for delays in the UK using statistics from the Civil Aviation Authority.
Birmingham Airport was rated the worst in the UK with passengers facing average delays of over 12 minutes.
Heathrow apologised to customers for poor service as travellers coped with delays and cancellations.
Twitter user 'Colin' tweeted: "I must never make the mistake of using Heathrow in the future, stick to local airports."
'George C' said: "Heathrow's just as bad as you'd expect, currently queues f* everywhere."
British tourists are set to face a summer of travel chaos this year as airlines and airports struggle to cope with demand.
easyJet and Ryanair strikes in Europe, including Spain, could cause further disruption for holidaymakers.
Source: Read Full Article