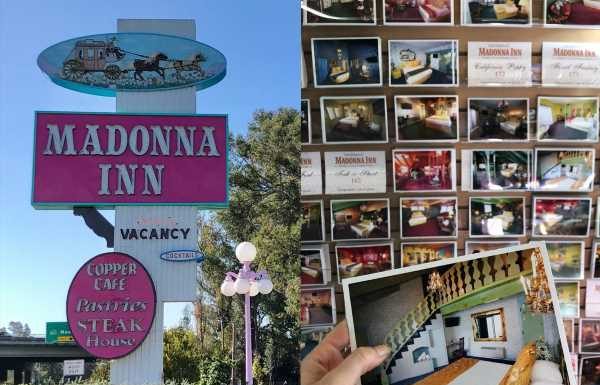 I visited the historic Madonna Inn in California where guests can stay in one of 110 themed rooms.
Guests are assigned a room when they book their reservation, and I got to stay in the Sky Room.
Everything about my room, the rest of the property, and the surrounding location was magical.
Visit Insider's homepage for more stories.
The Madonna Inn in San Luis Obispo, California, has enough character to make every guest feel like they've been transported to another world.
Alex Madonna first opened the then 12-room motel in 1958 with his wife, Phyllis. Soon after, 40 more rooms were added and the inn became a landmark of California's Central Coast.
Restaurants, shops, banquet halls, and amenities came in later years, and the Madonna Inn now offers over 100 uniquely themed rooms.
Read on to find out what my stay on the extravagant property was like.
The historic inn is a great pit stop for California road trippers
The property is located on the west side of US Route 101 on the way through San Luis Obispo – which makes it an ideal destination to stop on a road trip up the coast of California.
It is situated on the lower eastern portion of the well-known Cerro San Luis Obispo hill, affectionately nicknamed "Madonna Mountain," which is a popular hiking spot for tourists and locals alike.
What started as a 12-room motel has grown into a huge, beautiful property
After the first 12 rooms of the inn were completed, high demand for more rooms and public spaces led to quick expansion over the 1,000-acre property.
As the property expanded, multiple dining spaces – such as the more casual Copper Cafe, the bakery and coffee shop, and the upscale Gold Rush Steak House – were added.
There's also the Silver Bar Cocktail Lounge, as well as gift shops, a huge pool area, and multiple indoor and outdoor event spaces.
Ultimately, what makes this property so special is its 110 uniquely themed rooms
At the Madonna Inn, there are 110 differently decorated rooms with features like rock walls and fireplaces, waterfall showers, European fixtures, and fine furnishings.
When guests book a reservation at the inn, they can specify their room size and preferred amenities, but they don't get to pick which theme they'll end up in – which is part of the fun.
From the Yosemite Rock Suite, which looks like it's taken from a scene in a national park, to the Swiss Rock Room, inspired by Madonna's Swiss heritage and love of rocks, no two rooms are even close to being the same.
Guests could stay in a different room every night for three months and have a unique experience every time.
I was immediately entranced when I pulled into the parking lot
Upon driving into the inn's large parking lot, it felt like I was entering a destination straight out of a fairy tale.
I knew that the Madonna Inn was well-known for its creative decor and lively personality – both on the inside and out – but it was even more colorful than I anticipated.
Even the registration room was decked out in color, and all the lamp posts and trash cans on the property were bright-pink.
The inn's main building was absolutely magical
There were stained-glass windows on the main building, and the exterior of the inn is painted in various shades of pink, creating a distinctive feeling of romance and whimsical fun.
Gallery: 11 long-term Airbnbs in the US offering remote workers savings of up to 75% off (INSIDER)
11 long-term Airbnbs in the US offering remote workers savings of up to 75% off
If you buy through our links, we may earn money from affiliate partners. Learn more.
When Airbnb hosts open their homes to month-long bookings, they can set whatever discount they want.
For long-term travelers, this means huge savings can be gained if you know where to look.
We rounded up the best Airbnbs with discounts of 40% or more for long-term stays.
With remote work the new norm due to the pandemic, you may be considering taking a month-long (or longer!) working vacation. After all, if you can work from home, you can work from anywhere, as long as there's good Wi-Fi.
However, going away for a month or more is easier said than done and can get quite pricey if you're still paying for rent or a mortgage back home. Not to mention, it can be difficult to find a short-term sublet and hotel rates aren't that sustainable when you're staying for multiple weeks.
You could go a more traditional route to find a short-term sublet, but more and more Airbnb hosts are also allowing their homes to be booked for longer periods.
Travelers taking advantage of long-term Airbnb rentals is a rising trend, and many hosts will even offer discounts to make their listing more appealing. However, the size of the discount is totally up to the host. While some hosts may set a measly 10% or 15% discount, others are offering huge savings of 40% or more.
As always, it's important to remember there is no guarantee of safety while the pandemic is still ongoing. We always recommend following guidance from the CDC, practicing social distancing, wearing masks in public areas, washing hands frequently, and practicing extra precaution if you plan to travel to or from a hot spot area.
That said, a long-term Airbnb may still be a good choice if you need somewhere to stay while obliging local quarantine mandates and some listings offer weekly discounts as well. Plus, every listing must adhere to Airbnb's Enhanced Cleaning and it's a good way to earn some travel points for that big international trip you're planning for when the pandemic is finally and truly over.
We chose top discounted long-term Airbnbs based on the following criteria:
Airbnb listings are for the entire home, so you don't have to worry about sharing a bathroom or keeping your distance from others.
Discounts are 40% or higher, but be aware the final price does not include fees.
We found a range of locations and prices to suit a variety of needs. Discounted listings currently range from $674 to $2,262 per month.
All are highly-rated Airbnb listings with a review score of 4.7 or higher.
Each listing has committed to Airbnb's Enhanced Cleaning Protocol, which sets a high standard for cleanliness between guest visits.
Here are some of the best long-term Airbnbs with big discounts for monthly stays, sorted by price, from low to high.
Camper trailer in Seguin, Texas, 75% off
Book this camper trailer for $674 per month
This white and aquamarine Texas camper is surrounded by pine trees on five acres of land for those who want to spend non-working hours surrounded by nature. While the exterior has a cute, vintage vibe, the interior is thoroughly modern. It's freshly-painted and outfitted with a couch, full kitchen, and a small dining area. There is one Double bed, along with a pull-out sofa.
Animal-lovers will enjoy that there are mini donkeys and goats on the property, and the host also notes that they can accommodate horses you bring in their corral. The area is quiet and secluded, but town is just a short drive away for grocery runs. In the yard, you'll have access to use the lawn chairs, a fire pit, and grill.
This Airbnb can be booked for a full month starting in mid-April until early June.
Sleeps: 6 guests/1 bedroom
Rating: 4.9
Savings: With normal rates starting at $88 per night, the 75%  discount saves you over $2,000.
Carriage house in Blossburg, Pennsylvania, 45% off
Book this carriage house for $1,015 per month
With a full kitchen and a washer and dryer, this carriage house is well-equipped for long stays. Centrally located in a rural Pennsylvania town, it's also an idyllic abode for a country escape. You'll have a private entrance, a Queen-sized bed, and a modern bathroom with a tub.
The decor is classical, so you may feel like you're living in a period piece. But the home is still plenty welcoming with big puffy armchairs and a sweet little writing desk that might just inspire you to use your month away to work on that novel.
Nature is right at your doorstep and there are many trails in the area for hiking, including one that leads to the beautiful Sand Runs Waterfall.
This Airbnb has full availability from March through the end of the year.
Sleeps: 2 guests/1 bedroom
Rating: 4.8
Savings: With normal rates starting at $60 per night, the 45% discount saves you over $800.
Downtown brownstone in Minneapolis, Minnesota, 50% off
Book this brownstone starting at $1,113 per month
You can spend some time in one of Minneapolis' beautiful brownstones in this downtown apartment. The furniture is modern, primarily featuring black and white tones. Although quarters are a little tight, you'll have a full kitchen with a stovetop, oven, and medium-sized fridge. There's also a small desk in the bedroom and another desk in the living room for plenty of dedicated workspaces.
The location is the real highlight of this Airbnb. It's found in the city's historic district, just a few blocks away from downtown restaurants, US Bank Stadium, and the Mississippi River.
The months of April and May are still available, but the calendar has not opened up for later than this.
Sleeps: 3 guests/1 bedroom
Rating: 4.7
Savings: Rates normally start at $77 per night, but with the 50% discount, you'll save over $1,100.
Second-floor apartment in West Brattleboro, Vermont, 44% off
Book this second-floor apartment for $1,169 per month
This apartment is found on the second floor of a 100-year old home in the forest-surrounded town of West Brattleboro in Southern Vermont. Though the host does live on the first floor, this apartment has its own private entrance and is entirely separate. The primary bedroom has a Queen-sized bed while the second bedroom has a Twin-sized bed and the futon in the living room can be converted into a sofa if necessary.
The home is charming, though you may feel like you've stepped back in time thanks to details like a stained glass window and an antique vanity. Guests are welcome to make use of the sprawling and lush backyard, and you'll only be a mile-and-a-half away from town, where there are many shops, breweries, and restaurants to try out.
There's still some continuous availability between March and April, but the calendar has not yet opened for summer.
Sleeps: 4 guests/2 bedrooms
Rating: 4.7
Savings: Normal rates start at $72 per night, with a 14-day minimum, but with the 44% discount, you'll save over $900 if you book for a month.
Casita in Phoenix, Arizona, 50% off
Book this casita for $1,173 per month
Located in a private guesthouse, this small and tidy studio space features a full kitchen, a large armoire, and a huge television opposite the Full-sized bed tucked in the corner. There is a minimalist feel throughout the home, with a neutral gray color scheme with pops of deep blues, simple artwork on the wall, and white tile throughout the bathroom.
Located in the Garfield neighborhood, you'll be just a five-minute drive, or 30-minute walk, to downtown, and reviewers who've stayed for multiple months report feeling very safe in the neighborhood. There's no in-unit laundry, but past long-stay guests have mentioned that the host allowed them to use the washer and dryer in the main house.
April and May are totally open for bookings.
Sleeps: 2 guests/1 bedroom
Rating: 4.7
Savings: Normal rates start at around $62 per night so, with the 50% discount, you'd save over $900 if you book for a month.
Lakeside homestead in Dubuque, Illinois, 77% off
Book this lakeside stay for $1,334 per month
For those seeking a remote getaway, this rural homestead in Illinois can provide just the right amount of rustic seclusion. The decor of this cabin feels authentically vintage with exposed walls covered in old photos and maps and a fireplace. But there is still a modern bathroom and contemporary appliances in the kitchen for a comfortable stay.
The cabin is over a hundred years old and was once a schoolhouse. Two floors separate the bedroom from the living area, bathroom, and kitchen. On the top floor, there is also a deck where you can take in the view. There is a boat ramp if you want to get on Frentress Lake, from which you can also access the Mississippi River.
The calendar is wide open for bookings from April until August.
Sleeps: 4 guests/1 bedroom
Rating: 4.8
Savings: Normally $200 per night, the huge discount of 77% will save you over $4,000 if you decide to stay for a month.
Tower loft in Bend, Oregon, 50% off
Book this tower loft for $1,421 per month
This uniquely-designed loft will make for a very special stay in Eugene. Attached to the main house with its own private entrance, the loft's spiral staircase guides you through the multiple levels.
At the tippy top is a cool lounge space, the highlight is the home, covered in cedar paneling and boasting a domed ceiling. There is also a light well, a window in the ground, so you can peek into the dining area from the living room above. On the second floor, there is a deck with a slide that can get you down to the ground-level lickety-split. Other fun details include penny-tiled floors, arched windows, and an outdoor herb garden. 
April and May are fully available for booking.
Sleeps: 3 guests/1 bedroom
Rating: 4.9
Savings: Normally $98 per night, the 50% discount can save you over $1,300.
Adobe casita in Taos, New Mexico, 47% off
Book this casita starting at $1,592 per month
Tucked away in the mountain town of Taos, New Mexico, this quaint adobe home features vaulted ceilings and heated floors. The home has a full kitchen and washer and dryer in the bathroom. The decor is modest but has Southwestern flair via exposed beams, a hand-carved bed frame, and artwork featuring local landscapes.
The location is quiet and very private thanks to the surrounding fruit trees. Reviewers loved the big yard and note that the location is within walking distance to the center of town, as well as Taos Ski Resort. 
This Airbnb is available between mid-April and May.
Sleeps: 2 guests/1 bedroom
Rating: 4.7
Savings: Normally $100 per night, the 47% discount will save you over $1,400 for the month.
Oceanside condo on Saint Simons Island, Georgia, 44% off
Book this oceanside condo starting from $1,690 per month
On Saint Simons Island, this beach condo features a colorful and spacious living room, complete with yellow walls, a blue couch, and bright red chairs. The decor is beach kitsch, with a giant painting of a mermaid in a hammock hanging over the couch.
For those who want to soak up some sunshine during their stay, there is a shared pool and the home is only a three-minute drive to the beach. Past guests who stayed for more than one month report that the home is comfortable and fully-equipped with all you need for a long-term stay. Amenities include a TV, a dedicated workspace, and a washer and dryer. Although it is part of a larger condominium complex, the entrance is private.
This listing has full availability from the end of March through the summer and fall.
Sleeps: 5 guests/1 bedroom
Rating: 4.7
Savings: Normally $100 per night in the low season, the 44% discount can save you over $1,300.
Pinecone cabin in Big Bear, California, 65% off
Book this cabin for $1,954 per month
In Southern California, you and the family can get back to nature in Big Bear with this private three-story cabin with plenty of room for everyone to spread out. The home has two large balconies, a full kitchen, and a grill on the main patio.
In the summer, you can check out the hiking trails and in the winter, enjoy the slopes. It's also just a short walk to the nearby grocery store. Amenities include a washer and dryer, plus an indoor fireplace for cozy nights in.
Available dates begin in June through the summer and fall months, which are typically more expensive than the spring.
Sleeps: 8 guests/2 bedrooms
Rating: 4.9
Savings: Rates vary by the season, but average rates start at $150, so a 65% discount can save you over $3,000.
Chic home in Nashville, Tennessee, 70% off
Book this chic home for $2,262 per month
This hotel-like listing is the priciest of the bunch but, but it also comes with one of the deepest discounts. This clean and modern apartment is elegantly decorated with a blue velvet couch, white accents, tasteful artwork, and stainless steel appliances.
The kitchen area is small, but features a washing machine, a large fridge, and an oven with a stovetop. There is also a round dining table for two, in addition to the big marble-style coffee table. The location is within walking distance to many great restaurants and music venues in Midtown and guests will also have use of the building's courtyard.
This Airbnb has wide open availability from March through the summer and winter months.
Sleeps: 4 guests/1 bedroom
Rating: 4.7
Savings: Normally $181 per night, a stay for a month with the 70% discount can save you over $5,000.
The lively decor is no accident, each detail pays homage to the Madonnas' vibrant personalities and their impressive business pursuits – in addition to their influence on the rich history of the San Luis Obispo area.
For example, there's a hand-carved marble balustrade in the Gold Rush dining room that came from the famous nearby Hearst Castle compound.
The dining room was filled with fun decor, and the bakery had plenty of tempting sweets
The main restaurant was still only doing outdoor dining due to COVID-19 safety protocols during my stay, but the makeshift tented section of the parking lot featured plenty of heat lamps to keep guests comfortable.
If guests aren't looking for a full meal, the on-site bakery's signature pink-champagne cake is a local delicacy and a beloved favorite of past guests.
People apparently drive dozens of miles for it, and those who don't want to purchase an entire cake can buy a generously sized slice to enjoy instead.
I was assigned the Sky Room, one of the inn's standard lodgings
After check-in, as I found my way to my suite, I noticed each room's exterior door was decorated differently. This highlighted the amount of effort that goes into making each room feel truly special from the moment guests arrive at the door.
I spent the night in the Sky Room, a loft-style suite nestled in the back of the inn.
When I entered, it felt as if I were stepping on top of a cloud.
There was a loft area in my room that was accessible by climbing up a steep set of stairs and featured two additional beds.
I also had a balcony attached to my room, which overlooked the green hills of San Luis Obispo.
Each individual feature in my room was as curated as the lobby and common areas.
The bathroom was modern but clean and matched the color scheme of the room with blue-and-silver tiling.
The authentic crystal chandelier hanging above my bed made me feel like royalty.
When I retired for the night, I had a restful sleep. The inn is decades old, but the rooms have been furnished with the comforts of a modern hotel, like quality mattresses and top bathroom fixtures – though I wasn't lucky enough to end up in a room with an actual waterfall shower.
I had plenty of time to explore the rest of the property after a good night's sleep
As I spent more time exploring the property, I came across the pool area, which featured a full bar, two hot tubs, and exceptional views of the San Luis Obispo hillsides.
Another one of my favorite areas on the property was the "secret garden."
It felt like a peaceful oasis, with all sorts of flowers, a fountain, and a big lawn space used to host events.
Guests can remember their stay with a souvenir from the gift shop
Before leaving, I had to stop at the on-site gift shop, which sells a range of fitting souvenirs and Madonna memorabilia to remember your stay.
My favorite items were the signature crystal goblets (used for drinks in the restaurants) and the postcards that showcase each different room.
The inn is located in a prime spot for those looking to explore San Luis Obispo
In addition to its fun decor and impressive amenities, this property is located in the ideal spot for exploring the beautiful San Luis Obispo area.
It's right off the 101 freeway near the downtown strip, which means guests have easy access to restaurants and local nightlife.
Even those who don't want to leave the property can experience guided horseback riding excursions up Cerro San Luis right next door. There are also hiking and mountain-biking trails up the mountain for those who would prefer to explore on foot.
Everything about my stay was magical, and I'd highly recommend booking a visit
While I was at the Madonna Inn, it felt like I was transported back in time to an old-fashioned fairy tale – with all the comforts and amenities of modern life.
It's an escape from the chaos of everyday life into a simpler (and more colorful) time.
That, paired with the exceptional outdoor spaces and friendly service from everyone on the property, made for a pretty magical stay.
Source: Read Full Article