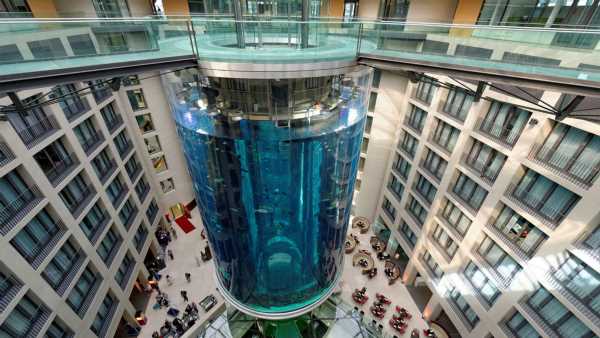 A massive aquarium that served as a lobby centerpiece at the Radisson Collection Hotel Berlin burst on Friday, resulting in what Berlin police described on Twitter as "incredible maritime damage."
Police officials also reported that two people were injured by glass shards. 
Known as the AquaDom, the aquarium was built in 2004. It had been advertised as the "largest free-standing cylindrical aquarium in the world," at just over 82 feet high and more than 36 feet in diameter. 
It held approximately 264,000 gallons of seawater and, according to a 2019 press release, was home to nearly 1,500 tropical fish.
The tank in our hotel….blew? #berlin #radisson #hotel #aquarium pic.twitter.com/4pfheKSc4G
Video and images of the destroyed aquarium, as well as debris and dead fish that had washed out onto the street outside the hotel, went viral on social media on Friday. 
On its website, the 427-room hotel said it would remain closed until further notice, and that impacted guests would be relocated. 
The Radisson Collection Hotel Berlin is part of the city's DomAquaree Berlin mixed-use complex, which is also home to the Sea Life Berlin aquarium center. The Sea Life Berlin has similarly announced a temporary closure. 
Source: Read Full Article