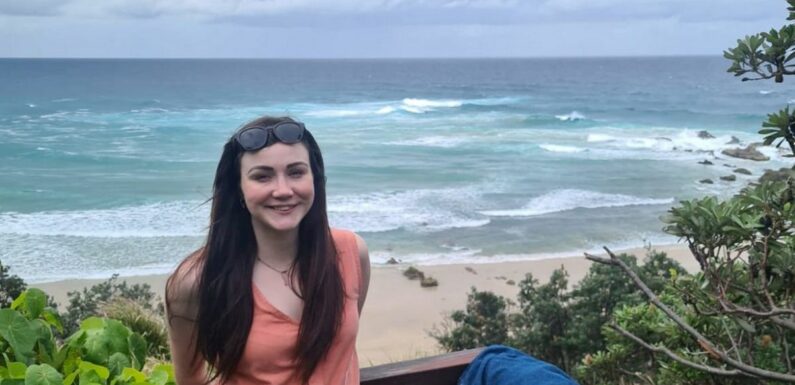 A British doctor moved to Australia to earn £1k-a-month more than she did in the UK and says she has "absolutely no reason" to return home.
Aoibhín Bradley, 27, decided to turn her back on the NHS and find a job in the Gold Coast, Queensland, Australia, after hearing about the opportunities out there.
Aoibhín has been a doctor the three years – graduating in April 2020 from Queens University, Belfast, where she studied medicine – and worked on the frontline during the Covid pandemic.
READ MORE: You can get paid to live in a luxury Caribbean hotel for a month and take selfies
She struggled with the long shifts – claiming she often worked three hours past her end time – and took home £2.1k-a-month based on a 48.5-hour week.
After completing further foundation training, Aoibhín took the plunge to move to Australia in September 2022 with her boyfriend, Matthew McQuaid, 29, who is also a doctor.
They both secured jobs in the emergency room of Gold Coast University Hospital, Queensland, and are able to work the same shifts so they get days off together.
Aoibhín now earns $6,000 AUSD a month – £3,202.53 – for a 36-hour a week. The doctors are paid a double rate if they stay late and for Sundays.
Aoibhín says the salary rate "blew her mind" and she is now able to spend her days off exploring and camping in Sydney and Melbourne – compared to being too tired to do anything in her free time while working for the NHS.
Truth behind sun-soaked Spanish town 'offering to pay Brits to move there'
Aoibhín, a doctor, from Belfast, Ireland, said: "You're working to live – not living to work.
"Australia is more expensive but I'm still making multiple times more than what I was making at home.
"At home, you did so many extra hours that your life consisted of working. I lived in Northern Ireland and there wasn't anything to do in MY spare time.
"I was so tired – I didn't have the energy to do much. In Australia, pay-wise it's incredible.
"You get paid per hour that you work. It blew my mind. Here you leave on time – if not, the consultants come around and tell you to leave.
"I have absolutely no reason to go home – apart from my family not being here. Here people love their job. Life out here is different. It's better. Everyone is happy."
Aoibhín wanted to be a doctor since she was four years old – following in the footsteps of her parents, grandparents and great-grandparents who are all doctors.
After graduating, she started work in May 2020 and was "thrown in" straight away.
She said: "I worked my whole life to be that. I really enjoyed the job. Helping people, the hands-on part of it. I loved the procedures.
"I loved knowing how to make people better and watching them get better. But the working conditions were awful.
"You rarely got breaks. You were making next to no money for the work you were doing. Everybody was dying left right and centre.
"I probably decided to go over the minute I started F1 – the foundation training programme following your undergraduate medical degree. A few weeks in you're like 'I can't do this'."
Aoibhín knew of a few people who had been out to Australia to work and her boyfriend, Matthew, was keen to go.
She decided to finish her foundation training first – so she could return to the UK to work if she didn't like Australia.
She said: "I heard about opportunities to work in Australia through word of mouth. I Googled hospitals in Brisbane and Perth and applied to them all. I must have extended to the Gold Coast. They interviewed over zoom and then offered us the job."
Aoibhín moved in September 2022 and says it has been "nothing but positive."
She said: "Everybody is so friendly. I realised everybody is so happy. They are getting paid what deserve. There is a good work life balance. It's amazing."
In the UK Aoibhín would work a day shift of 9am – 5pm, a late shift of 9am – 9pm and a night shift of 9pm – 9am. But she claims she found herself working past her hours every shift.
Tourists flock to gorgeous Italian village with 91p beers and villas from £16.30pp
She said: "There was no way I could take a break. I lost 8lbs going 12 hours without eating and then going home and having a few slices of bread and then going to bed."
Now in Australia, Aoibhín is paid $47 AUSD an hour and her working week is capped at 36 hours.
She said: "For every minute you have to stay late – you get double pay. I average out at $3,000 AUSD fortnightly so $6,000 AUSD a month. I'm still not over this."
With more free time, Aoibhín is able to explore the country.
She said: "At home in my spare time I'd either go to gym, walk or go out for drinks and that was it. I didn't really do weekends away at home.
"You'd always go somewhere, and it was absolutely lashing. Here, every weekend or long weekend we book a campsite and camp for the night. No one is dying for their job. Yes, I am very tired out here sometimes as well, but it's nice lying on the balcony looking at the beach."
Aoibhín doesn't have any plans to return home but has struggled being away from family – and has lost two grandparents and her dog since moving.
She said: "In the space of eight months, I lost two grandparents and a dog. It's tough."
Aoibhín says she is one of many UK doctors living and working in Australia.
She said: "My workforce is UK doctors. It's rarer to have an Australian consultant. They all say 'Why the hell would I go home?'. I don't know why people go home."
Are you tempted to ditch the UK for sunnier climates? Let us know in the comments below.
READ NEXT:
'I bought an 88p house in Italy and now it's worth more than £250k – here's how I did it'

'I planned a two-week trip backpacking around Europe for £800 using ChatGPT'

'We ditched the UK to travel – we spent £1 a day and hitchhiked 650 times'

'I've seen disgusting things as a flight attendant from bags of urine to cheese feet'
Source: Read Full Article