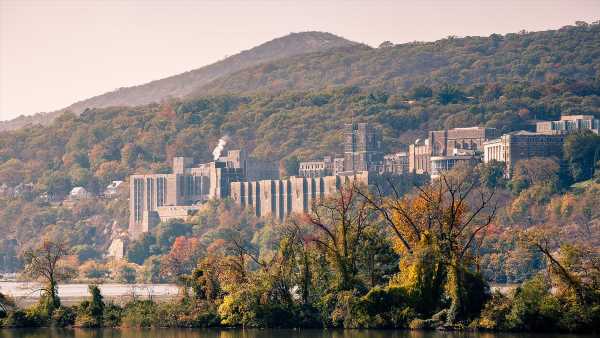 Escape from the noisy neighbour! The joys of leaving frenetic New York behind and heading upstate – home of two titans of American history
Lindsay says that Upstate New York offers a 'different kind of excitement' 
It's 'an area packed with America's rich colonial and early heritage', she reveals
READ MORE: Flight attendant reveals things to buy from a DIY shop for a holiday
New York City is vibrant, exciting and fast-paced, but battle your way across it, jump on an Amtrak at Moynihan Train Hall, and 90 minutes later the blaring horns will be replaced with the serenity of New York State.
In the splendidly named town of Poughkeepsie, pick up a hire car for an adventure in an area packed with America's rich colonial and early heritage, as well as spectacular views.
First stop is West Point, the oldest occupied military post in the US, which dates back to the War of Independence, and, nearby, General George Washington's final HQ.
As the prime mover in the 18th Century battle for independence from the British, Washington knew his Continental Army would need a training school. 
He also realised the Patriots needed to stop the British from moving up and down the spectacular Hudson River. 
Historic: On a tour of Upstate New York, Lindsay Sutton pays a visit to the home of Franklin Roosevelt (pictured), the president who saved America from economic collapse in the 1930s Depression 
West Point, on a narrow bend, was a perfect place to achieve both, and a giant chain was made to float on log rafts across the river as a barrier. 
Today a ring of 13 remaining links – one for each founding state – stand in a loop in the training school grounds. It's quite a sight.
High-roller mansions are another feature of the Hudson Valley, and near Poughkeepsie is Hyde Park, the home of Franklin Roosevelt, the president who saved America from economic collapse in the 1930s Depression. 
Artefacts abound, such as his 'lucky' hat, the wheelchair and leg irons he used after contracting polio, details of the New Deal to give relief and work to the unemployed, and his 'four freedoms' speech, emphasising freedom of speech, and of worship, freedom from want and from fear.
Lindsay recommends picking up a hire car in the 'splendidly named town of Poughkeepsie' (above)
Above is a bust of Roosevelt in the grounds of his Hyde Park home
At the end of each of his presidential victories, FDR would give a speech from the porch of the ancient Beekman Arms in nearby Rhinebeck. 
The inn has been there since well before the American Revolution – and still looks like stage coaches will pull up out front on the old King's Highway.
An hour north, in the state capital of Albany, you can change gear again. 
The commanding state Capitol building looks like a transplanted French chateau, in stark contrast to the ultra-modern concrete buildings lining the huge plaza outside.
Alongside all this is the New York State Museum. Next to depictions of the state's history is a 9/11 exhibit. 
Lindsay visits West Point (above), the oldest occupied military post in the US, which dates back to the War of Independence
The Beekman Arms inn, set in Rhinebeck, predates the American Revolution, Lindsay reveals. Image courtesy of Creative Commons 
Above is the New York State Capitol building in Albany, which Lindsay says looks like a 'transplanted French chateau'
A burnt-out fire engine jolts hard, along with the testimonies from survivors. It's powerful and moving.
Staying at Morgan State House is an experience. It's an elegant three-storey brownstone facing Washington Park, which was once home to suffragette Alice M Wright, whose spell in jail in London for her activism meant she missed her journey back to the US on the Titanic.
Upstate New York offers excitement at every turn, but it's a different kind of excitement. More than anything, it gives perspective, and that's never a bad thing.
TRAVEL FACTS 
Lindsay Sutton travelled with New York State Tourism. Virgin Atlantic Manchester to JFK returns from £400 (virginatlantic.com). Doubles at Beekman Arms from £241 (beekmandelamaterinn.com), Morgan State House from £237 (statehouse.com), Saratoga Arms from £280 (saratogaarms.com) and Edgewood Mansion from £228 (huttonbrickyards.com/edgewood).
Source: Read Full Article