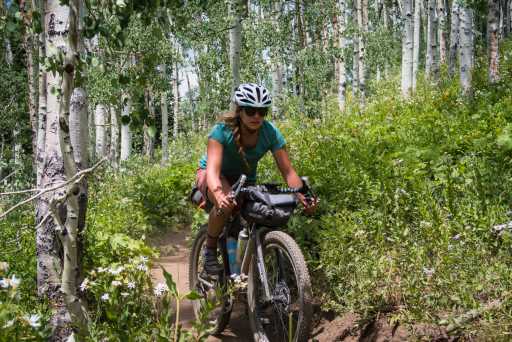 How often do you try something that's difficult and completely new to you — like loading your camping gear on a bike and riding 75 miles in a day — and have a wonderful experience, avoiding tantrums at best, and disaster at worst?
I grew up riding my bike, but never considered myself a "cyclist." I rode a cheap (think: heavy) mountain bike around town and beyond, averaging maybe 20 miles on a dedicated ride, with just a couple topping 30. I never invested in any real gear. But I enjoyed it, which is why I jumped at the chance to go bikepacking — a combination of biking and the backpacking and camping that I was a lot more familiar with.
That quick "I'm in!" was made in a moment of excitement rather than after serious consideration. I packed too much and didn't know how to organize it. A lot of my backpacking gear was next to useless. I could barely change a bike tire. And on top of all that, our trip entailed daily rides of up to 70 miles — more than twice my prior experience.
According to Peter Driscoe, the founder and organizer of Fort Collins-based Ramble Rides, my experience wasn't unusual. Rambles, as he calls them, are multiday, fully-supported bike rides, with top-to-bottom planning and catered camps. The Ramble I signed up for, exploring North Carolina's Pisgah National Forest, was basically bikepacking lite: Driscoe and his team mapped and marked our route, picked out our campsites, met us for regular midday rest (and snack) breaks, and cooked our meals in the mornings and evenings. That left me to focus on fine-tuning my gear each day (more than once I passed off some unnecessary piece of gear to the supply vehicle) and pushing through the longest days I had ever spent on a bike seat.
Bikepacking as trial and error
"I'm a big believer in doing and failing, to learn," Driscoe said. "Rambles limit what you'll fail at and give you first-hand experience in a controlled environment."
Because the team handles logistics and supplies, riders can focus on cycling and learning what goes into bikepacking along the way. It's a great environment for trial and error,. "Yeah, we throw folks into the deep end in terms of difficulty, but we're there for you," Driscoe said. "Our route support will do what it takes to make sure you have an enjoyable ride and learn something about yourself along the way."
Rambles riders often realize they don't like bikepacking, he said. But many of them return to ride again, handing most of the gear to the support team. Driscoe calls this group "adventure riders." Others are excited by bikepacking and return with lighter gear and are more prepared for self-supported trips. Most Rambles are roughly 50/50 bikepackers and adventure riders.
Colorado routes are the gold standard
While Driscoe has organized Rambles across the country (he recently returned from a scouting trip in New Mexico), he calls the Colorado rides the standard for the others. "They're the bar by which I measure all our events. I try to make all our routes as emotive as our Colorado rides, meaning the route has to speak to the beauty and challenge of the location," he said.
The flagship ride, tweaked this summer in response to last season's wildfires in Northern Colorado, starts and ends in Walden, looping through Steamboat Springs and into Wyoming over four days. "Before I knew it, we've become a destination event, and roughly 70 percent of our riders travel from out of state to do them. That speaks a lot to the route and experience of riding in Colorado," he said.
Am I ready to go bikepacking?
"Fitness is more important than experience," Driscoe said of the Rambles. People with even less experience than I had before my first ride have successfully completed his trips. Often, riders have never been camping, ridden off pavement, or ridden long distances for consecutive days.
"We want riders to have a base level of fitness that enables someone to ride, say, two 70-mile days of gravel on the weekend and not feel cooked on a Sunday night," he said. "More than anything, it's riding consecutive days that gets to folks."
Another big hurdle for people getting into bikepacking is the cost of activity-specific gear. It's a pricey investment — especially if you're unsure how often you'll use it. To ease that burden Driscoe offers rental options.
But the biggest benefit of a Ramble Ride over just winging a trip on your own might be the community. Rambles aren't races and, in my experience, no one sees them as such. A full day in the saddle meant I bumped into every member of my group at one point or another — some on lunch breaks, others when we paused to take in the scenery, and others when a cyclist simply wanted to mix-up their riding companions. Along the 200-ish miles I pedaled over a long weekend, I had a chance to ride, for at least a short stretch, with just about every other trip member, chatting about life and work as we bonded over hilly stretches of heavy breathing.
Compared to other bikepacking trips I've been on since that first outing, the social aspect of a Ramble is what sets it apart. At the end of every day, everyone would roll into camp on their own schedule, garnering "nice job" and "looking good" remarks from those who were already hanging out, beer in hand. Dinnertime felt like the cafeteria at summer camp and the nights ended with a shared jar of moonshine or a couple beers while talking around the campfire.
Getting to know and ride with new friends, sharing meals and hanging around a campfire each night isn't the kind of thing you're likely to organize on your own. And I can tell you, sharing that nightly camp fire helped the miles fly by for my inexperienced legs.
What's the next bikepacking trip?
Driscoe says the Rambles, while popular, will be getting smaller, down to about 70 riders or even fewer. "COVID forced us to a smaller ride in July … and I liked it better. More intimate, more camaraderie, fewer staff requirements," Driscoe said.
This year's Summer Ramble (Aug. 18-22) stretches along a 340-mile route between Walden and Steamboat Springs. A four-day fall ride (Sept. 22-25) sticks to slightly higher elevation gravel roads between Walden and Steamboat Springs to take advantage of the colorful foliage and cooler temperatures.
Ramble Rides
Fort Collins-based company has been leading multiday gravel rides for six years. Rides are for folks with miles in the saddle — 50-plus miles a day — and age 18 or older. Rides cost roughtly $200 a day, which includes food, technical, logistical and medical support and more.
Subscribe to our weekly newsletter, The Adventurist, to get outdoors news sent straight to your inbox.
Source: Read Full Article