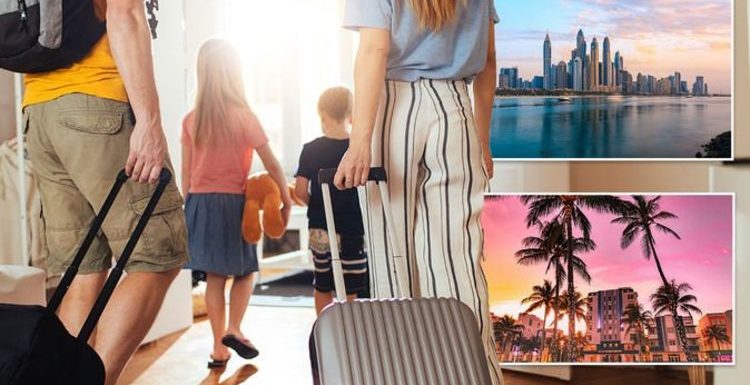 Julia Hartley-Brewer grills Grant Shapps on travel rules
When you subscribe we will use the information you provide to send you these newsletters. Sometimes they'll include recommendations for other related newsletters or services we offer. Our Privacy Notice explains more about how we use your data, and your rights. You can unsubscribe at any time.
Holiday hopes are beginning to mount for Covid-weary Britons eagerly seeking a change of scenery. According to the latest report from the Global Travel Taskforce, international travel could resume as soon as May 17.
Following this news, flight comparison website Skyscanner reported an uptick in searches for flights and holidays to certain destinations.
Though the Government has yet to announce which nations will make it to the "green list" as part of its traffic light system, there is some speculation destinations such as Portugal and the US could make the cut.
In Portugal, the nation has seen a decrease in Covid cases in recent weeks.
Meanwhile, the US has been making speedy progress with its vaccination roll-out.
There are also some positive signs from Dubai. Although the nations remain on England and Scotland's "red lists", the country has resumed direct flights to and from Scotland.
It has yet to resume flights with England.
Despite this, Britons seem to be setting their sights on the UAE hotspot, alongside Portugal and US holidays when it comes to Skyscanner's search trends.
Skyscanner reports all three nations were in its top 10 most searched for destinations since the Government announcement.
DON'T MISS
British Airways extends suspension of short-haul Gatwick flights [UPDATE]
Holidays back in five weeks says Global Travel Taskforce [INSIGHT]
TUI flight involved in 'serious incident' over passenger weight [COMMENT]
Domestic flight searches are also on the rise.
According to Skyscanner, the top 10 most searched for destinations this week are London, Manchester, Dubai, Tel Aviv, New York, Edinburgh, Bangkok, Belfast, Faro and Orland.
The Skyscanner experts also shared the cheapest month to book, for those keen to get plans in the diary.
The research shows the cheapest month to book a US holiday is in July, with an average price from the UK to US currently sitting at around £576.
For Dubai, September looks like the best month to make savings.
The average price from the UK to UAE is currently around £440.
Meanwhile, Portugal's cheapest month for travel is June.
According to Skyscanner average prices are up to 51 percent cheaper than in June 2020.
Average prices between June and August are "consistently cheaper than in 2019", with the cost of flights in June averaging at £93.
Though holidaymakers may be optimistic about the future of travel, Skyscanner consumer rights expert Martin Nolan says low costs reflect ongoing "uncertainty" around restrictions.
He explained: "There is still a level of uncertainty around what travel will be possible in 2021, and that is keeping prices low for short-haul travel as capacity is not yet filled.
"It has also led to a fluctuation in prices for places like the US which has seen renewed interest from travellers following a successful start to its vaccine rollout.
"As the rules around travel from the UK become clearer, and airlines react by allocating planes to routes to serve demand, we expect to see attractive pricing being used by providers to compete for bookings.
"Competition between airlines and travel providers almost always benefits the traveller with better pricing and more choice."
Source: Read Full Article