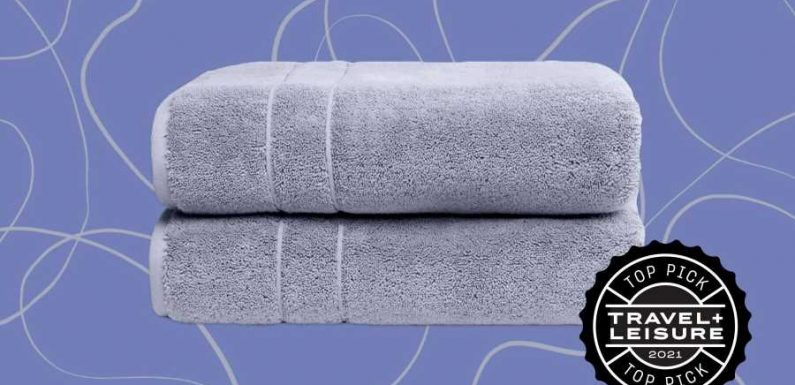 At Travel + Leisure, we're dedicated to helping you find the absolute best products to meet your needs on the road and at home. The T+L Top Picks seal is awarded to items our editors have determined to be the best buys in their category.
I'm all about making my home as cozy as possible, no matter the season, but especially during the colder months. That includes bedding, bath linens, and loungewear that will make life more comfortable (and maybe even a little more stylish) while we're staying at home. If you're in the market for new bath towels, I can't recommend the Super-plush Bath Towels from Brooklinen enough. They're soft, fluffy, and stay that way wash after wash. Plus, using them makes me feel like I'm staying at a luxury hotel or taking a trip to the spa.
Load Error
Related: More hotel-quality home upgrades
These towels live up to their name, since they do, in fact, feel "super plush." They're made from 100-percent Turkish cotton that feels luxuriously soft on the skin and absorbs water quickly. I've found that many other towels I've used become saturated with water and are hard to keep clean and dry between washes, but these towels dry impressively quickly for how thick they are. I love my set in the color Smoke, but there are six other color options to choose from, so you can be sure to find a set that fits your bathroom's decor.
Gallery: Save $50 on a new Dyson V7 Absolute cordless stick vacuum (SF Gate)
To buy: Super-plush Bath Towels, brooklinen.com, $59 for two (originally $69)
But don't take it from me, tons of shoppers are also raving about these bath towels on Brooklinen's website. "Love that these towels are soft, a generous size, and so thick and cozy. They make getting out of a hot shower easier in the winter. I find myself reaching for these instead of my other towels," one reviewer wrote.
Another shopper specifically complimented these towels' absorbency. "I love the super plush towels. They are so much more absorbent that any other towels I have used."
Madeline Diamond is a Brooklyn-based e-commerce editor at Travel + Leisure, and she's constantly fighting the impulse to overpack for her next trip. You can follow her on Twitter @madgdiamond and Instagram @madelinediamond.
Love a great deal? Sign up for our T+L Recommends newsletter and we'll send you our favorite travel products each week. 
Source: Read Full Article