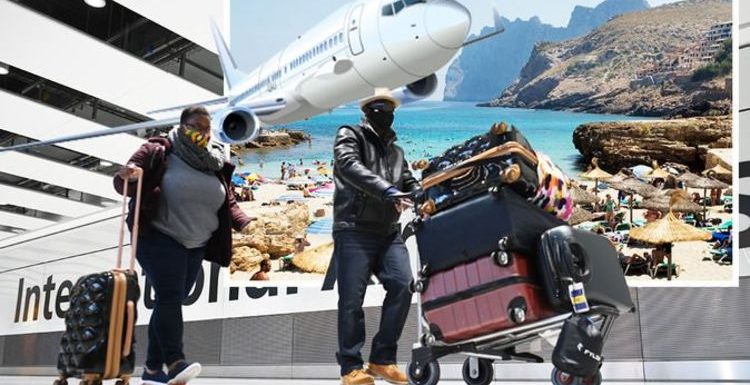 Priti Patel reveals government's new travel quarantine rules
Holidays are longed-for by Britons up and down the country but travel rules across the world have made jet-setting nigh impossible. Popular holiday destinations France, Italy, Spain, Greece and Portugal have all changed travel measures over the past year, as has the UK. This is the latest Foreign, Commonwealth and Development Office (FCDO) travel advice for the five countries.
France
France has banned UK flights amid fears of mutant strains of Covid in the UK.
"Travel will only be permitted for essential reasons," said the FCDO, adding: "Travel restrictions apply to all air, car, ferry and train passengers."
There are two categories of people to whom an exception applies. One is French nationals and nationals of the European Area and their spouses and children.
The second is British and/or third-country nationals who are either habitually resident in France, the European Union or the European Area, or who must travel for certain essential reasons.
Anyone who does enter France "will need to present a negative COVID-19 test result (PCR only), carried out less than 72 hours before departure," detailed the FCDO.
"Arrivals will also be required to self-isolate for seven days upon arrival, before taking another PCR test."
The FCDO added:" Arrivals from the UK will need to complete both a 'sworn statement' (déclaration sur l'honneur) form self-certifying they are not suffering from symptoms associated with coronavirus and have not been in contact with confirmed cases in the preceding fortnight, and a signed 'travel certificate' (attestation), confirming their reason for travel."
We will use your email address only for sending you newsletters. Please see our Privacy Notice for details of your data protection rights.
Italy
Italy has similarly banned UK arrivals. "Until March 5, entry into Italy is only permitted for those with official residency or those with absolute necessity, which must be declared in writing," said the FCDO.
Those who do travel to Italy "must present the airline with a negative COVID-19 rapid antigenic or molecular swab test taken no more than 72 hours before entry into Italy.
"You must also take a COVID-19 rapid antigenic or molecular swab test within 48 hours of entering Italy – arrivals by air from the UK will take this test at the airport.
"Whatever the result of the two swab tests, those arriving in Italy from the UK must also report to their local health authorities on arrival and self-isolate for 14 days."
Travellers will need to download and complete a self-declaration from the Ministry of Interior before travel.
Spain
Spain has banned UK arrivals until the middle of February." On December 22 2020, Spain introduced travel restrictions on passenger travel from the UK by air and sea," explained the FCDO.
"These measures have been extended until 6pm (GMT+1) on February 16 2021 (5pm / GMT in the Canary Islands), with the exception of Spanish nationals and those legally resident in Spain."
A Covid test is needed for those who can enter the country. "All passengers (excluding children under the age of six years old) travelling to Spanish airports from 'risk' countries, as determined by the European Centre for Disease Prevention & Control are required to present a negative PCR, TNA or LAMP test taken within no more than 72 hours prior to arrival, in order to enter the country," said the FCDO.
It is also mandatory for all passengers travelling by air or sea to Spain to fill out and sign an online Health Control Form 48 hours prior to travel.
Greece
Greece, however, has not banned UK arrivals.
The ongoing FCDO advice is as follows: "The Foreign, Commonwealth & Development Office (FCDO) advises against all but essential travel to Greece based on the current assessment of COVID-19 risks.
"The FCDO is not advising against travel to the islands of Rhodes, Kos, Zakynthos, Corfu and Crete."
It continued: "All arrivals into Greece need to provide proof of a negative COVID-19 PCR test, undertaken within the 72 hour period before your time of arrival into Greece.
"Anyone entering Greece from the UK will also be asked to undergo a rapid test for COVID-19 on arrival. Arrivals from the UK are currently required to self-isolate for seven days in the event of a negative test result.
"In the event of a positive test result, travellers will have to isolate for at least 14 days. In either case, travellers will need to undertake a further PCR test at the end of their period of self-isolation."
The Foreign Office added: "If you travel to Greece, you will need to complete a Passenger Locator Form (PLF) at least 24 hours before travel."
Portugal
Travel rules are particularly strict for Portugal amid concerns of a mutant covid strain. "Flights between the UK and Portugal (including the autonomous regions of Madeira and Azores) are currently suspended," detailed the FCDO.
"Visitors who have been in or transited through Portugal (including the autonomous regions of Madeira and Azores) in the previous 10 days cannot enter the UK.
"British and Irish nationals, and third-country nationals with residence rights in the UK, arriving in the UK from Portugal (including the autonomous regions of Madeira and Azores) will need to self-isolate along with their households on their return."
What's more, as of yesterday, there are now border controls at the land border with Spain.
Those who do enter Portugal "will be required to show a negative RT-PCR test result for SARS/COVID-19 taken within 72 hours of departure (not required for children aged two or under).
"In Madeira, you will be required to take an additional RT-PCR test five to seven days after your initial test. From the day you arrive in Madeira until you receive the results of this additional test, you must remain in isolation."
Source: Read Full Article