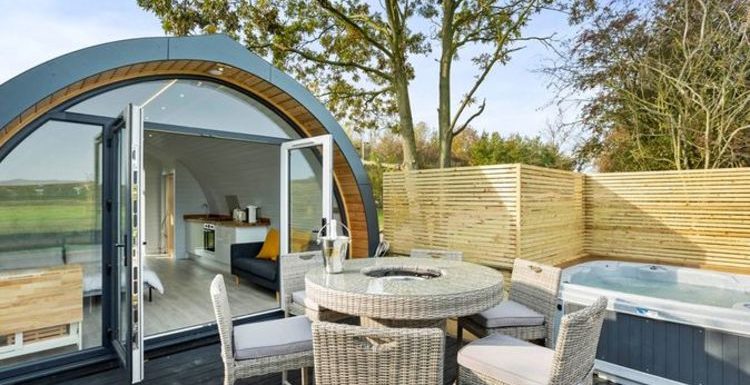 Escape to the Chateau: Dick and Angel create glamping site
When you subscribe we will use the information you provide to send you these newsletters. Sometimes they'll include recommendations for other related newsletters or services we offer. Our Privacy Notice explains more about how we use your data, and your rights. You can unsubscribe at any time.
Glamping is a luxury for adventurous travellers and outdoors enthusiasts. If you love to be in contact with nature but you don't want to give up the commodities you are used to, keep reading.
The UK boasts a wealth of beautiful spots to visit in the countryside, from the outstanding coast of Cornwall to the breathtaking cliffs of Devon.
International travel might be permitted from this month, but why fly to a remote destination when actual beauty can be found so close to home?
And don't worry, they come with all the luxuries included!
From cabins with hot tubs to luxury treehouses and breakfast delivery, nature has never felt so extravagant.
'READ MORE': Spain: British expats forced to leave as Spain not on green list
PARKHALL PODS, DERBYSHIRE
This is the perfect option for those who don't actually like camping.
It comes with a hot tub, Nespresso machine and a campfire pit.
From this dreamy cabin, you will be ready to enjoy the scenic Derbyshire countryside.
Visit parkhallpods.co.uk.
LUSTY GLAZE BEACH, CORNWALL
Wake up to the sound of the waves in this sandy but idyllic campsite.
Located in a private bay in North Cornwall, this site is ideal to spend an evening watching the sunset.
Enjoy a hot chocolate watching the sun go down from your cosy tent.
Visit lustyglaze.co.uk.
RED KITE TREE TENT, POWYS, WALES
Sleep in a suspended nest in the middle of the woods.
From the treetop and surrounded by woodland, your only neighbours will be the playful squirrels.
This is definitely mother nature at its finest.
Visit chillderness.co.uk.
BIVOUAC AT DRUID'S TEMPLE, SWINTON PARK, YORKSHIRE DALES
Located in the 20,000-acre Swinton Park estate in the Yorkshire Dales, you might feel like you're in the dense forests of Colorado.
Enjoy a warm tea on the porch while watching life go by.
Don't worry about being too rustic, the outdoor hot tub is included.
Visit swintonestate.com.
THE ORCHARD RETREAT, DEVON
Perfect for a digital detox.
Without electricity or mobile signal, this cosy cabin has all the comforts that you need
Enjoy the bucolic Devon countryside like you have never before.
Visit theorchardretreat.co.uk.
GES THE HORSEBOX, SURREY
Located a stone's throw from the capital, this is a perfect option for those Londoners looking for an adventurous weekend away.
This chic caravan will exceed your expectations.
During the rural getaway, you can have your continental breakfast on the terrace surrounded by wildflowers and butterflies.
Visit canopyandstars.co.uk.
Source: Read Full Article