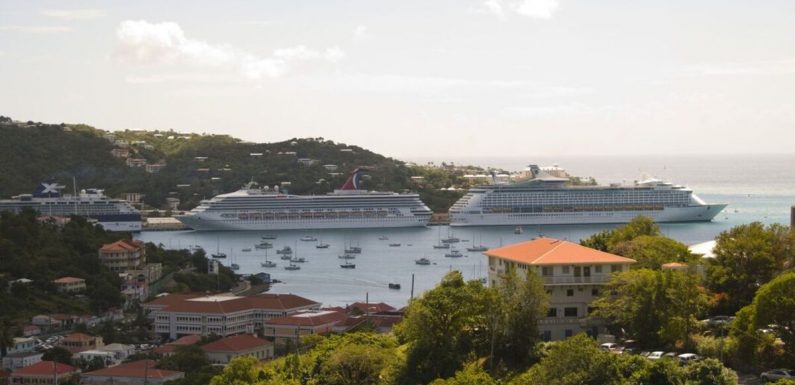 Cruise ships have modernised over time to increase their capacity while offering guests more high-spec experiences during sailings. And according to long-time cruisers, the same can be said for passengers too. But while this self-contained style of travel has become more inclusive for food, drink, socialising and entertainment, it's not to everyone's liking.
Reminiscing on the "old ways" of cruising in the popular forum Cruise Critic, holidaymakers from the UK shared their distaste for the "modern" experiences now offered by many mainstream lines.
Posing the question about whether cruising was "better in the old days", a user named Denarius said that he "without a doubt" prefers the experiences he had on ships during the 1990s.
The avid cruiser wrote: "All I want from a cruise are interesting ports, good food, drink and service, and good company. I prefer to socialise rather than be entertained and find much less opportunity to do so on large ships with several thousand passengers.
"The phrase 'alone in a city' comes to mind. Are there others who feel the same way, or am I one of a dying breed?"
Like many of the experienced guests who shared their experiences on the thread, the forum member started taking cruises during the mid-1990s when ships were much smaller.
He said: "In those days a typical cruise ship displaced 25,000-35,000 tonnes and carried between 600 and 800 passengers. Facilities were limited.
"The focal point was the ballroom, a multi-use venue during the day and a venue for dancing (to the ship's band) and socialising in the evening.
"There was also usually a pub or cocktail/piano bar and an alternative music bar, and a cinema. And that was it. But there was a camaraderie onboard."
Don't miss…
Cruise ship tourist slapped with £1,800 fine for banned item [LATEST]
Cruise passenger shares 'number one thing' to pack [REVEAL]
Cruise guest shares 'rule of thumb' for choosing a cabin [INSIGHT]
Other users agreed that the increased capacity of vessels has changed the experience, with many seeking smaller ships for a taste of the "old ways".
One cruiser named John Watson wrote: "I tried a small ship on a Transatlantic more recently Star Clipper 2,000 tons – 34 passengers for 18 sea days.
"No theatre, just people entertaining themselves in multi-languages, deck golf, darts, quizzes. Like a holiday camp from the 1960s.
"I think the modern cruise has got too much like living in a shopping mall and "Hotel Manager" running the hotel?"
It's not just the offerings on board that have changed the way older cruise guests feel about this form of travel.
One Cruise Critic member from Preston, UK explained that they prefer the old booking methods used before systems became digitalised.
The person who used the name Aulanis explained that "all the benefits of electronic gadgetry" have made holidays more complicated than before, taking "ours" to get all their documentation printed off before boarding the ship.
They added that service has also changed on board, with small details like chocolates on pillows and turndown offerings becoming rarer as staff are tasked with servicing more cabins.
Aulanis said: "Oh and another thing all the cruise lines seem to have cut back on extras that they used to provide in loyalty schemes. Perhaps I am just not cut out for today's "big sell" cruising environment. The problem of course is what do we do instead."
While smaller ships offer a more intimate experience for guests, the cost is often much more than for a similar holiday on a larger liner.
And for many, the premium price of traditional cruises is off the cards. A forum member named Britboys said: "Older-style cruising is still available on smaller ships but they tend to be luxury lines and sadly outwith my cruise budget.
"The other drawback to these smaller, luxury vessels is that the itineraries tend to be designed with Americans in mind and so are usually very port-intensive and so often no more than one day at sea per week."
Some of the lines recommended by old-school cruisers included Saga, Cunard, and P&O's Aurora.
Source: Read Full Article