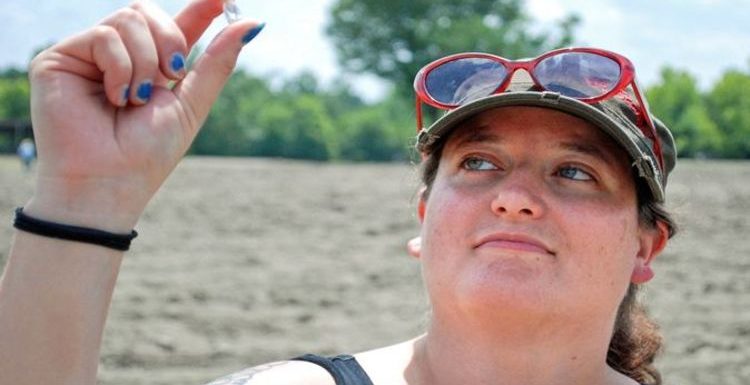 Australia travel rules changes discussed by Calder
We use your sign-up to provide content in ways you've consented to and to improve our understanding of you. This may include adverts from us and 3rd parties based on our understanding. You can unsubscribe at any time. More info
Noreen Wredberg from California was hiking in the aptly named Crater of Diamonds State Park in Arkansas when she found the diamond. She spotted the small glinting yellow object on the ground on September 23.
Noreen declared the stone to the State Park's authorities who appraised it and confirmed it was a flawless yellow diamond.
She said: "I didn't know it was a diamond then, but it was clean and shiny, so I picked it up."
The 4.38 carat stone is the largest diamond found in the park since October 2020 when a visitor discovered a 4.49 carat diamond.
Caleb Howell, the park superintendent, said: "The stone was about the size of a jellybean, with a pear shape and a lemonade yellow colour.
"When I first saw this diamond under the microscope, I thought 'Wow, what a beautiful shape and colour'."
Noreen and her husband Michael spend a lot of their leisure time exploring the USA's many national parks.
The pair were in Arkansas to visit the Hot Springs National Park when they decided to take a trip to Crater of Diamonds.
Noreen said: "We really didn't think we would find one, let alone something that big. It's all new to me!"
The diamond is estimated to be worth over $22,000 (£16,000) and Noreen will get to keep it.
Around 50 gems are discovered at the Crater of Diamonds park every year but most are less valuable semi-precious gems such as quartz and garnet.
Park visitors regularly find stones just sitting on the surface of the earth, much like Noreen's diamond.
The largest gem ever found at the park was a 9.07 carat diamond and was discovered in 2020.
The State Park's interpreter Waymon Cox said: "We plow the search area periodically to loosen the soil and promote natural erosion.
"Diamonds are somewhat heavy for their size and lack static electricity, so dirt doesn't stick to them.
"When rain uncovers a large diamond and the sun comes out, its reflective surface is often easy to see."
Stacy Hurst, of Arkansas's Department of Parks, Heritage and Tourism, said: "Arkansas is the only state in the country that has a diamond mine open to the public.
"It's such a unique experience and visitors make lifetime memories, whether or not they find a diamond. Of course, finding a diamond adds to the experience."
Noreen said she wasn't sure what to do with her diamond yet but might have it cut, depending on the stone's quality.
In the UK, metal-detecting is a popular activity with many treasure hunters searching for gold or silver.
However, finders aren't always allowed to keep their treasure and have to report it to avoid being arrested for a crime.
Source: Read Full Article