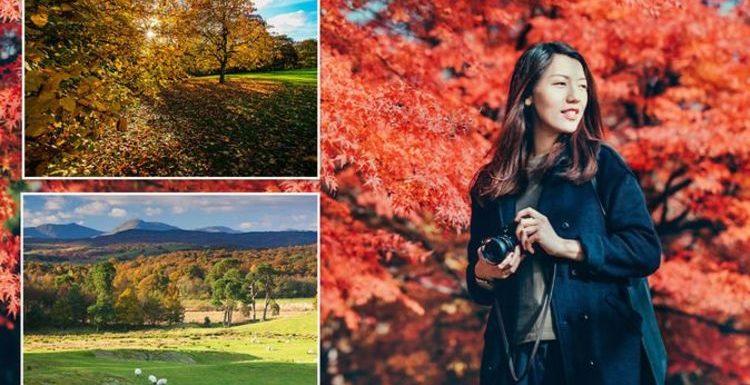 Alan Titchmarsh explains how to use autumn leaves to improve soil
We use your sign-up to provide content in ways you've consented to and to improve our understanding of you. This may include adverts from us and 3rd parties based on our understanding. You can unsubscribe at any time. More info
Although the weather may be getting colder, autumn brings with it an array of colours. As the season changes, all around leaves begin to transition from green into spectacular shades of red, amber, gold and brown.
In recent years, largely thanks to social media, this has spurred a new trend dubbed "leaf-peeping".
But what is this trend and how can you take part this autumn season?
What is "leaf-peeping"?
Experts from online florist Flying Flowers describe leaf-peeping as "an activity in which people travel to travel to view and photograph the beautiful foliage as they change to golden and red colours in Autumn."
They added: "Leaf-peeping has been a popular term in the US and Canada for years but is slowly gaining popularity across the pond here in the UK."
According to the horticultural experts, the best time to see the leaves transform from green to orange can be as early as September in Scotland. The colourful period can last right through until the end of October.
In England, however, they say people may have to wait a little bit longer to notice any autumnal changes.
Autumn leaves tend to reach their peak in October in England, with most of them fallen by mid-November.
The change in colour occurs as the result of colder temperatures and less sunlight.
This reduces the need for chlorophyll in the autumn months, and as such the green pigment in the leaves break down.
Xanthophylls, which are the yellow or brown pigments in leaves and carotenes, which are the orange or red pigments, become more visible, producing a stunning array of yellow and red hues.
DON'T MISS
Britons unaware of hidden perk to save fortune in Spain [INSIGHT]
10 costly airport mistakes experts warn Britons to avoid – how to save [ADVICE]
Venice tracks tourists through mobile phones [UPDATE]
Where are the best places for "lead peeping" in the UK?
The experts from Flying Flowers shared their top eight favourite spots across the UK for people looking to snap some stunning photographs of the changing leaves.
Grizedale Forest in Cumbria
Grizedale Forest is a perfect spot for those who love the Lake District.
The forest promises one-of-a-kind views, backed by incredible mountains and glassy lakes.
According to the experts: "It is perfect for activity lovers with 10 walking trails and nine bike trails and also boasts forest Segway for those seeking more adventure."
Knightwood Oak Trail in the New Forest
Not only does the Knightwood Oak Trail offer visitors a stunning array of seasonal foliage, but the area is also steeped in history.
The trail is home to the New Forest's oldest tree, which is believed to have been planted in 1600.
Westonbirt Arboretum in Gloucestershire
Nestled in the Cotswolds is Westonbirt Arboretum, boasting a selection of gold, pink, glowing red and vibrant yellow leaves as the colder months descend.
The Flying Flowers experts said: "If you're a seasoned nature lover the Arboretum offers thousands of tree species from all over the world so has plenty to offer."
Faskally Wood in Perthshire
Scotland offers some of the most breathtaking views in the UK, and in the autumn months, these are further enhanced by the stunning array of leaves.
Perthshire sits within the Scottish Highlands and, according to the experts, is "one of the best places in the country" for an impressive autumn display.
Faskally Wood is one of Perthshire's finest spots, nestled next to Loch Dunmore there are plenty of trails to follow along the water's edge and into the woods.
Cardinham Woods in Cornwall
Further south in Cornwall, Cardinham Woods offers both walking and cycling trails engulfed in bold autumn colours.
This diverse woodland offers small hidden areas, allowing you to experience a truly relaxing landscape.
Many of the trails crisscrossing their way through this region also include viewpoints.
Upper Derwent valley in the Peak District
Often referred to as "Derbyshire's Lake District", the Peak District National Park's Upper Derwent Valley is known for its majestic reservoir and features an array of walking and cycling paths.
Flying Flowers recommend heading to the Upper Derwent Valley visitor centre where you will be able to explore the incredible views of the valley below.
During autumn months the view across the Ladybower Reservoir is littered with golden and red hues from the surrounding forest.
This spot is ideal for those who prefer a shorter walk, and also promises a cafe serving hot drinks.
Get the latest three-day weather forecast where you live. Find out by adding your postcode or visit InYourArea
Hampstead Heath in London
North London's Hampstead Heath is famous for many things, but in the autumn months, its eye-catching display of leaves attract people from all around.
Sitting in Zone two, the Heath offers a taste of woodland among the urban sprawl.
For brave souls, Hampstead Heath's ladies and mens' swimming ponds are open all year round – although you do need a membership to take a dip in the colder months.
Stourhead Garden in Wiltshire
Stourhead is home to world-famous gardens, featuring a beautiful lake and even a grotto.
Come autumn it also has to offer acres of surrounding untouched countryside, perfect for those who like to discover hidden gems.
Flying Flowers recommend a visit to The Gothic Cottage. Also known as Watch Cottage, the building was originally created as a rustic building, with the Gothic seat and porch added in 1806.
Source: Read Full Article