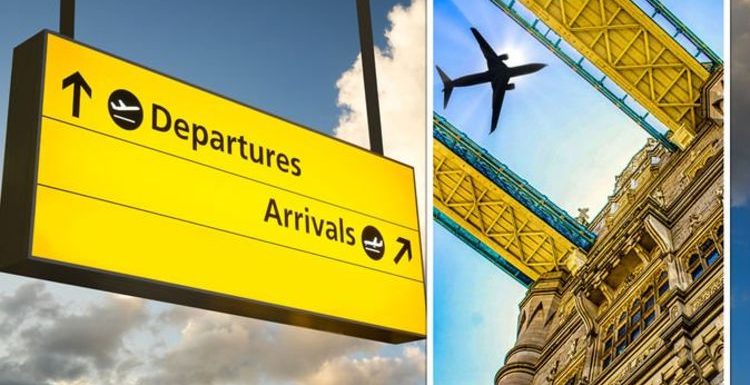 Heathrow Airport launches the 'Come Fly Again' initiative
We use your sign-up to provide content in ways you've consented to and to improve our understanding of you. This may include adverts from us and 3rd parties based on our understanding. You can unsubscribe at any time. More info
Britons can now go overseas without too much hassle and most international borders have reopened. However, while the past months have been full of PCR test prices blunders, there is now a new travel charge holidaying Britons will have to contend with.
Heathrow has followed the other nine largest UK airports and is introducing a drop-off charge.
The new charge will come into effect on November 1.
Across all of the Heathrow terminal forecourts, Britons will now have to pay £5 to drop-off friends and family.
The new charge will be managed using using Automatic Number Plate Recognition (ANPR) systems similar to those used for the London Congestion Charge and Dart Charge schemes.
READ MORE: Winter sun destinations for under £1000
All drivers will be charged the £5 flat fee every visit to the drop-off zones.
Blue Badge holders will be eligible for a 100 percent discount.
Drivers can pay the new charge in advance, or by midnight the day after the drop-off.
A press release from Heathrow said: "Regular users of the airport are encouraged to register with a pre-pay account.
"Trips pre-paid will expire 12 months after the date of purchase."
Payments can only be made by card, either online or automated telephone service.
Failure to pay will result in a £80 Parking Charge Notice (PCN).
This will be reduced to £40 if paid within 14 days.
Heathrow has seen its passengers' numbers fall sharply over the pandemic and the recovery is slow.
Numbers are still over 70 percent below pre-Covid levels.
Heathrow Director of Surface Access, Tony Caccavone, said: "With passenger numbers still over 70 percent down on pre-pandemic figures, this charge, first proposed last year, will help us protect the business financially."
Chair of independent Heathrow Area Transport Forum and Former London Deputy Mayor for Transport Val Shawcross said: "The pandemic continues to have a significant impact on Heathrow and this charge will help to prevent a car-led recovery and contribute towards new sustainable transport initiatives.
"Measures to encourage passengers into public transport are key to the airport's long-term sustainability as it seeks to 'build back better'."
Britons who do not want to pay the charge can still drop-off without paying anything at the airport's Long Stay car park.
They'll then have to use the free regular shuttle buses to and from the terminals.
But for a lovely long farewell at the terminal forecourts, it'll be £5.
Source: Read Full Article