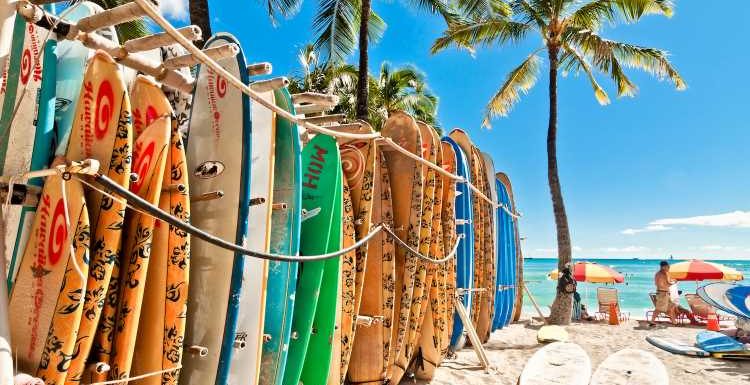 © Photo by Shutterstock
You Can Now Travel to Hawaii Without a Quarantine—Here's What You Need to Know


Photo by Shutterstock The Hawaiian islands are calling as long as you are up to date on the latest travel requirements.
Load Error
Most notably, after reinstating a 10-day quarantine requirement on December 2 (during which time testing was not accepted in lieu of a quarantine), Kauai is now set to rejoin the state's pretravel testing program on April 5, 2021.
Hawaii's pretravel testing program
In order to be able to travel to Hawaii without having to quarantine, out-of-state travelers (ages five and older) arriving in Hawaii must furnish evidence of a negative FDA-approved nucleic acid amplification test (NAAT) result taken within 72 hours of boarding—travelers must have the results with them when they board. Travelers from Canada can also bypass the state's mandatory quarantine with a negative COVID-19 test result from a lab that has partnered with Air Canada or WestJet.
The only test results that will be accepted for domestic Hawaii arrivals will be those produced by one of these labs or clinics:
American Family Care
American Samoa Department of Health
Atlas Genomics
Capstone Clinic
Carbon Health
CityHealth Urgent Care
Clarity Lab Solutions
CLEAR (only for Delta and United flights from LAX)
Color
Commonwealth Healthcare Corporation
Costco/AZOVA
CVS Health (only through this CVS testing portal)
Discovery Health MD
DLS Guam
Guam Department of Public Health and Social Services
GoHealth Urgent Care
Kaiser Permanente University Medical Center of Southern Nevada+
UC San Diego Health
University of Washington Medicine
Vault Health
Walgreens
WestPac Labs
XpresCheck
The list is often updated, so be sure to check with the Hawaii State Department of Health for the latest. 
Without the negative test result, passengers arriving from out of state will be subject to a 10-day quarantine.
Travelers to Hawaii must also fill out a mandatory online health application. The digital form is required both for out-of-state arrivals and for interisland travel. Travelers must fill out the form at least 24 hours prior to departure, and once the form is complete they will receive a QR code via email. They can then scan the QR code from their mobile device or from a printed-out version at the airport upon arrival.
Travelers heading to the Big Island from the U.S. mainland could be randomly selected to take a second rapid COVID-19 antigen test upon arrival. These tests are being administered to approximately 25 percent of arrivals and are conducted at no cost to travelers, according to the Hawaii Tourism Authority. The tests are being administered at all three Hawaii island airports: Ellison Onizuka International Airport at Keahole, Waimea-Kohala Airport, and Hilo International Airport. The antigen tests provide results within 15 to 20 minutes. If travelers test negative at the airport, they will not be required to quarantine. If they test positive, they will be required to immediately take a PCR test and quarantine until they receive the results, which are typically available within 36 hours.
There is also a partial interisland travel quarantine requirement in place. This 10-day quarantine applies to anyone traveling to and between the islands of Kauai, Hawaii, Maui, Molokai, and Lanai. The interisland quarantine does not include interisland travelers arriving on Oahu, and it also does not apply to a layover in Honolulu en route to another island.
"If you have just a layover in Honolulu then the negative test result is good through to your final destination. If your break in Honolulu is more than a layover, then you are captured by the interisland quarantine," advised the Hawaii State Department of Health on its COVID-19 travel FAQ page.
As for international visitors, per U.S. government restrictions, foreign nationals who have been in China, Iran, South Africa, the European Schengen area, Brazil, the United Kingdom, or Ireland in the previous 14 days will be denied entry into Hawaii. U.S. citizens and permanent residents are exempt.
Video: Vaccinated Travelers Looking for a Beach Getaway Can Head to Phuket in July (Travel + Leisure)
Celebrity Cruises Announces June Sailings to Greece

Travel + Leisure


How to Take At-Home Self Care to the Next Level, According to Peloton's Ally Love

Travel + Leisure


REI Cuts International Adventures to Focus on U.S. Destinations

Travel + Leisure


The Olympic Torch Begins Its 121-Day Journey Around Japan

Travel + Leisure


Louis Vuitton's 2021 Travel Books Will Help You See the World Through a Fashion Lens

Travel + Leisure


A Tiny Piece of the Wright Brothers' First Plane Will Soon Fly Around Mars

Travel + Leisure


Vail Resorts Is Reducing the Price of Its Epic Pass, Making It One of the Best Values in S

Travel + Leisure


This Caribbean Island Is Offering a New Extended-Stay Visa So Remote Workers Can Enjoy Its

Travel + Leisure


Instagram Is Creating a New App That Will Be for Kids Under 13

Travel + Leisure


How a German Brewery Saved 1,500 Gallons of Beer That Were About to Expire

Travel + Leisure


Southwest Ditching Pandemic-era Policy of Boarding in Smaller Groups

Travel + Leisure


Disney World Is Testing Facial Recognition Technology for Entry to Magic Kingdom

Travel + Leisure


Why Balance Athletica Is the Size-Inclusive New Athleisure Brand That Should be on Your Ra

Travel + Leisure


This Company Will Pay You $2,400 to Avoid All Screens for 24 Hours

Travel + Leisure


A Singapore Hawker-Style Food Market Is Coming to Las Vegas This Summer

Travel + Leisure


Brits Who Travel Abroad During UK's Lockdown Restrictions Could Face a $7,000 Fine

Travel + Leisure


Celebrity Cruises Announces June Sailings to Greece
All passengers and crew members older than 18 must be vaccinated against COVID-19.


Travel + Leisure



How to Take At-Home Self Care to the Next Level, According to Peloton's Ally Love
"I'm loving myself by taking care of me," she told T+L.


Travel + Leisure



REI Cuts International Adventures to Focus on U.S. Destinations
The company already offers more than 100 U.S.-based itineraries.


Travel + Leisure

As of January 26, a new nationwide order mandated by the U.S. Centers for Disease Control and Prevention (CDC) requires international arrivals to provide documentation of negative COVID-19 test results procured within three days of their departure to the United States. 
Airlines offering preflight testing to Hawaii travelers
U.S. airlines with service to Hawaii are providing passengers with ample information on testing kits and clinics that satisfy the state's requirements. United Airlines customers flying to Hawaii now have access to numerous testing options that have been compiled by the airline, including mail-in test kits.
Hawaiian Airlines has an interactive tool on its website to help travelers identify where and how to get tested in any of its North America departure cities. Alaska Airlines provides its customers with COVID-19 testing information as well.
American Airlines is offering preflight COVID-19 testing for customers traveling from Dallas–Fort Worth (DFW) to Hawaii—an at-home test kit provided by LetsGetChecked (with results provided within 48 hours on average) that costs $129, including shipping; in-person testing at a CareNow urgent care location in the Dallas area; or a rapid-result test administered by CareNow at the DFW airport.
Hawaii's quarantine rule
The 10-day mandatory self-quarantine still applies to those who don't procure a negative COVID-19 test result. It includes those arriving on private planes as well as commercial aircraft. The quarantine order requires visitors and residents to proceed directly to their designated quarantine location after leaving the airport, where they are to remain for 10 days (or for the duration of their stay in Hawaii, whichever is shorter). For residents, the designated quarantine location should be their home. For visitors, designated quarantine locations would be either their hotel room or vacation lodging.
During self-quarantine, residents and visitors are not to go to any public spaces, including pools, fitness centers, and restaurants.
All visitors and residents arriving at Hawaii's airports will be asked to complete a State Travel and Health form. On that form they must include the location where they plan to stay if they are required to quarantine. Failure to comply is considered a misdemeanor and is punishable by a fine of up to $5,000 or up to one year of jail time, or both.
Beaches, hotels, and restaurants have reopened with health requirements in place
Hawaii has moved into its third stage of recovery—the first two were the stay-at-home order, followed by the safer-at-home order. The current stage is called the "act with care" stage. A number of public health and economic factors are considered for how and when the state enters each stage, and the state can also move back to one of its earlier stages if the public health situation requires that step.
During the current phase, all businesses except for larger venues and clubs have been allowed to reopen, including hotels, restaurants, bars, retail stores, shopping malls, and indoor fitness facilities—most with some kind of physical distancing and additional safety measures in place.
The only exception is Honolulu, which has a tiered reopening strategy. As of March 30, it was in Tier 3 (Tier 1 is the strictest and Tier 4 is the most relaxed), meaning that restaurants, zoos, aquariums, museums, and movie theaters are open, and personal care services and gym and fitness activities are allowed.
Beaches on Oahu, Maui, Kauai, and the Big Island are all open. Haleakala National Park is open with sunrise viewings available to be reserved at Recreation.gov. Everyone in Hawaii is asked to wear a face mask, per the CDC recommendation, and those entering any kind of business are required to wear one.
Where to stay in Hawaii
The retro-chic (and pet-friendly) Surfjack Hotel & Swim Club in Waikiki is offering 25 percent off its rates as it welcomes guests back to take a dip in the pool, indulge in Hawaiian cuisine at the property's Mahina & Sun's restaurant, and listen to nightly live music.
Luxury hotel Espacio, also in Waikiki, is offering a $500 resort credit when you book a premium view or penthouse suite, and guests who book luxury suites will score a $200 dining credit at the on-site elevated dining venue Mugen.
The historic Mauna Kea Resort, which dates back to 1965 when Laurance S. Rockefeller first opened the property, reopened in November. The updated Big Island resort now consists of the original Mauna Kea Beach Hotel (which reopened on November 1) and the Westin Hapuna Beach Resort (which reopened on November 20). Mauna Kea Beach Hotel is offering a fifth night free, and the Westin Hapuna Beach Resort is offering a fourth free night, among other promotions.
And of course, for longer stays there are many great Airbnbs throughout Hawaii.
This story originally appeared on March 24, 2020, and has been updated on March 30, 2021, to include current information. 
>> Next: AFAR's Ultimate Guide to Hawaii
Source: Read Full Article