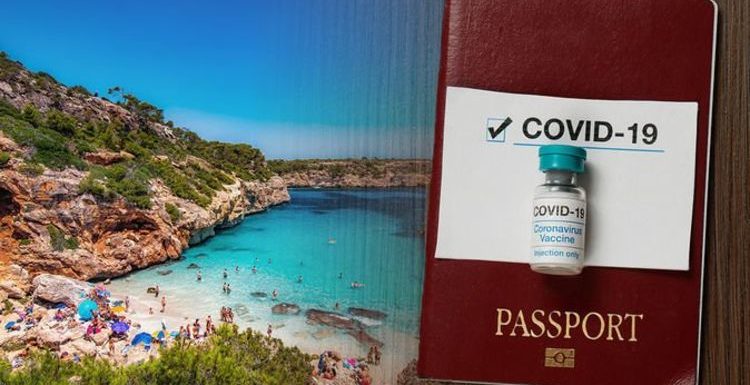 Vaccine passports are 'bad idea' says Tory MP Mark Harper
When you subscribe we will use the information you provide to send you these newsletters.Sometimes they'll include recommendations for other related newsletters or services we offer.Our Privacy Notice explains more about how we use your data, and your rights.You can unsubscribe at any time.
Spain holidays may be on hold for now, but they could be set to return if vaccine passports are given the go-ahead by governments. The Balearic Islands have put themselves forward as a pilot destination for international tourists carrying vaccination passports.
The regional government says the popular holiday destination, which includes Majorca, Ibiza and Menorca, wants to do everything in its power to regenerate tourism following the coronavirus crisis.
President Francina Armengol has already put the idea forward to Spain's Minister of Industry, Commerce and Tourism Reyes Maroto during a meeting in Madrid.
Iago Negueruela, the Balearics tourism minister, has further confirmed: "We have offered to the government of Spain to test and experiment with the vaccination passport or vaccination certificate so we can once again be one of the first to open.
"I think that the experience gained last year during the tourism pilot plan supports us.
"The Balearics are committed to safe tourism for all those who come and who live on the islands.
"This is why we want a health passport that will allow better control of access to our territory.
"We have today taken a decisive step in being pioneers in doing this."
Reyes Maroto previously stated her support for a vaccination passport or certificate system.
DON'T MISS
Kate Middleton's key travel companions keep her looking glamorous [INSIDER]
Benidorm reveals 'lonely' reality of living in sunny resort [INTERVIEW]
Google Maps Street View: Man caught in explicit moment [VIRAL]
The Balearic government and hoteliers joined forces for an experiment in June 2020 when around 3,000 Germans were brought over on more than 45 planes to test health protocols and travel arrangements.
The initiative was judged to have been a success, but the tourism revival was then scuppered by the escalation of the coronavirus crisis.
The islands are hoping for a tourism restart this summer, with Germany already relaxing its quarantine rule.
Coronavirus cases are decreasing with the Balearic health ministry reporting 85 new positives on Saturday with a test rate of 2.95 per cent from 2,881 tests.
Majorca has recorded 55 cases and Ibiza has reported 30.
There were no new fatalities, the first time since February 7.
The total deaths, therefore, remains at 682.
The health passport, backed by the European Union, would be used in addition to all health control means at the Balearic ports and airports.
There is speculation Spain's Prime Minister Pedro Sánchez will shortly announce the choice of the islands as the first Spanish destination to use the health passport.
Iago Negueruela has already maintained contacts with foreign tour operators, including TUI, and is expected to do the same with British and German tour groups.
"At the moment we are in an epidemiological situation similar to that in Germany and this places us in a privileged situation to encourage maximum air connectivity with European markets.
"There is a lot of work and it will be done in collaboration with the private sector," he said.
Source: Read Full Article