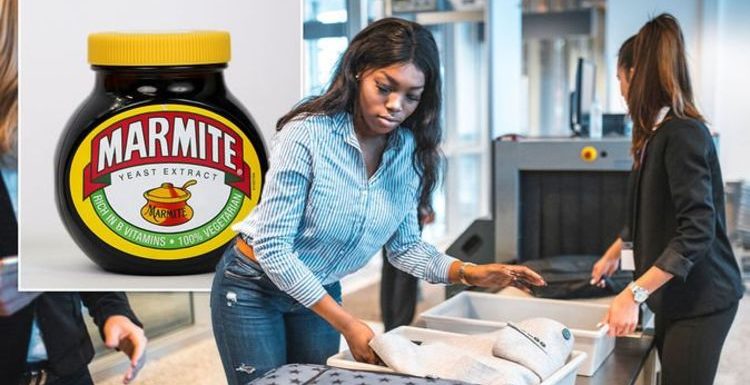 Hand luggage: Expert reveals what passengers can pack
We use your sign-up to provide content in ways you've consented to and to improve our understanding of you. This may include adverts from us and 3rd parties based on our understanding. You can unsubscribe at any time. More info
Aeroplane travel comes with a number of rules and regulations that holidaymakers must be sure to follow. A number of these security restrictions are to do with items that are banned from carry on bags.
While many of these are obviously dangerous items, such as weapons or sharp tools, others are less obvious.
In fact, travellers must be cautious of what food items they are taking onboard.
While snacks for the journey may be a travel essential, certain goods could cause a hold up at security and likely won't make it onboard.
Experts at International Citizens Insurance pointed out that popular spreads, including Marmite and jam, are among the good items holidaymakers should leave out of their hand luggage.
"Due to the consistency of marmite, no more than 100ml can be carried onto the plane in hand luggage," explains an expert.
"Similar home-comforts such as jams and honey also fall foul of the liquid restrictions.
"Since the items are technically classed as liquid, they face the same rules as bottles of water or juice.
According to the UK Government website: "Airport security staff will not let anything through that they consider dangerous – even if it's normally allowed in hand luggage."
DON'T MISS
Flight attendant explains why Meghan Markle didn't pay the bill [INSIDER]
France isn't expecting Britons back this summer: '2020 was a shock' [COMMENT]
Sleepover at Britain's most haunted castle [INSIGHT]
Travellers who may have picked up souvenirs such as jam or honey are advised to pack these in their checked baggage.
Spreads are not the only food items that are likely to be confiscated.
The experts at International Citizens Insurance also point out that frozen food items could be banned from hand baggage.
According to the Transport Security Administration (TSA), which leads many of the world's international travel rules, frozen food must be completely solid if it is taken onboard.
If not, it likely falls under the liquids category.
"If the food is packed with ice or ice packs in a cooler or other container, the ice or ice packs must be completely frozen when brought through screening," states the website.
"If the ice or ice packs are partially melted and have any liquid at the bottom of the container, they will not be permitted."
However, keeping a frozen item solid for long periods of time can be a task.
"What might have been frozen when you placed it into your bag could be de-frosted once you reach check-in," states International Citizens Insurance.
"This means that you could be in breach of the 100ml of liquid limit on flights."The one exception to the liquids rule is baby food.
"When travelling with a baby you're allowed to take enough baby food, baby milk and sterilised water for the journey," explains the Government website.
"There is no legal limit to how much you can take however check with your airport before you travel.
"You can carry breast milk in hand luggage even if you're not travelling with a baby. You cannot carry frozen breast milk in hand luggage.
"Individual containers of breast milk must hold no more than 2,000ml. Each container will need to be screened at the security point."Airport staff might need to open the containers to screen the liquids."
Source: Read Full Article