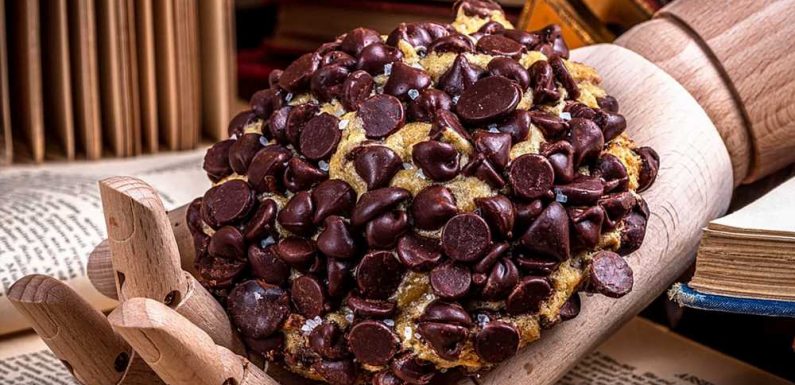 If the idea of Disney desserts has you picturing kid-friendly sundaes and chocolate-dunked Mickey bars, this Orlando bakery will change that. Now open at Disney Springs, the downtown shopping and dining district at Walt Disney World, Gideon's Bakehouse offers peanut butter cold brew, secret cakes that require a password, and half-pound cookies that attract hours-long waits. But, unlike Gideon's neighbors—which count outposts from Rick Bayless, Masaharu Morimoto, and José Andrés among them—this cookie kingdom began with $800 and a single employee to miraculously expand towards its first flagship location at Walt Disney World, all without outside investors.
As the brainchild of Steve Lewis, owner and "Sublime Prince of the Esoteric Order of Cookie"—yes, his actual job title—Gideon's Bakehouse offers a blissful juxtaposition between meticulous effort and pure whimsy. Lewis' cookies have always been in demand, even since he got his start in a home kitchen hand-delivering orders placed months in advance, and it's clear why. His exemplary vanilla-infused chocolate chip cookie, which is intended to mimic the flavor of actual cookie dough, took Lewis 15 years to develop, a profound creation only improved by the addition of flavors like Candied Walnut Chocolate Chip, for which toppings fully engulf each decadent mound.
Each roughly half-pound cookie—which Lewis likens to his "children"—takes over 24 hours to make and has serious heft; finish it in one sitting, and well, your day's over. The magic of any Gideon's cookie, though, is inside: a middle that's delightfully soft, like the yolk of a soft-boiled egg, done to perfection each and every time. It's not just a good cookie; it's the best cookie I've ever had in my life.
As a theme park reporter, I've ditched work and rented cars to drive away from other people's dream vacations straight to East End Market, a hip enclave of stalls from local purveyors like Lineage Coffee and Gideon's only other location, a 286-square-foot shop set smack in the middle. I load up on a half-dozen—only six are allowed per person—and fly them cross-country, deep freezing them to savor for months. I once celebrated my birthday by spreading a pile of them out on the beach, brushing sand off the pistachio nuts embedded atop a toffee chocolate chip variety. Now, physically distanced from their Double Stuff Oreo-packed Cookies & Cream, I burn a hand-poured candle that smells like their coffee cake cookie and argue with USPS over a hand-packed shipment from a friend that got lost in the mail because, naturally, Gideon's doesn't ship nationwide—only adding to its cult appeal.
With loads of accolades and awards, Gideon's Bakehouse was already established beyond just the Orlando food community, but it has managed to foster a slow-growing fervor among in-the-know Disney fans, a rare bridging between Walt Disney World's insular themed environments and the wider community of Orlando.
It began when The Polite Pig—an offshoot of gastropub The Ravenous Pig, located at Disney Springs—began carrying the chocolate chip-speckled decadences on Disney property for $8 a pop, which arrived twice daily and routinely sold out. With websites like Disney Food Blog, widely heralded as the encyclopedia of theme park food, covering it extensively, it crossed over into the fan lexicon. On the day of their soft opening, Gideon's Bakehouse debuted to three-hour waits—longer than some of Disney World's most popular attractions.
"It's still difficult to process, but I think the most exciting thing is to see small business represented on such an international stage," said Lewis. "Gideon's is a part of the growing and creative Central Florida food scene, and to see that getting so much support is thrilling to me. I hope that our success opens the doors for other single-owner businesses like myself being represented in more diverse locations."
The new location, overseen by a stone gargoyle clutching an emblematic "G," reflects the brand's whimsy throughout its custom Victorian decor, right down to the cobweb-lined chandelier and cartoonish cookies in the window. A year's worth of hand-selected vintage artifacts line the twisted shelves, a timeless outpost for a bakery named after an antique cookbook of Lewis' covered in scribbles and signed by a hopeful young chef named Gideon.
With a menu boasting secret cake slices that require a password for purchase, dunkable frosting cups, and "hot cookie hour" at 7 p.m., it's heavenly chaos, and rather unexpectedly fits under the umbrella of The Walt Disney Company.
Not only is there a business advantage to working with Disney— the Orlando Sentinel noted how gleeful Lewis was at the margins on vanilla bean paste afforded to him by being in business with The Mouse —but also an overlap in dedication to providing a memorable visit above all else.
"We've added almost 100 new people to Gideon's this year, and my desserts are very handmade and not particularly easy," Lewis said. "Consistency means so much to us, and I feel our best work made it to the guests. We jumped to a massive output without an ounce of compromise in the snap of a finger, and I'm relieved to say it went smoothly."
Wholly concerned with guest experience—"my personal wealth is of minimal interest to me"—it may seem odd that a burgeoning local business is stepping up to such a national stage, but much like Disney employees greeting guests with the moniker "welcome home!", Gideon's is just that: Lewis inviting us to step foot inside his.
"That feeling you have when you spend all day making dinner for your loved ones, and they come over to enjoy your work in the evening," he says. "That is how I feel about Gideon's Bakehouse."
This story originally appeared on Food & Wine.
Source: Read Full Article