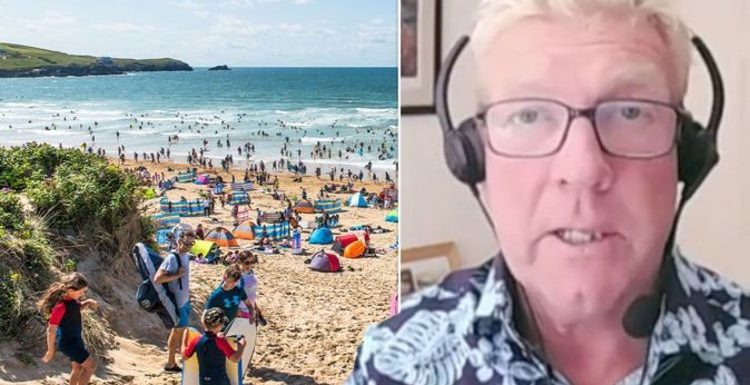 Cornwall: Kim Conchie insists county is not 'full'
We use your sign-up to provide content in ways you've consented to and to improve our understanding of you. This may include adverts from us and 3rd parties based on our understanding. You can unsubscribe at any time. More info
Cornwall is one of the UK's most loved holiday destinations, thanks to its rugged coastline, aquamarine waters and quaint villages. However, an influx of tourism over the summer months has led to reports that accommodation across the region is fully booked.
While prices have seen something of a hike in line with the demand, with one family of four recently quoted £71,000 for a week-long getaway in St Ives, this isn't necessarily the case across the board.
According to Kim Conchie, CEO OF Cornwall'S Chamber of Commerce, there are plenty of opportunities for tourists, and the region is not ready to close the door to further visitors.
"The economy from tourism here is about a third of our GDP so we need to really maximise that," he told GB News on Tuesday.
"To get that right after so many months is a lovely problem to have."
There have been reports of overcrowding in the region, with some people linking a rise in Covid cases earlier in the summer to an influx of tourists.
As of August 5, the number of coronavirus cases per 100,000 of the population in Cornwall and the Isles of Scilly sits at 303.
This is a rise from 255.
Across England, the average figure sits at 291.
Visit Cornwall estimates there are about 210,000 visitors holidaying in the region this year, climbing from the usual peak of 180,000.
As a result, Malcolm Bell, head of Visit Cornwall, said some "visitors are not getting a good experience, locals are frustrated and systems can't cope".
However, Cornwall's Chamber of Commerce CEO has begged people not to think this means they can not visit.
"Please don't take this as a message that Cornwall is full," he said.
DON'T MISS
Flight attendant explains why Meghan Markle didn't pay the bill [INSIDER]
Sleep in a 1940's railway carriage Airbnb [INSIGHT]
Greece holiday warning amid fires – potential 'travel disruption' [WARNING]
"There are plenty of opportunities to enjoy yourself from the five-star hotels right down to the humblest campsites.
"[There are] plenty of places to have fun here."
For those who are in Cornwall, Mr Conchie advises them to exercise patience, and not demonise tourism.
"You will know from your own experience as a customer, we are all customers here as well in Cornwall, that queues and apps that don't work when you want another drink so on do cause some frustration," he said.
"Although the demand can be a problem it is one that we would rather have than nobody coming to see us."
Mr Conchie also said that many local people are more than happy to welcome visitors to the coastal county.
"I am hoping that 99.9 percent of people, and certainly on the local news last night, a lot of people who were being interviewed who were being urged to say 'it is too crowded' were saying 'no, it is lovely. It is fantastic'."
Given Cornwall's vast natural landscape, the CEO also states that it is easy to practise social distancing.
"Another thing about Cornwall is it is a long county," he explained.
"You can still park your car and work 200 yards along the cliff top and you'd still have plenty of space to be on your own.
"Some people like the people watching of the sort of clusters of holiday resorts, others will be able to find space and we want everybody to come and have a lovely time."
Despite his previous comments, Visit Cornwall's tourism boss says there are still plenty of places with availability.
"We're not full but the best apples have gone," Mr Bell said.
"However, there might still be some dynamic stuff available.
"We're doing late availability and have set up a Visit Cornwall Facebook page so people who are looking for something can find those slots."
Holidaymakers looking to beat potential crowds are advised to consider a visit to the region, even once the peak summer season is over.
"We want you to come in the Autumn, it is great to come in those shoulder months as well."
Source: Read Full Article