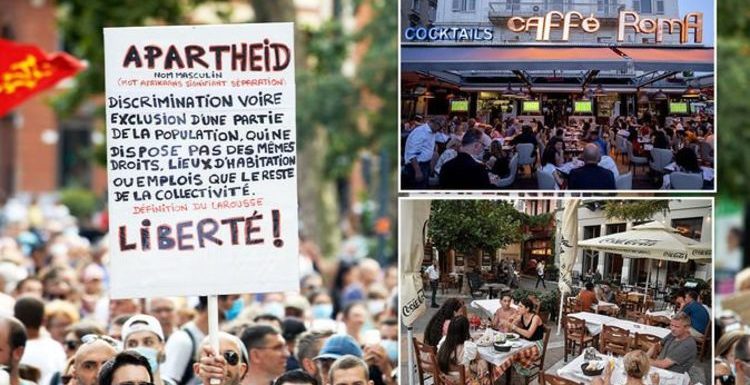 France: Police clash with protesters in Paris
We use your sign-up to provide content in ways you've consented to and to improve our understanding of you. This may include adverts from us and 3rd parties based on our understanding. You can unsubscribe at any time. More info
Greece, Italy and France are ramping up restrictions with the introduction of vaccine passports throughout the country. Amenities including cinemas, tourist sites and indoor dining are being targeted.
The rules will apply to tourists visiting the nations, as well as locals.
The domestic use of vaccine passport-style documents will coincide with international Covid pass rules, such as the EU Digital Covid Pass for travel.
Greece has already put in place these new measures.
Since mid-July, Greece has required patrons to provide proof of vaccination or recent recovery from COVID-19 in order to access indoor restaurants, bars, cafes and venues such as cinemas.
However, outdoor venues across the country remain open to all.
The vaccine passport regulation came into force along with a ban on music at bars and a cap on the number of people able to visit outdoor venues.
Curfews are also in place in some regions, including the island of Mykonos after cases began to rise.
In Italy, officials have stated that from August 6 new vaccine regulations will come into force.
DON'T MISS
Benidorm tourism officially 'sunk' due to new Covid restrictions [COMMENT]
Spain holidays: FCDO issues new warning for Britons [WARNING]
Spain holidays: Balearic tourism boss says islands are 'safe' [INTERVIEW]
This means only those who can show the country's "green certificate" will be able to access indoor bars, restaurants, cafes, museums, cinemas, gyms, and indoor attractions.
The Italian "green certificate" is a way of allowing people to show their vaccination status, or if they have received a negative COVID-19 test in previous days.
The "green certificate" also allows holders to show if they have recovered from the disease previously.
It was already a requirement for wedding guests and those visiting nursing homes in the nation.
Upon announcing the health pass, Prime Minister Mario Draghi said the measure is "an instrument to allow Italians to continue their activities with the guarantee of not being among contagious people."
He added: "The green pass is not an arbitrary matter; it is a condition to keep economic activity open."
In a similar move, France has also launched its own Covid pass for those visiting bars, reactants, cafes and tourist attractions.
The new rule will be in place from August and impacts popular tourist hotspots such as the Eiffel Tower.
However, the French vaccine pas has received fierce opposition across the country.
On Saturday 161,000 people protested against the health pass, saying it would erode "civil liberties".
All three countries have tight border restrictions for UK arrivals.
In Greece, passengers must either prove they have received both doses of the COVID-19 vaccine, have a negative COVID-19 PCR test or evidence of an antigen test.
In Italy, travellers who have been in the UK in the previous 14 days must present a negative molecular or antigen test taken in the 48 hours preceding entry into Italy and fill in a digital localisation form.
They must also self-isolate for five days, at the end of which they must take a rapid antigenic or molecular swab test for COVID-19 and test negative for release.
Meanwhile, in France, only fully vaccinated UK arrivals will be able to enter the country for non-essential purposes.
Source: Read Full Article