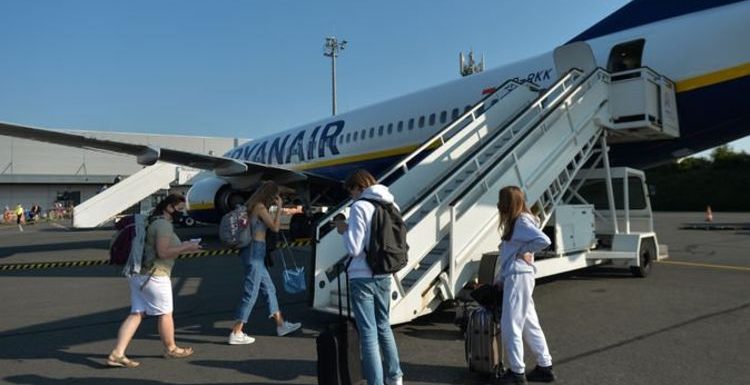 Ryanair: Flight map shows Dublin flight forced to return to London
We use your sign-up to provide content in ways you've consented to and to improve our understanding of you. This may include adverts from us and 3rd parties based on our understanding. You can unsubscribe at any time. More info
Ryanair has confirmed that Northern Ireland will be removed from its operations, starting from September. Flights from Belfast City Airport will stop in September.
Flights from Belfast International Airport will cease in October.
Breaking Travel News reports that the airline said the plane used on routes to Belfast will be "reallocated to lower-cost airports elsewhere in the UK and Europe for the winter schedule, which starts in November".
A spokesperson for Belfast International said: "It is disappointing that Ryanair has now decided to withdraw operations from the entire Northern Ireland market at the end of October, having variously had a presence in all three local airports in recent years.
READ MORE: 'Don't come!' Cornwall urges people who haven't booked to stay away
"It has been a difficult period for aviation and a time when consumers need some stability and faith in the Northern Ireland air transport network."
Ryanair restarted its flights at Belfast City in May.
The airport had not be served for 11 years.
The spokesperson continued: "As we have been anticipating such a move, we have been engaging with our existing and other new airlines to provide continuity on the routes to be vacated by Ryanair, and to help sustain employment in the aviation industry at a local level in Northern Ireland.
"To this end we hope to be able to make announcements regarding fresh route development in the near future."
The airline blamed the cost of operating, as well as the UK Government's "refusal to suspend or reduce" air passenger duty (APD).
In a statement, Ryanair said the decision came down to "the UK Government's refusal to suspend or reduce APD (air passenger duty), and the lack of Covid recovery incentives from both Belfast airports".
Ryanair offered a range of routes to and from Northern Ireland.
From October 30, routes from Belfast International will stop.
Holidaymakers will not be able to fly to London, Manchester, Alicante, Barcelona, Malaga, Krakow, Warsaw, Gdansk, Malta, Milan.
Ryanair flew to eight destinations from Belfast city.
The flights that will no longer be active from September 12 are to Alicante, Barcelona, Faro, Malaga, Palma de Mallorca, Ibiza, Valencia and Milan.
Northern Ireland passengers will still be able to go on holidays.
Many airlines will continue to fly from Belfast's two airports.
Low costs airlines such as EasyJet, Vueling or Jet2 will continue to serve the Northern Ireland market.
Source: Read Full Article