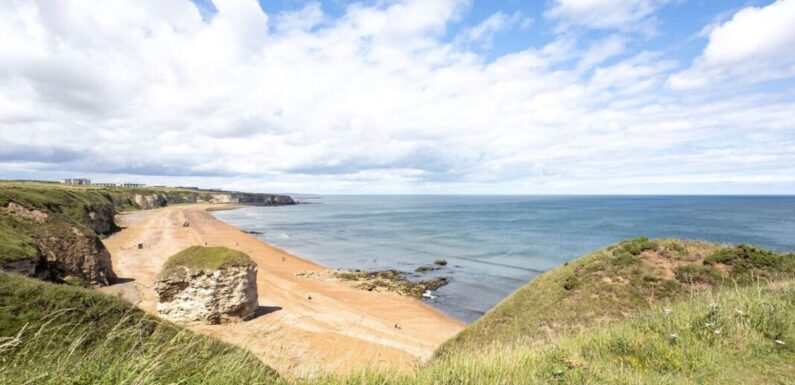 New research from Millets analysed Google reviews, water quality ratings, ocean temperatures, beach facilities, accessibility and parking costs in the most popular coastal towns in the UK.
The study revealed that Tynemouth, in north-east England, is the best seaside town with the cheapest parking costs this summer.
Tynemouth's main beach is Long Sands Beach which has a rating of 4.8 out of five on Google Reviews, the highest of any beach in England.
The average parking price in Tynemouth for up to four hours is £4 and the warmest recorded water temperature is 15.6C.
Next on the list of the best UK coastal towns this summer is Weymouth, on the Jurassic Coast, in Dorset, Poole and Clacton-on-Sea.
The research also revealed that Clacton-on-Sea is the town with the warmest water temperature in England and Wales at 18.2C.
Bournemouth Beach, on the other side, has the highest parking price of any beach in the country, costing on average £9.20 for up to four hours.
For dog lovers, Northumberland was found to be the most pet-friendly region and coastal destination with 31 of its 33 beaches being pet-friendly.
Don't miss…
The most underrated holiday for 2023 is a 'beautiful' destination[HOLIDAY DESTINATION]
'I tried a flight attendant's clever packing technique and it worked'[PACKING HACK ]
'Hidden little gem' in England named one of the best beaches this summer[UK HOLIDAYS]
Tynemouth is a coastal town in North Tyneside, on the Northumberland coast, and its main beach, Long Sands Beach, is considered by many a "gem of the north".
In the seaside town, holidaymakers can walk around the Tynemouth market, go see the Tynemouth Priory & Castle and visit the Tynemouth Life Brigade Watch House Museum.
On Tripadvisor, a visitor from Nottingham recommended Long Sands Beach and said: "Have not visited this part of the UK and we were more than surprised how beautiful the beach was. Soft clean sand.
"Lovely cafes along the beach… surf cafe breakfast was awesome. Lovely atmosphere to the area. Town and beach perfectly sitting side by side. Not touristy at all."
We use your sign-up to provide content in ways you've consented to and to improve our understanding of you. This may include adverts from us and 3rd parties based on our understanding. You can unsubscribe at any time. More info
Best coastal towns in England and Wales:
Tynemouth
Weymouth
Poole
Clacton-on-Sea
Wallasey
Bournemouth
Sunderland
Torquay
Gosport
Birkenhead
Source: Read Full Article