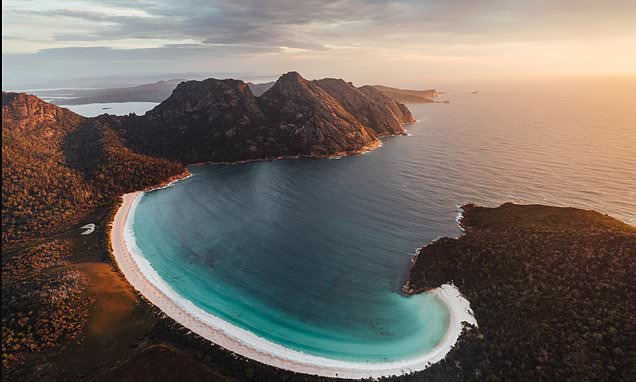 Welcome to Tasmania, the island where you can discover wild landscapes, extraordinary food and wine and wildlife found nowhere else on Earth
Ad Feature by Tourism Tasmania
Just 150 miles off the coast of mainland Australia, the island state of Tasmania is where unforgettable wildlife, ancient history and rich artistic culture come together.
The last stop before the ice fields of Antarctica, here you can breathe some of the cleanest air in the world; lose track of time on empty white-sand beaches; and explore alpine peaks and ancient forests, laced with waterfalls and wild rivers.
Wild landscapes and curious wildlife
The island state of Tasmania is a truly captivating destination 
Home to King's Holly (Lomatia tasmanica), the world's oldest living plant species, and the largest carnivorous marsupial on the planet – the Tasmanian devil – this is an island of surprises.
Inhale the fragrant scent of the Eucalyptus regnans, the world's tallest flowering plant, and enjoy dizzying strolls along the tallest sea cliffs in the Southern Hemisphere, soaring 300m above the churning ocean. Exploring Tasmania and its 344 offshore islands is a face-to-face encounter with the magnificence of nature.
With 40 per cent of the island protected as UNESCO sites, national parks and nature reserves, tranquility is Tasmania's natural state – from sandstone rockpools and pristine beaches to dense forests and glistening waterfalls. Visitors can explore snow-dusted peaks, discover Australia's deepest caves, or tee-off at some of the country's most spectacular golf courses.
The Tasmanian devil is just one of the island's unique species
A living museum, Tasmania's impressive collection of flora and fauna is a result of its evolution in isolation. Separated from mainland Australia some 12,000 years ago, the island's diverse habitats and limited predators made it a refuge for a zoo-full of fascinating creatures.
Lucky visitors might spy a shy platypus or a white wallaby; an elusive spotted quoll or a furry wombat bumbling across the grasslands; or an iconic Tasmanian devil, perhaps Tasmania's most famous local.
Unforgettable adventure
From the Australia's biggest surf to 1,700 miles of hiking tracks and golf courses with staggering views, Tasmania is primed for outdoor adventure.
Breathe the pure air as you take to the slopes for an exhilarating hike, with over 880 established walks to choose from.
Wineglass Bay dazzles with its white sand and sapphire-coloured sea
Pack light for a multi-day bush adventure, or just head out for the day and enjoy a shorter walk. A leisurely afternoon around Wineglass Bay offers the chance for a dip in the refreshing sea, while a six-day hike of the Overland Track takes you past some of Tasmania's highest peaks.
Tasmania also has a global reputation for mountain biking, that a single day in the saddle will confirm. From Wild Mersey in the north west to Blue Derby to the north east, Maydena in the south and Silver City in the west, enjoy hundreds of miles of adrenaline-charged trails and downhill runs.
Paddle along the island's rugged coastlines in a kayak; race across rapids on a raft; or cast a fly across mirror-flat highland lakes and remote meadow streams – Tasmania is one of the world's great trout fisheries. Warm up with a dip in the thermal springs at Hasting Caves, not far south of Hobart; or delve into Gunns Plains Caves in the north, a world of gleaming, green-hued glow worms.
Exquisite food and wine
In Tasmania, paddock-to-plate and ocean-to-table cuisine shines 
The Tasman Sea infuses this diverse archipelago with a passion for seafood, while nutrient-rich soils deliver farm-fresh fresh produce all year round. Treat your palate to a journey around the island, from vineyard tours to old-style distilleries, and gourmet restaurants to traditional Tasmanian Aboriginal bush tucker.
There's a strong focus on paddock-to-plate and ocean-to-table cuisine here. Four distinct seasons bring variety to every meal – from autumn apples to cherry-filled summers and truffle hunting with the hounds in winter. Winter is also when Tasmanian oysters and scallops are at their most succulent.
Savour the flavours of the rainforest with leatherwood honey, and enjoy grass-bed beef from Kennaook / Cape Grim and King Island, wild abalone, and intense cheddar from Pyengana.
Visitors can enjoy hands-on culinary and wine tasting experiences
Pepperberry gin, sheep whey vodka and sparkling cider fill your glass with delight, while the star of the show is single malt whisky, a smooth elixir crafted with crystalline mountain water and abundant Tasmanian barley. Tasmanian craft beer also has plenty of fans – everything from robust winter stouts to crips summer lagers.
Enjoy a hands-on wine tasting experience at one of the island's many vineyard cellar doors, or prop yourself in an urban bar and enjoy a glass of cool-climate Tasmanian pinot noir or sparkling white.
First Tasmanians
Reconnect with nature and experience ancient Tasmanian Aboriginal culture
Today, Tasmania's palawa people are custodians of these lands, seas and skies, continuing the cultural traditions and protecting the knowledge their forefathers brought to the island over 40,000 years ago.
In Hobart, explore the story of the island's first people at the Tasmanian Museum and Art Gallery (TMAG), or compare ancient and contemporary art at the private Museum of Old and New Art (MONA). And at Launceston's Queen Victoria Museum and Art Gallery (QVMAG) in the north, explore art, history and natural sciences in one fascinating cultural hub.
Must-do hikes reward adventurers with magnificent views
Also in the north, visit Tulampanga – the Alum Cliffs area – on a short walk into this traditional Aboriginal celebration place; or sign-up for the multiday, palawa-run wukalina walk along the larapuna / Bay of Fires coast in the north east.
In Hobart, follow the takara nipaluna walking route from 1832, when members of the Aboriginal resistance marched to Government House to demand an end to the needless violence of the Black War.
Convict history meets modern culture
Delve into Australia's convict history in the old sandstone towns along the Heritage Highway, connecting Hobart and Launceston. Between 1804 and 1853, 76,000 convicts were transported to Tasmania to serve prison time and work to establish the new colony. Their lives can be remembered at five UNESCO World Heritage-listed convict sites around the state, including the captivating Port Arthur Historic Site.
Explore Tasmania's fascinating convict past at the Port Arthur Historic Site
Today, framed by mountains and sea, Hobart hosts an art-fuelled culture of food, wine and festivities – big-city sophistication with small-city ambience. Mona, the city's provocative Museum of Old and New Art, is a driving force behind the island arts scene. A two-hour drive north, Launceston is one of just two UNESCO 'Cities of Gastronomy' in Australia, offering fertile foodie culture and an engaging blend of urban virtues and country charm.
This island pocket of Australia is a fascinating mix of wild landscapes carved by the forces of nature, and vibrant cultures, both old and new. Tasmania is truly captivating.
Find out more and book your holiday at audleytravel.com
Source: Read Full Article