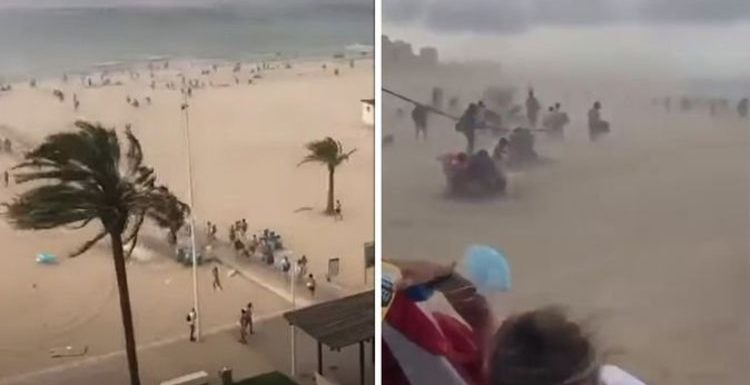 Spain: Beachgoers face strong winds in Gandia
We use your sign-up to provide content in ways you've consented to and to improve our understanding of you. This may include adverts from us and 3rd parties based on our understanding. You can unsubscribe at any time. More info
Record high temperatures in Valencia have led to a heat burst, a dangerous and very rare atmospheric phenomenon, in Costa Blanca, Spain. Gandia beach has been evacuated as holidaymakers were fearing for their life.
Strong winds of up to 80 mph caused chaos amongst holidaymakers at Gandia Beach in Spain.
Due to the extremely high temperatures, heat bursts originated at the busy beach creating a dangerous sandstorm.
Many tourists captured the moment and shared it on social media, where scared beachgoers can be seen running away and trying to leave the beach looking for safety.
Swimmers were spotted struggling to get out of the water as there was a high risk of being swept out to sea.
Tourists were forced to evacuate until the sandstorm and the strong winds finally stopped.
Luckily, there have been no injuries.
A tourist who was at the beach when the phenomenon started shared a video with the caption: "Shocking what just happened at Gandia beach."
The clip showed terrified beachgoers trying to reach a safe spot.
Swimmers were seen struggling to get out of the water while beach mats and other inflatables were dangerously blowing away.
Earlier that day, a giant beach Ferris wheel collapsed due to the strong winds.
Only one man was injured.
According to the Spanish meteorological agency, Aemet, the south of the Valencia region experienced "several widespread heat bursts.
"That caused sudden thermal rises with strong gusty winds".
In the last days, most of the Valencia region experienced temperatures of over over 40 degrees.
Some seaside towns reached over 47 degrees yesterday.
A heat burst is a rare atmospheric phenomenon caused by a sudden increase in air temperature.
Heat bursts usually occur at night and are not common in Mediterranean countries.
The record temperatures in Spain have also led to wildfires across the country, many registered around the Valencia region.
Hundreds of people have been evacuated in the areas of Ávila, Castile and León, and Valencia.
Source: Read Full Article