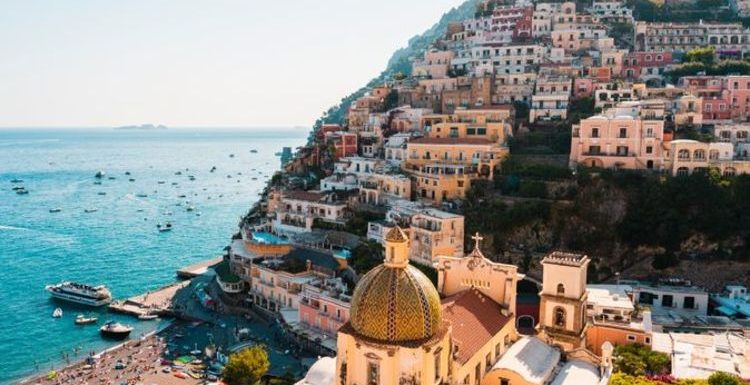 Travel: Grant Shapps issues warning on booking holidays
When you subscribe we will use the information you provide to send you these newsletters.Sometimes they'll include recommendations for other related newsletters or services we offer.Our Privacy Notice explains more about how we use your data, and your rights.You can unsubscribe at any time.
Plans for the UK's roadmap out of lockdown could well change due to the rise in COVID cases across Europe. Experts have warned this makes holidays abroad "extremely unlikely".
Several European countries have recorded increases in the number of COVID-19 cases in recent weeks, with some nations having to enter new lockdowns to curb the spread.
France has tried to avoid imposing more lockdowns, but the French government has been forced to change direction.
This week, French Prime Minister Jean Castex announced 16 of the country's regions, as well as Paris, will enter into a new lockdown from midnight on Friday, March 19.
This lockdown is due to last at least a month.
UK scientists have warned the country needs to be careful in easing lockdown measures in the coming months to avoid following the same fate as France and other countries.
Italy recorded almost double the amount of cases over the past month, compared to the month before.
Andrew Hayward, a professor of infectious disease epidemiology at University College London and a member of the Scientific Advisory Group for Emergencies (SAGE), said the EU surge showed "the potential for cases to shoot up" in the UK.
Mr Hayward said the increasing rates in Europe could last up to several months, and that it was "very worrying" to see a possible third wave of the virus.
DON'T MISS:
Portugal to be removed from 'red list' in major holiday boost [INSIGHT]
Centre Parcs, Butlins, Parkdean Resorts & Haven latest holiday updates [COMMENT]
Package holidays: TUI, British Airways, easyJet, Jet2 & Virgin updates [UPDATE]
The professor spoke on Times Radio this morning, March 20.
He said: "From what I understand, quite a lot of that is the emergence of the strain that came from the UK, the B117 strain, which is more transmissible, which is the same strain that's still here now.
"I think it just shows that the lockdown in the UK is necessary and we need to be careful as we release and to watch the figures because this shows the potential for cases to shoot up."
When asked if another wave of COVID cases was possible in the UK, Mr Hayward said that it was "possible, likely even".
He said: "I guess the difference is that another wave will cause substantially fewer deaths and hospitalisations because of high levels of vaccination across the sorts of people who would have ended up in hospital or unfortunately dying if they haven't been vaccinated.
"So the consequences of another wave are less. I think the challenge is, of course, we don't know exactly how much less."
Boris Johnson has previously promised Britons that they can hope to holiday abroad from May 17, but Mr Hayward said that travel is "obviously" going to be affected following the news of the rise in European COVID cases.
Dr Mike Tildesley, a member of the scientific pandemic influenza group on modelling, a SAGE sub-group, also spoke about foreign travel on the radio this morning.
Speaking on BBC Radio Four's Today programme, he said: "I think that international travel this summer is, for the average holidaymaker, sadly I think extremely unlikely.
"I think we are running a real risk if we do start to have lots of people going overseas in July and August because of the potential for bringing more of these new variants back into the country," Dr Tildesley added.
"What is really dangerous is if we jeopardise our vaccination campaign by having these variants where the vaccines don't work as effectively spreading more rapidly."
As well as many parts of France entering into a new lockdown and schools and shops being closed in Italy, non-essential shops and cultural venues have closed for three weeks in Poland.
In Germany, Chancellor Angela Merkel has said that it is likely that the country would need to apply an "emergency brake" and reimpose lockdown restrictions as COVID-19 continues to spread across the country.
Source: Read Full Article