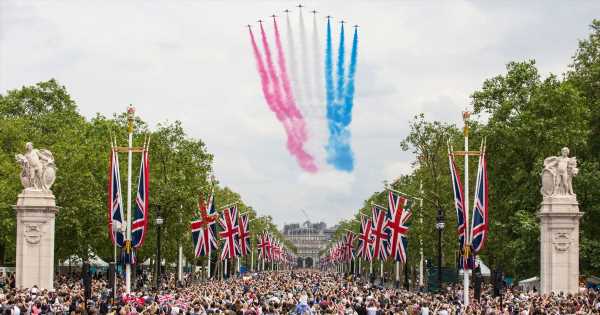 King Charles III is set to be coronated on May 6, but Brits could be affected by changed in flight paths.
Brits looking to make the most of the bank holidays by leaving the country during the festivities could see their travel adjusted slightly.
While most people may hope to watch the historical moment, plenty have chosen to take 10-days off for the cost of just four days leave.
READ MORE: Brits ditch Coronation and use extra bank holidays for cheap 10-day trips abroad
However, those who do jet off should be aware that parts of the South East and East Anglia will be affected by flight restrictions.
Thankfully, it's unlikely that this will cause any cancellations or delays to major airlines.
A notice to pilots published online said Transport Secretary Mark Harper has decided to ban aircraft from flying below various altitudes in certain areas on the afternoon of Saturday May 6.
This could have an impact on light aircraft pilots and drone users, but not commercial flights, reports state.
That is in contrast with the day of the late Queen's funeral, when more than 100 Heathrow Airport flights were cancelled to prevent aircraft noise disturbing proceedings at Westminster Abbey and Windsor Castle.
At around 2.15pm on May 6, the King and Queen Consort will appear on the balcony of Buckingham Palace with other members of the royal family to watch a six-minute flypast of more than 60 aircraft from the Royal Navy, British Army and Royal Air Force – including the Red Arrows – over The Mall.
The aircraft will then disperse to airspace above Surrey, Berkshire, Buckinghamshire, Oxfordshire, Gloucestershire and Wiltshire.
Restrictions on aircraft not taking part will be in place in airspace above parts of London, East Anglia and the North Sea at various times from 12.15pm until 2pm.
A document published by the Civil Aviation Authority and air traffic control service Nats setting out the exact details and locations of the rules states: "Due to the large number of aircraft involved (in the flypast), the Secretary of State for Transport has decided that it is necessary to introduce Restriction of Flying Regulations."
Aircraft operated by the emergency services are, of course, exempt from the ban.
Restrictions have also been announced for parts of East Anglia, Lincolnshire and the North Sea on Tuesday, Wednesday and Thursday due to flypast rehearsals.
Pilots have been told that "following a successful rehearsal, subsequent rehearsal days will be cancelled by Notam (Notice to Airmen)."
READ NEXT:
Livid tourist slams Stonehenge as 'biggest joke in Europe' in scathing review
Tripadvisor review claiming Lake District has 'too many lakes' has readers baffled

Beautiful seaside town proves a hit – and it's also one of the UK's poshest places

Top 10 beaches in the UK to visit this summer ranked – from Cornwall to Yorkshire
Source: Read Full Article